Efectos de la Pandemia del COVID-19 en el Comportamiento del Consumidor Mexicano: Hábitos de Compra de la Canasta Básica
Ruth Josefina Alcántara Hernández

Universidad Autónoma del Estado de Hidalgo, Mexico

Arlen Cerón Islas

Universidad Autónoma del Estado de Hidalgo, Mexico

Juan Gabriel Figueroa Velázquez

Universidad Autónoma del Estado de Hidalgo, Mexico
Keywords:
Consumidor, hábitos, confinamiento
Abstract
El presente artículo tiene como objetivo realizar un análisis sobre el cambio de hábitos del consumidor en tiempos de pandemia de la Cd. de Pachuca, Hidalgo, y su zona metropolitana, principalmente relacionado con las elecciones de compra que realizan sobre los productos de la canasta básica, basándose en frecuencia y lugar. Para lograrlo se tomó como base la teoría de la motivación humana de Maslow, y posteriormente se realizó una encuesta aleatoria a los consumidores que tienen poder de compra en sus familias, alcanzando un total de 345 personas encuestadas. En este estudio se pudo encontrar que los hábitos de compra han tenido poca variación en cuanto al lugar de compra, incrementándose el consumo en tiendas de abarrotes y de conveniencia; la frecuencia de compra ha disminuido, así como el presupuesto asignado ha tenido variaciones; en las revisiones realizadas se pudo observar que los pagos electrónicos han sufrido un incremento. Los resultados obtenidos y las conclusiones a las que se llegan permiten visualizar la importancia que tiene para las empresas de cualquier tamaño el desarrollo de estrategias que permitan reinventarse y acceder a los mercados de manera exitosa, adaptándose a la "nueva normalidad" de los consumidores.
This paper focuses on carrying out an analysis on the change in consumer habits during the pandemic period in the City of Pachuca, Hidalgo, and its metropolitan area. This is mainly related to the choices they make about the products of the basic basket, based on frequency and location. To achieve this, Maslow's theory of human motivation was taken as a basis. A random survey was also conducted among consumers who have purchasing power in their families, thus a total of 345 people were surveyed. In this study, it was found that shopping habits have had little variation in the aspect of the place of purchase. This has led to increase in grocery and convenience stores, the frequency of purchase has decreased, and the assigned budget has had variations. In the reviews carried out, it was observed that electronic payments have also suffered an increase. The results obtained and the conclusions reached made it possible to visualize the importance for companies of any size to develop strategies that allow them to reinvent themselves and successfully access markets, in order to adapt to the "new normal" of consumers.
Downloads
Download data is not yet available.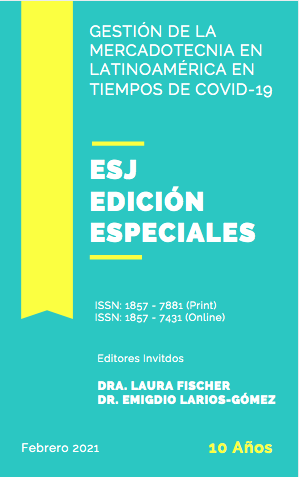 How to Cite
Alcántara Hernández, R. J., Islas, A. C., & Figueroa Velázquez, J. G. (2021). Efectos de la Pandemia del COVID-19 en el Comportamiento del Consumidor Mexicano: Hábitos de Compra de la Canasta Básica. European Scientific Journal, ESJ, 17(4), 165. https://doi.org/10.19044/esj.2021.v17n4p165
Copyright (c) 2021 Ruth Josefina Alcántara Hernández, Arlen Cerón Islas, Juan Gabriel Figueroa Velázquez
This work is licensed under a Creative Commons Attribution-NonCommercial-NoDerivatives 4.0 International License.