Assessment of Radical Scavenging and Sickling Inhibitory Activities of the Bark of Disthemonanthus Benthamianus (Caesalpiniaceae)
Akakpo-Akue Joël

Laboratory of Biology and Health, UFR Biosciences, University Félix Houphouët-Boigny (UFHB), Côte d'Ivoire

Ahon Gnamien Marcel

Laboratory of Biology and Health, UFR Biosciences, University Félix Houphouët-Boigny (UFHB), Côte d'Ivoire

Kplé Tatiana Kangah Mireille

Laboratory of Biology and Health, UFR Biosciences, University Félix Houphouët-Boigny (UFHB), Côte d'Ivoire Immunity Biology Center, Institute Pasteur of Côte d'Ivoire, Côte d'Ivoire

Fofié Yvette

Pharmacognosy Laboratory, UFR of Pharmaceutical and Biological Sciences, University Félix Houphouët-Boigny, Côte d'Ivoire

Ibrahime Sanogo

Clinical Haematology Department, University Hospital of Yopougon, Abidjan, Côte d'Ivoire

Yapo-Crezoit Antoinette Claire Chiyae

Immunity Biology Center, Institute Pasteur of Côte d'Ivoire, Côte d'Ivoire

Kra Adou Koffi Mathieu

Laboratory of Biology and Health, UFR Biosciences, Université Félix Houphouët-Boigny (UFHB), Côte d'Ivoire
Keywords:
Disthemonanthus benthamianus, phenolic compounds, antioxidant activity, antisickling activity, Côte d'Ivoire
Abstract
Among the medicinal plants used in the treatment of sickle cell disease in south-east of Côte d'Ivoire is Disthemonanthus benthamianus. This paper focuses on assessing its antioxidant properties and its antisickling activity. The test of inhibition of sodium metabisulfite-induced sickling of the erythrocytes was carried out based on this evaluation. The total phenolic compounds contents were 45 ± 0.64 and 39.84 ± 0.69 mg/g of dry weight for ethanolic extract and the decocted respectively. The DPPH reduction test showed that the decocted (9 μg/mL) had a lower IC50 than the ethanolic extract (16 μg/mL). There was no significant difference between the sickling inhibitory activities of the ethanolic extract (87.00%) and the decocted (81.66%). This study showed that both extracts had sickling inhibitory and antioxidant activities.
Downloads
Download data is not yet available.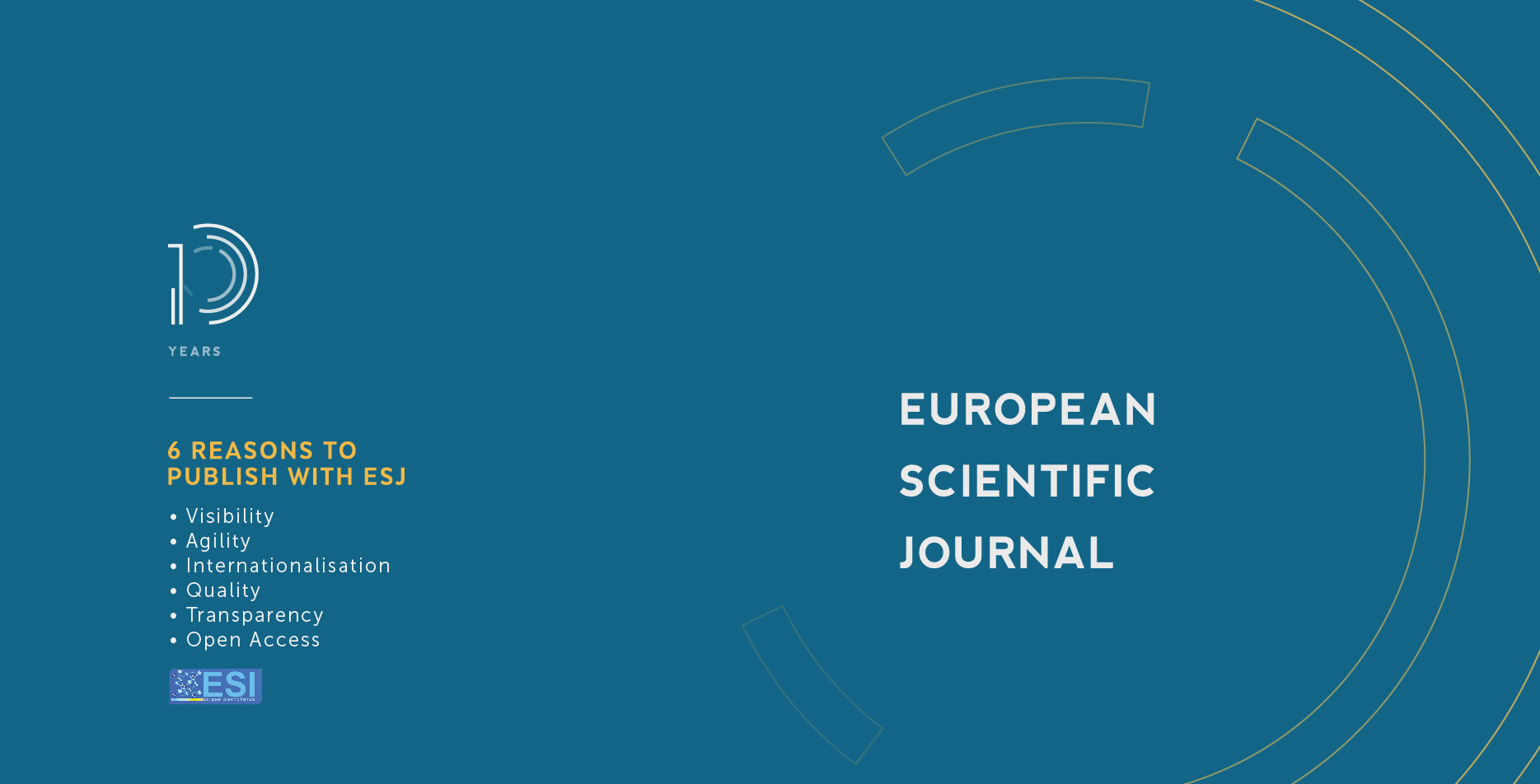 How to Cite
Joël, A.-A., Marcel, A. G., Kangah Mireille , K. T., Yvette, F., Sanogo, I., Claire Chiyae, Y.-C. A., & Koffi Mathieu, K. A. (2021). Assessment of Radical Scavenging and Sickling Inhibitory Activities of the Bark of Disthemonanthus Benthamianus (Caesalpiniaceae). European Scientific Journal, ESJ, 17(10), 121. https://doi.org/10.19044/esj.2021.v17n10p121
Section
ESJ Natural/Life/Medical Sciences
Copyright (c) 2021 Akakpo-Akue Joël, Ahon Gnamien Marcel, Kplé Tatiana Kangah Mireille , Fofié Yvette, Ibrahime Sanogo, Yapo-Crezoit Antoinette Claire Chiyae, Kra Adou Koffi Mathieu
This work is licensed under a Creative Commons Attribution-NonCommercial-NoDerivatives 4.0 International License.