Trends in Poisoning and Bites among Patients Referred to the Limbe Regional Hospital, South-West Cameroon
Daniel Brice Nkontcheu Kenko

Zoology Laboratory, Department of Zoology and Animal Physiology, Faculty of Science, University of Buea, Cameroon

Anna Ewang Mekone

Zoology Laboratory, Department of Zoology and Animal Physiology, Faculty of Science, University of Buea, Cameroon

Jacob Mugri Ekaineck

Zoology Laboratory, Department of Zoology and Animal Physiology, Faculty of Science, University of Buea, Cameroon
Keywords:
Farming, Farm gross income, Organic, Conventional, Tanguieta
Abstract
Poisoning is a common public health issue as it affects millions of people in all social levels worldwide. This retrospective cohort study assessed trends in poisoning and bites among patients referred to the Limbe Regional Hospital from the 1st January 2009 to the 31st December 2018 (10 years). After clearance from public health authorities, data was collected from April to July 2019 at the Emergency Ward of the Limbe Regional Hospital from records. The Limbe Regional Hospital received 244 patients from 2009 to 2018 because of poisoning and animal bites. Twelve types of poisons and eight types of bites were recorded. Dog bite (33.20%), snake bite (15.16%) and ingestion of bleaching agent (11.48%) were significantly (p<0.001) more frequent. Based on gender, males (55%) significantly (p<0.01) suffered from more than females (45%). The age of the patient significantly (p<0.001) influenced the frequency of poisons and bites as patients under 30 years old were the most affected group. The occupation of the patient significantly (p<0.001) influenced the frequency of poisoning and bites with a high percentage occurring in unemployed patients (67.21%). The number of cases significantly changed according to seasonality. While a few cases (7%) occurred under unknown circumstances, accidental cases (80%) were significantly (p<0.001) higher than suicide attempts (13%). This study raises awareness of poisoning and bites, and stresses on the importance of the safekeeping of toxic compounds, respecting prescribed drugs doses, being careful when dealing with animals and the need to create psychological and poison management centers in Cameroon.
Downloads
Download data is not yet available.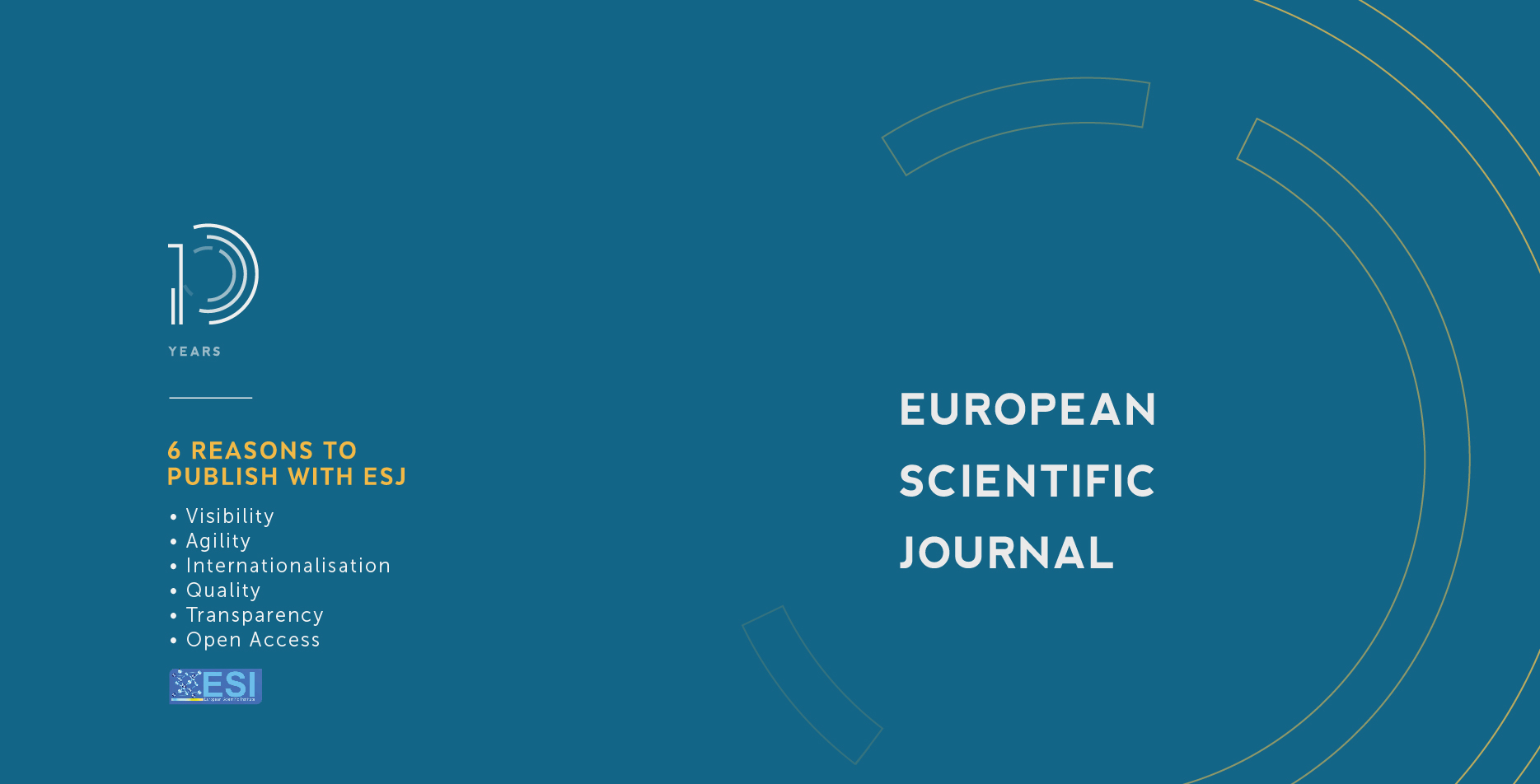 How to Cite
Nkontcheu Kenko, D. B., Mekone, A. E., & Ekaineck, J. M. (2021). Trends in Poisoning and Bites among Patients Referred to the Limbe Regional Hospital, South-West Cameroon. European Scientific Journal, ESJ, 17(14), 104. https://doi.org/10.19044/esj.2021.v17n14p104
Section
ESJ Natural/Life/Medical Sciences
Copyright (c) 2021 Daniel Brice Nkontcheu Kenko, Anna Ewang Mekone, Jacob Mugri Ekaineck
This work is licensed under a Creative Commons Attribution-NonCommercial-NoDerivatives 4.0 International License.