Représentations sociales de la pollution de l'air intérieur et pratiques sociales des malades d'asthme de la commune de Yopougon (Côte d'Ivoire)
Kouadio Ahou Rosine

Doctorante, Université Félix Houphouët-Boigny de Cocody, UFR Sciences Médicales Abidjan, Programme Doctoral Interuniversitaire de Santé Publique. Spécialités : Ecosystèmes, santé et développement durable

Tra Fulbert

Enseignant-Chercheur, Université Félix Houphouët-Boigny de Cocody, UFR Sciences de l'Homme et de la Société, Département de Sociologie

Ouattara Soualiho

Enseignant-Chercheur, Université Félix Houphouët-Boigny de Cocody, UFR Sciences Médicales Abidjan, Département de Physiologie
Keywords:
Représentations sociales, pratiques sociales, pollution de l'air intérieur, asthme, Yopougon
Abstract
La pollution de l'air intérieur constitue un problème de santé publique du fait de son impact sur la santé des populations. Cette étude vise à établir le lien entre les représentations que les personnes souffrant d'asthme ont de la pollution de l'air intérieur et les pratiques sociales qu'ils adoptent en conséquence, notamment au sein du ménage. A travers une approche mixte, cette recherche s'est appuyée sur des techniques aussi bien quantitatives que qualitatives fondées sur la méthodologie des représentations sociales. Un questionnaire a été adressé à 200 participants souffrant d'asthme en utilisant des questions relevant du modèle explicatif et des items représentationnels. Ce questionnaire a été réalisé sur la base de l'entretien effectué au préalable avec 31 personnes souffrant d'asthme. Les résultats indiquent que 97,5% des participants souffrant d'asthme incriminent principalement l'inhalation de la poussière et la fumée qui pénètrent dans leur domicile. Leurs propres pratiques et habitudes au sein du ménage sont peu évoquées.
Owing to its impact on populations' health, indoor air pollution represents a public health issue. This study aims to establish a relationship between the representations that asthma sufferers have of indoor air pollution and the social practices they adopt accordingly, especially within their household. In doing so, this study resorted to a mixed approach including both quantitative and qualitative techniques based on the methodology of social representations. Making use of questions related to the explanatory model and representational items, a questionnaire was administered to 200 asthma patients. This questionnaire was designed on the basis of the interview conducted beforehand with 31 participants. Results suggest that 97.5% of interviewed asthma patients essentially blame inhaling (outdoor) dust and smoke that enter their home. Little is mentioned about their own lifestyle (practices and habits).
Downloads
Download data is not yet available.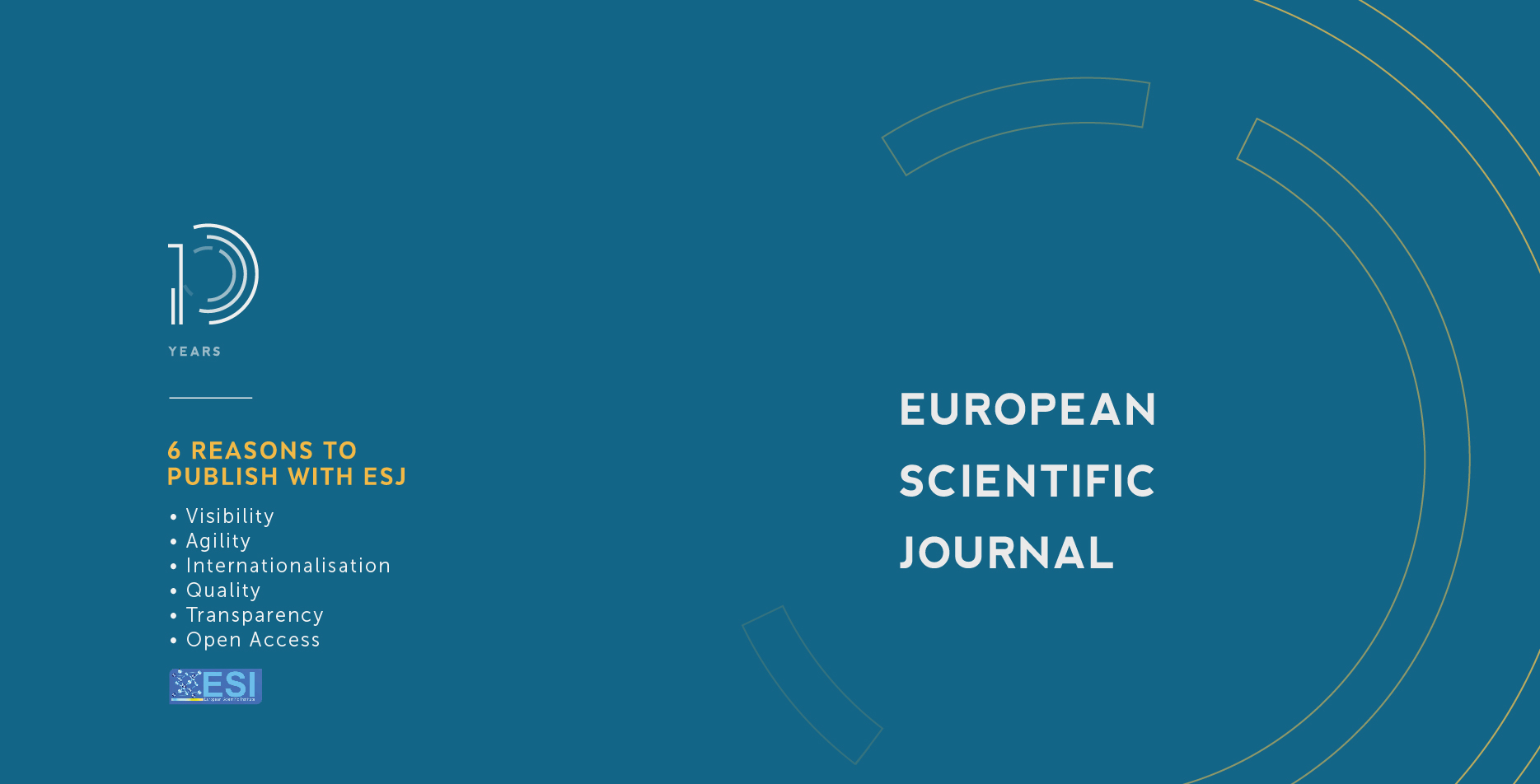 How to Cite
Rosine, K. A., Fulbert, T., & Soualiho, O. (2021). Représentations sociales de la pollution de l'air intérieur et pratiques sociales des malades d'asthme de la commune de Yopougon (Côte d'Ivoire). European Scientific Journal, ESJ, 17(14), 217. https://doi.org/10.19044/esj.2021.v17n14p217
Section
ESJ Natural/Life/Medical Sciences
Copyright (c) 2021 Kouadio Ahou Rosine, Tra Fulbert, Ouattara Soualiho
This work is licensed under a Creative Commons Attribution-NonCommercial-NoDerivatives 4.0 International License.