Prise en Charge de la Grossesse Extra-Utérine en Situation d'Urgence : Expérience d'un Hôpital Confessionnel en Zone Rurale au Togo
Biréga Koutora

Service de Chirurgie, Hôpital de l'Ordre de Malte d'Elavagnon, Togo

Kodjo Abossisso Sakiye

Service des Urgences Chirurgicales, CHU Sylvanus Olympio-Lomé, Togo

Déladem Yaovi Guinhouya

Service de Gynécologie-Obstétrique, CHU Sylvanus Olympio-Lomé, Togo

Mibirim Agbogawo

Clinique Médico-Chirurgicale (Pavillon Militaire), CHU Sylvanus Olympio-Lomé, Togo

Kokou Kouliwa Kanassoua

Département de Chirurgie et Spécialités chirurgicales, Facultés des Sciences de la Santé, Université de Lomé, Togo
Keywords:
Grossesse extra-utérine, Diagnostic, Traitement, Zone rurale
Abstract
Introduction : La grossesse extra-utérine (GEU) est responsable d'une mortalité évitable. Le but de cette étude est de décrire la démarche diagnostique et thérapeutique de cette affection en zone rurale. Méthodologie : Il s'est agi d'une étude transversale descriptive menée à l'Hôpital de l'Ordre de Malte d'Elavagnon, et incluant les patientes prises en charge pour GEU du 1er Décembre 2019 au 31 Décembre 2020. Résultats : Vingt-et-huit cas ont été enregistrés avec un âge moyen de 27,7 ± 5,4 ans. Il s'agissait d'une GEU rompue dans tous les cas. Le diagnostic était essentiellement basé sur la clinique et le test de grossesse. Le traitement était chirurgical radical dans tous les cas. Le produit sanguin le plus utilisé était le sang total. Le pronostic était bon dans tous les cas. Conclusion : Le diagnostic de la GEU est essentiellement clinique et le traitement chirurgical en zone rurale.
Introduction : Ectopic pregnancy (EP) is responsible for preventable mortality. The aim of this study is to describe the diagnostic and therapeutic approach of this disease in rural zone. Methodology : Transversal study including patients treated for EP at Elavagnon « Ordre de Malte » Hospital, from 1st December 2019 to 31st December 2020. Results : Twenty-eight cases were registered with an average age of 27.7 ± 5.4 years old. The EP was ruptured in all cases. The diagnosis was mainly based on clinic and the pregnancy test. The treatment was radical surgery in all cases. The most used blood product was whole blood. The prognosis was good in all cases. Conclusion : EP diagnosis is mainly clinic and the treatment surgical in rural zone.
Downloads
Download data is not yet available.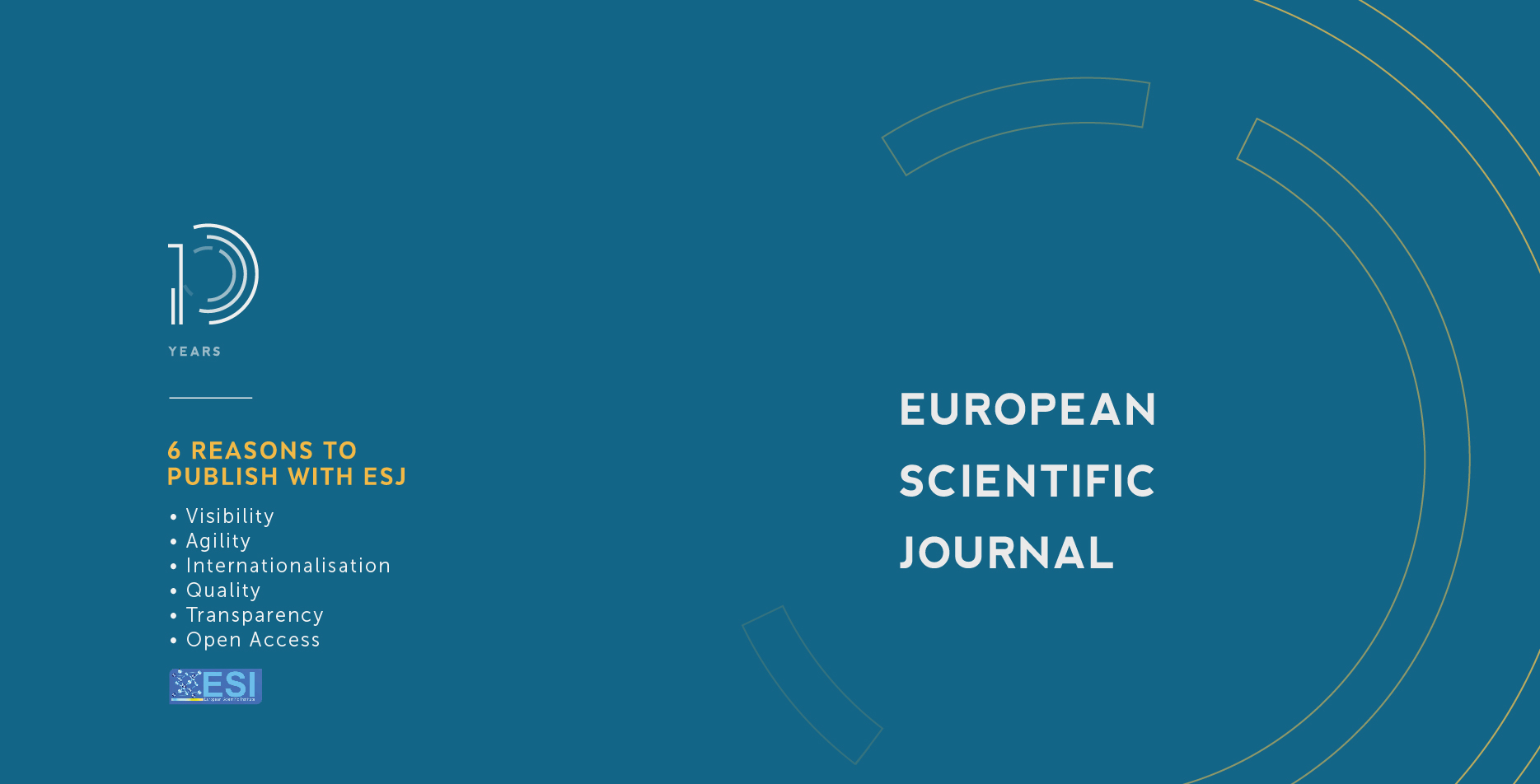 How to Cite
Koutora, B., Sakiye, K. A., Guinhouya, D. Y., Agbogawo, M., & Kanassoua, K. K. (2021). Prise en Charge de la Grossesse Extra-Utérine en Situation d'Urgence : Expérience d'un Hôpital Confessionnel en Zone Rurale au Togo. European Scientific Journal, ESJ, 17(14), 237. https://doi.org/10.19044/esj.2021.v17n14p237
Section
ESJ Natural/Life/Medical Sciences
Copyright (c) 2021 Biréga Koutora, Kodjo Abossisso Sakiye, Déladem Yaovi Guinhouya, Mibirim Agbogawo, Kokou Kouliwa Kanassoua
This work is licensed under a Creative Commons Attribution-NonCommercial-NoDerivatives 4.0 International License.