L'aménagement Écologique au Service de l'environnement : Cas de la Ville de Gabes et de M'Torrech (Sud Est Tunisien)
Saied Saoussen

Enseignant-Chercheur, Institut Supérieur Agronomique de Chott MariemIRESA, Université de Sousse, Tunisie

Lahmar Karim

Enseignant-Chercheur, Université de Monastir, Tunisie Laboratoire de recherche : Durabilité de l'oléiculture et l'arboriculture face aux changements climatiques, Institut de l'olivier Tunisie
Keywords:
Aménagement écologique, Environnement, Gabès
Abstract
La ville de Gabès (sud est Tunisien) est parmi les zones les plus touchées par une forte anthropisation. Les formes de pollutions atmosphériques ou continentales engendrées par les populations de cette ville, incitent à penser à des formes de corrections, à travers la proposition d'un éventuel projet d'aménagement écologique dans lequel l'environnement serait pris en compte. Cette étude propose une approche d'aménagement écologique en guise de modèle pour les aménagements. La méthodologie adoptée est basée premièrement sur une étude documentaire suivie d'une analyse des données. Puis, des logiciels de conception en 2d, de modélisation en 3d et de cartographie ont été utilisés pour concevoir un plan d'aménagement écologique. Il ressort de cette étude que la pollution anthropique causée essentiellement par le Groupe Chimique Tunisien (GCT) de la localité de Gabès-ville et de M'Torrech engendre un danger potentiel sur la population (soit des maladies dermatologiques, respiratoire et allergéniques). Le plan d'aménagement écologique proposé aiderait les localités en question à diminuer l'effet de cette pollution. Les résultats mettent l'accent sur le danger de la pollution anthropique dans la région.
The city of Gabes (south-east of Tunisia) is among the areas most affected by strong anthropization. The forms of pollution recorded either atmospheric or continental encourage us to think better about forms of corrections. This could be in the form of an eco-landscaping project. The objective of this work is to provide a form of reflection on the possibility of intervening by setting up a project in which the environment is taken into consideration. In this study we try to focus on the present situation in relation to this issue. The adopted methodology is based firstly on a documentary study followed by data analysis. Then we try to come up with a design for an ecolandscaped park using photography, 2d design, 3d modeling and mapping software. Results obtained gave a more sustainable eco-landscaped development model. It emerges from this study that anthropogenic pollution caused mainly by the Tunisian Chemical Group (GCT) of the locality of Gabès-ville and M'Torrech generates a potential danger for the population (dermatological, respiratory and allergenic diseases). The proposed ecological development plan would help the localities in question to reduce the effect of this pollution. The results highlight the danger of anthropogenic pollution in the region.
Downloads
Download data is not yet available.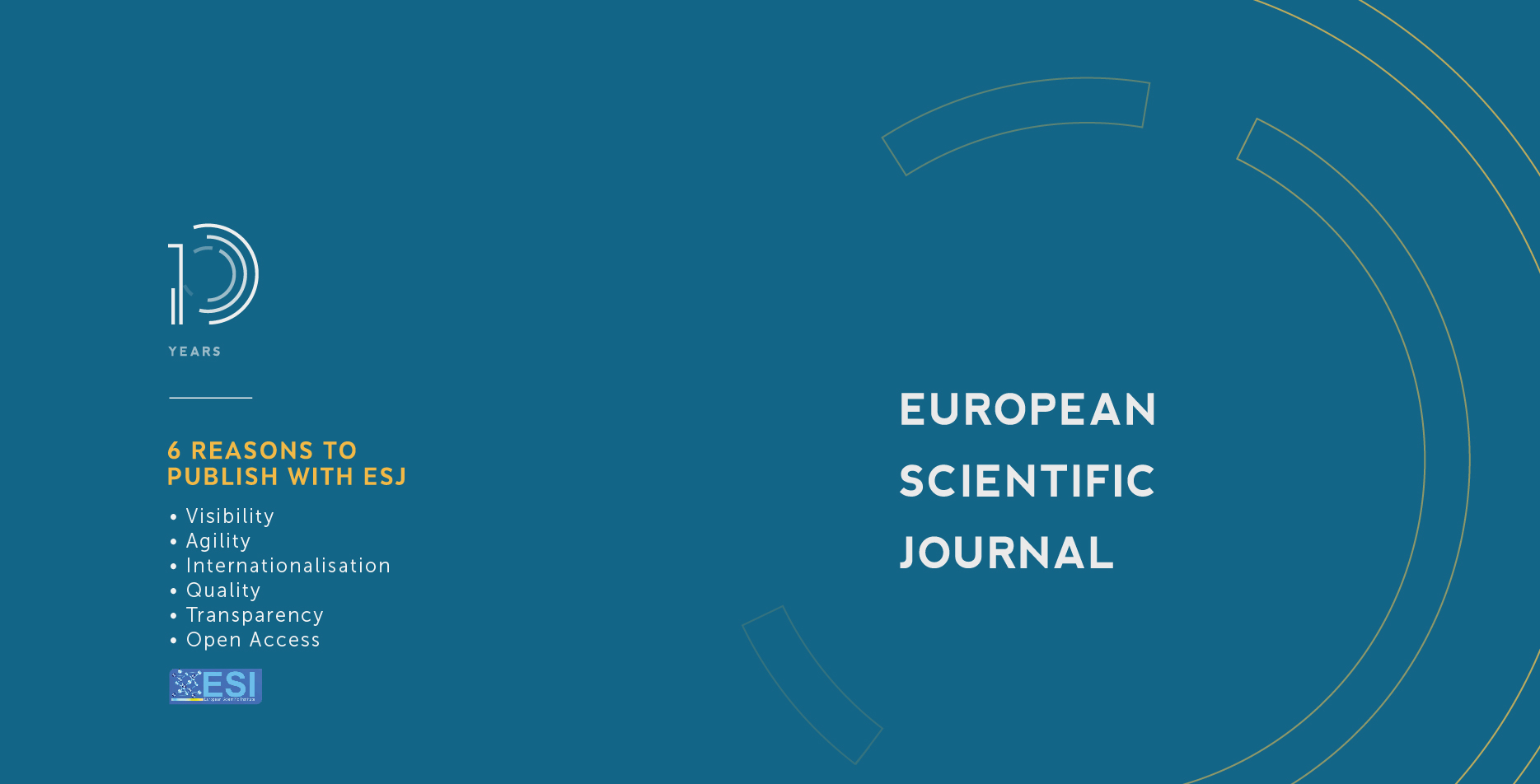 How to Cite
Saoussen, S., & Karim, L. (2021). L'aménagement Écologique au Service de l'environnement : Cas de la Ville de Gabes et de M'Torrech (Sud Est Tunisien). European Scientific Journal, ESJ, 17(14), 300. https://doi.org/10.19044/esj.2021.v17n14p300
Section
ESJ Natural/Life/Medical Sciences
Copyright (c) 2021 Saied Saoussen, Lahmar Karim
This work is licensed under a Creative Commons Attribution-NonCommercial-NoDerivatives 4.0 International License.