Métropole d'Equilibre et Dynamique Territoriale: Concept, Réalités et Perspectives dans l'espace UEMOA
Dossou Claude Ignace

Doctorant niveau 3 à l'Université de Nantes, IGARUN, LETG, France

Danvidé Taméon Benoît

Enseignant-Chercheur à l'Ecole Africaine des Métiers de l'Architecture et de l'Urbanisme, Togo
Keywords:
Ville, métropole d'équilibre, développement urbain, UEMOA
Abstract
La compréhension de ce que l'on tente d'appeler métropoles d'équilibre présente et discute certains enjeux de la recherche urbaine, des critères de l'organisation de l'équilibre de l'armature urbaine et la rationalité de la « métropolisation » en Afrique de l'Ouest. Mieux organiser ou plutôt mieux réorganiser le territoire communautaire déséquilibré de l'UEMOA est au cœur de cet article qui vise à promouvoir les villes secondaires par une nouvelle vision de redéveloppement des villes d'équilibre dans l'espace de l'Union. La définition des critères techniques pertinents, à opposer aux influences politiques subjectifs, défend l'idée centrale de la nécessité de « reconceptualiser » la structuration de l'armature urbaine par des formes et politiques urbaines opérationnelles pour réparer les conséquences d'une désorganisation de l'équilibre des villes et de l'urbanisation en Afrique de l'Ouest. La perception de promotion des villes d'équilibres est construite sur différents arguments : le changement de paysage par le phénomène d'interpénétration entre l'espace urbain et l'espace rural, la nécessité de la prospérité des services urbains et l'émergence des territoires, et enfin, le développement économique, politique et social par l'effet d'une meilleure planification et maîtrise de l'armature urbaine. La réflexion aboutit sur une proposition de villes d'équilibre qui seront de nouveaux pôles urbains d'expérimentation locale de « ville durable », « urbanisme durable », « ville inclusive », etc. L'article suggère une rationalité territoriale par l'incrémentation des principes nouveaux dans le développement des plans stratégiques, de grandes opérations d'aménagements urbains et l'opérationnalisation de la gouvernance urbaine. Le jeu des acteurs intégrée est attendu pleinement dans le processus développement équilibré et harmonieux des villes. Le rôle des Etats et l'Union est central dans la prise d'initiatives innovantes en vue de promouvoir les nouveaux concepts de « métropoles UEMOA », « capitales régionales UEMOA », « villes d'équilibre UEMOA ».
A good understanding of equilibrium metropolises presents and discusses certain issues of urban research, the criteria for the organization of the equilibrium of the urban framework, and the rationality of "metropolization" in West Africa. This paper focuses on a better reorganizing of the unbalanced community territory of WAEMU, which aims to promote secondary cities through a new vision of redevelopment of balanced cities in the Union space. The definition of the relevant technical criteria, to be opposed to subjective political influences, defends the central idea of the need to "reconceptualize" the structuring of the urban framework by operational urban forms and policies to repair the consequences of a disorganization of the city, balance of cities, and urbanization in West Africa. The perception of promoting balanced cities is built on different arguments. This include the change of landscape through the phenomenon of interpenetration between urban space and rural space, the need for the prosperity of urban services and the emergence of territories, and finally, economic, political, and social development through better planning and control of the urban framework. The reflection leads to a proposal for cities of balance which will be new urban centers of local experimentation of "sustainable city", "sustainable urbanism", "inclusive city", etc. The article suggests a territorial rationality by incrementing new principles in the development of strategic plans, major urban planning operations, and the operationalization of urban governance. The play of integrated actors is fully expected in the process of balanced and harmonious development of cities. The role of the States and the Union is central in taking innovative initiatives to promote the new concepts of "WAEMU metropolises", "WAEMU regional capitals", and "WAEMU balanced cities".
Downloads
Download data is not yet available.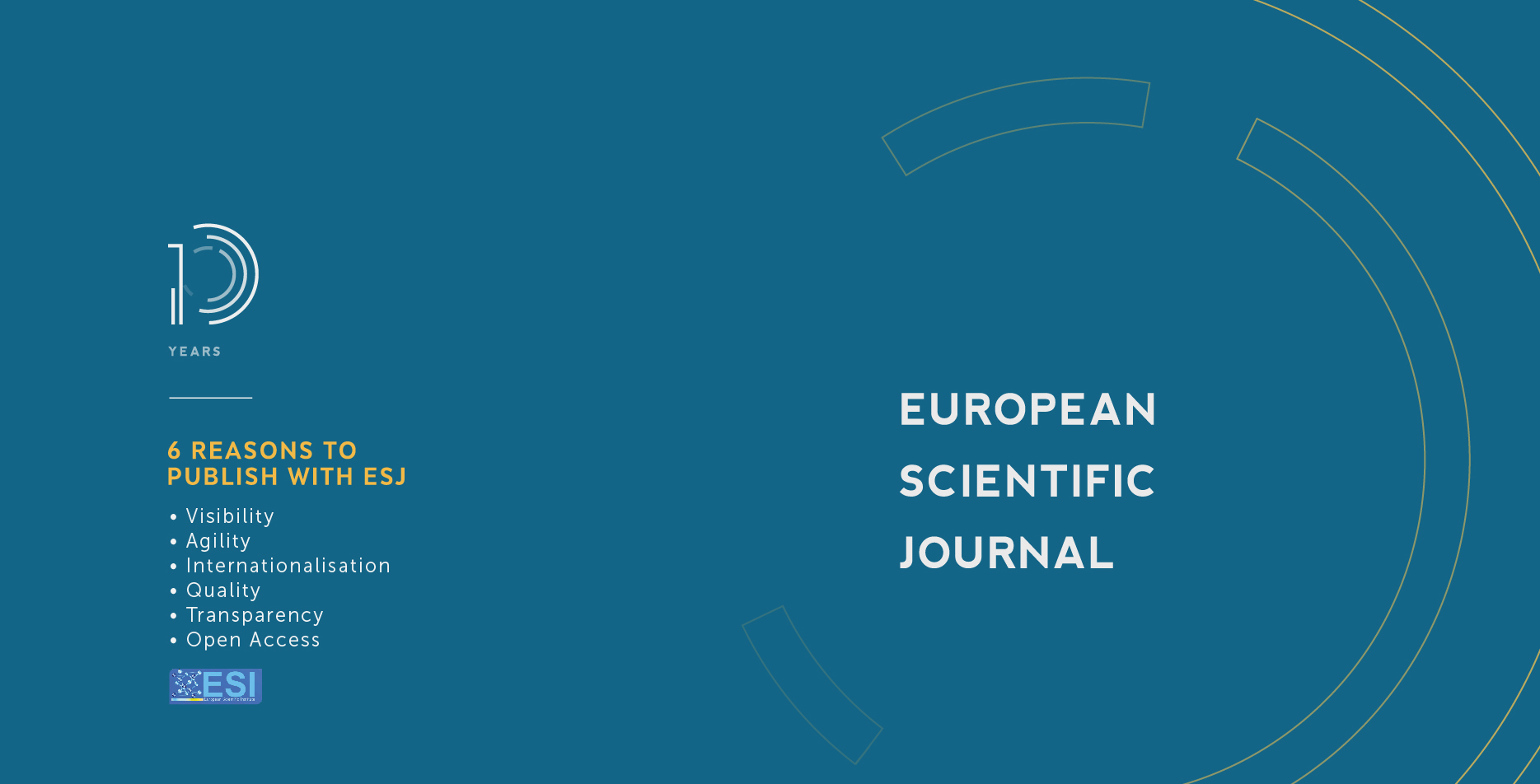 How to Cite
Ignace, D. C., & Benoît, D. T. (2021). Métropole d'Equilibre et Dynamique Territoriale: Concept, Réalités et Perspectives dans l'espace UEMOA. European Scientific Journal, ESJ, 17(13), 98. https://doi.org/10.19044/esj.2021.v17n13p98
Copyright (c) 2021 Dossou Claude Ignace, Danvidé Taméon Benoît
This work is licensed under a Creative Commons Attribution-NonCommercial-NoDerivatives 4.0 International License.