Construction Et Première Validation D'un Mini-Questionnaire d'Inventaire Des Stratégies Identitaires Chez Des Adolescents Migrants Scolarisés En Situation Transculturelle
Yannick Tamo Fogue

Doctorant, Psychologie du développement, Université de Yaoundé 1, Cameroun

Rosaline Tcheundjio

Assistante, Psychologie cognitive et du développement, Université de Yaoundé 1, Cameroun

Gustave Adolphe Messanga

Maître de Conférences, Psychologie sociale et expérimentale, Université de Dschang, Cameroun

Valère Nkelzok Komtsindi

Professeur, Psychologie cognitive et du développement, Université de Douala, Cameroun

Jacques Philippe Benoit Tsala Tsala

Professeur, Psychologie clinique et du développement, Université de Yaoundé 1, Cameroun
Keywords:
Stratégie Identitaire, Adolescents Migrants, Situation Transculturelle, Réfugié, Déplacé Interne
Abstract
En contexte africain, le développement de la personnalité est tributaire des niches socioculturels régissant la construction de l'identité individuelle, sociale et du concept de soi du sujet. Cependant, le changement socioculturel entraine une rupture entre l'identité de base engagée dans son milieu anthropomorphiste d'origine et celle assignée en milieu d'accueil. Pour résoudre ce conflit identitaire, l'on construit des mécanismes que la littérature range dans le concept de ''stratégies identitaires''. Mais jusqu'ici, elle ne propose pas d'outils permettant de mesurer clairement ce construit. C'est pourquoi dans cette recherche, l'on se propose de développer un instrument psychométrique standardisé, permettant d'évaluer quantitativement la construction des stratégies identitaires chez les adolescents migrants scolarisés en situation transculturelle. Il est organisé autour de quatre facettes/dimensions/sous-échelles relatives au Camouflage/Clandestinité/Redéfinition de soi, l'Arrangement/Affichage de soi, l'Evitement/Réparation de soi, et le Déni/Annulation de soi ou d'autrui. Après étalonnage/validation auprès de 368 adolescents migrants dont 184 réfugiés centrafricains et 184 déplacés internes Extrême-Nord/Nord camerounais, des deux sexes, âgés de 12 à 18 ans et scolarisés à l'Est-Cameroun, les analyses factorielles exploratoires et en composantes principales lui confèrent des qualités métrologiques fiables (αitems  [.68, .93] ; αQISISTglobal = .78). Ainsi, la validité/fidélité et la cohérence interne du questionnaire sont satisfaisantes.
In the African context, the development of the personality depends on the socio-cultural niches that construct the individual/social identity and the self-concept of the subject. However, socio-cultural change is causing a gap between the basic identity engaged in its original anthropomorphic environment and that assigned in the host environment. To resolve this identity conflict, they construct mechanisms that the literature classifies under the concept of ''identity strategies''. But so far, it does not offer tools to clearly measure this construct. This is why in the present research they propose to develop a standardized psychometric instrument, making it possible to quantitatively assess the construction of identity strategies of migrant adolescents who school in a transcultural situation. It is organized around four facets/dimensions/subscales relating to Camouflage/Clandestinity/Self-Redefinition, Arrangement/Self-Display, Avoidance/Self-Repair and Denial/Cancellation of Self or Others. After calibration/validation with 368 migrant adolescents including 184 Central African refugees and 184 internally displaced persons from the Far North/North Cameroon, of both sexes, aged 12 to 18 years old, who school in the East region of Cameroon, the exploratory factor and components main characteristics analysis give it reliable metrological qualities (αitems [.68, .93];  αQISISTglobal = .78). Thus, the validity/reliability and internal consistency of the questionnaire are satisfactory.
Downloads
Download data is not yet available.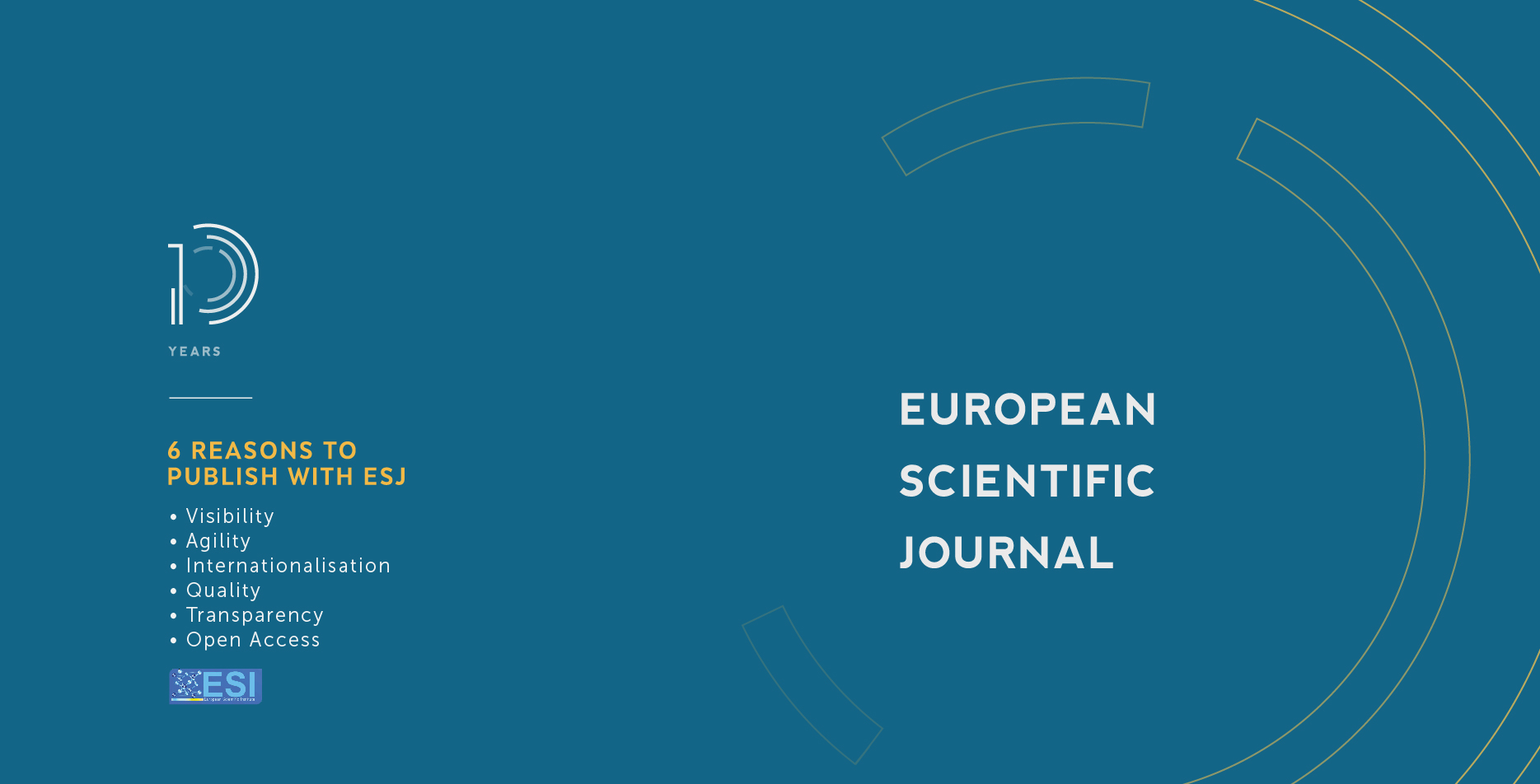 How to Cite
Tamo Fogue , Y., Tcheundjio, R., Messanga , G. A., Nkelzok Komtsindi, V., & Tsala Tsala , J. P. B. (2021). Construction Et Première Validation D'un Mini-Questionnaire d'Inventaire Des Stratégies Identitaires Chez Des Adolescents Migrants Scolarisés En Situation Transculturelle . European Scientific Journal, ESJ, 17(15), 217. https://doi.org/10.19044/esj.2021.v17n15p217
Section
ESJ Social Sciences
Copyright (c) 2021 Yannick Tamo Fogue , Rosaline Tcheundjio, Gustave Adolphe Messanga , Valère Nkelzok Komtsindi, Jacques Philippe Benoit Tsala Tsala
This work is licensed under a Creative Commons Attribution-NonCommercial-NoDerivatives 4.0 International License.