Effets des pratiques agroécologiques sur l'efficacité du système productif des producteurs maraîchers au sud du Bénin
Claude Ahouangninou

Ecole d'Horticulture et d'Aménagement des Espaces Verts (EHAEV) Université Nationale d'Agriculture (UNA), Bénin Centre de Valorisation des Déchets en Energies Renouvelables et en Agriculture (ValDERA), Université d'Abomey-Calavi (UAC), Bénin Institut de Statistiques, Biostatistiques et Sciences Actuarielles Université Catholique de Louvain (UCLouvain), Belgique

Moussa Wari Aboubakar

Centre de Valorisation des Déchets en Energies Renouvelables et en Agriculture (ValDERA), Université d'Abomey-Calavi (UAC), Bénin

Jules Adé

Ecole d'Horticulture et d'Aménagement des Espaces Verts (EHAEV) Université Nationale d'Agriculture (UNA), Bénin

Keline Meniodem Deliota

Institut de Statistiques, Biostatistiques et Sciences Actuarielles Université Catholique de Louvain (UCLouvain), Belgique

Placide Clédjo

Centre de Valorisation des Déchets en Energies Renouvelables et en Agriculture (ValDERA), Université d'Abomey-Calavi (UAC), Bénin

Marie-Paule Kestemont

Institut de Statistiques, Biostatistiques et Sciences Actuarielles, Université Catholique de Louvain (UCLouvain), Belgique
Keywords:
Déterminants, efficience, pratiques agroécologiques, maraîchers, Bénin
Abstract
La production maraîchère au Bénin est associée à l'usage des intrants chimiques pour améliorer les rendements. Mais face aux risques environnementaux qui pèsent sur le milieu de production, il est nécessaire de produire plus écologique. L'objectif de cette étude est d'évaluer l'effet des pratiques agroécologiques sur l'efficience du système productif des maraîchers. A cet effet, une base de données du Centre VaLDERA renseignant sur les pratiques agricoles, comptes et résultats d'exploitation de 197 producteurs des villes de Cotonou, Sèmè-kpodji et Ouidah en 2014 a été analysée. Une analyse en composante principale (ACP) a permis d'identifier des méta-variables : niveau d'utilisation d'engrais, pratiques agroécologiques et caractéristiques sociodémographiques. Ensuite une regression linéaire multiple log-log a permis d'identifier les variables : quantité de fientes, quantité de NPK utilisées, comme les principaux déterminants de l'efficience des producteurs. Les variables diversité écologique, association culturale, rotation sont faiblement corrélées à l'efficience. Il urge de former les producteurs sur les types de rotation qui puissent améliorer leur niveau de productivité et la qualité de leur production, mais aussi de les sensibiliser à l'usage des engrais organiques pour assurer la durabilité de la production.
Vegetable production in Benin is associated with the use of chemical inputs to improve yields. However, given the environmental risks that weigh on the environment, it is necessary to produce in a more ecological way. The objective of this study is to evaluate the effect of agroecological practices on the efficiency of the market gardeners' production system. To this end, a database from the VaLDERA Centre providing information on the agricultural practices, accounts and operating results of 197 producers in the cities of Cotonou, Sèmè-kpodji and Ouidah in 2014 was analysed. A principal component analysis (PCA) identified meta-variables: level of fertiliser use, agroecological practices and socio-demographic characteristics. Then a multiple log-log linear regression identified variables: amount of manure, amount of NPK used, as the main determinants of producer efficiency. The variables ecological diversity, crop association and rotation are weakly correlated with efficiency. There is an urgent need to train producers on the types of rotation that can improve their level of productivity and the quality of their production, but also to make them aware of the use of organic fertilisers to ensure the sustainability of production.
Downloads
Download data is not yet available.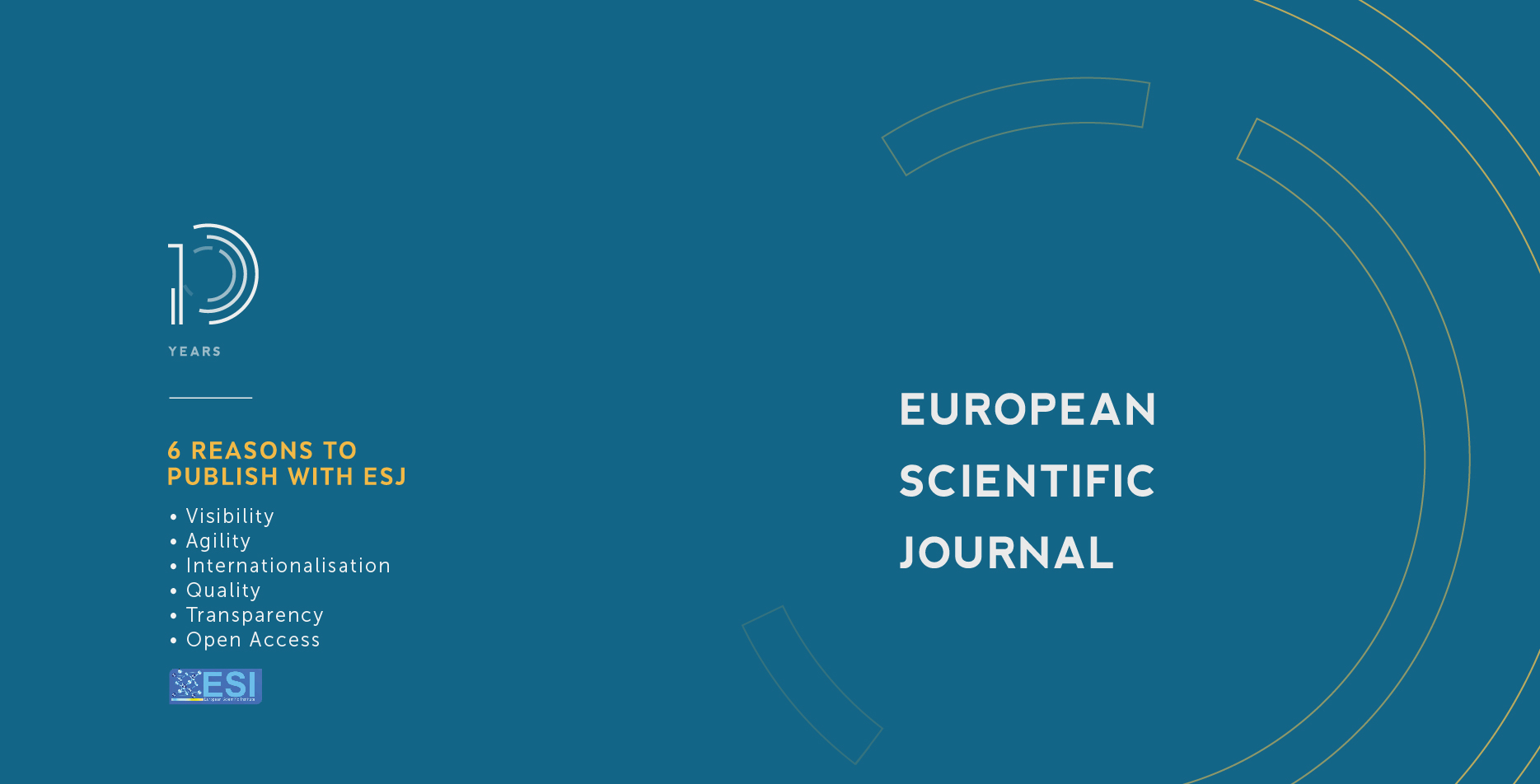 How to Cite
Ahouangninou, C., Aboubakar, M. W., Adé, J., Deliota, K. M., Clédjo, P., & Kestemont, M.-P. (2021). Effets des pratiques agroécologiques sur l'efficacité du système productif des producteurs maraîchers au sud du Bénin. European Scientific Journal, ESJ, 17(17), 267. https://doi.org/10.19044/esj.2021.v17n17p267
Section
ESJ Natural/Life/Medical Sciences
Copyright (c) 2021 Claude Ahouangninou, Moussa Wari Aboubakar, Jules Adé, Keline Meniodem Deliota, Placide Clédjo, Marie-Paule Kestemont
This work is licensed under a Creative Commons Attribution-NonCommercial-NoDerivatives 4.0 International License.