Intérêt de la culture associée légumineuses-maïs et stratégie de résilience face à la disponibilité en terre cultivable : le cas de la ferme agricole de Kafigué dans département de Korhogo (Nord de la Côte d'Ivoire)
Kouakou Konan Elie

Doctorant, Université Félix Houphouët-Boigny, UFR des Sciences de la Terre et des Ressources Minières, Département des Sciences du Sol

Akotto Odi Faustin

Enseignant-Chercheur, Université Félix Houphouët-Boigny, UFR des Sciences de la Terre et des Ressources Minières, Filière Pédologie et Agriculture Durable, Côte d'Ivoire

N'Guessan Kouamé Antoine

Enseignant-chercheur, UFR des Sciences Biologiques, Université Peleforo Gon Coulibaly de Korhogo) Yao-Kouamé Albert, (Université Félix Houphouët-Boigny Abidjan-Cocody, UFR des Sciences de la Terre et des Ressources Minières, Département des Sciences du Sol)
Keywords:
Cultures associées, maïs, arachide, cajanus, LER, Côte d'Ivoire
Abstract
En raison de la relative disparition progressive des jachères qui permettaient auparavant la conservation des ressources minérales du sol, la problématique de recherche agronomique dans le Nord de la Côte d'Ivoire est étroitement liée à la petite superficie des exploitations agricoles. Dans un tel contexte, la méthode a consisté à caractériser deux facteurs déterminants : le caractère « terre » qui représente la ressource rare des exploitations agricoles et le caractère « légumineuse » dont la nécessité d'insertion dans les associations. Des systèmes de cultures pures, les cultures associées maïs- cajanus et maïs-arachide ont été étudiés dans le Nord-Côte d'Ivoire. Les résultats ont montré que l'arrangement spatial du semis modifie sensiblement la production de ces associations. On constate que la culture est favorisée par l'association céréale-légumineuse par rapport à la culture pure. Sur le sol objet du présent travail, le maïs associé valorise aussi bien la productivité que le maïs cultivé individuellement. Les possibilités d'améliorer l'association traditionnelle maïs-légumineuse, sans application des fertilisants, sont également examinées. La supériorité de l'association réside plutôt dans la valorisation du capital terre (Land Equivalent Ratio, LER >1) que dans la productivité du travail, qui ne se distingue pas globalement de celle des cultures pures ; cela signifierait que l'association gagne de son intérêt en milieu dégradé. Les différents LER totaux calculés montrent également une différence non significative entre les rendements obtenus sur Labours à plat et billons dans toutes les différentes associations légumineuses-maïs. De ce fait, les paysans n'ont aucune crainte à cultiver sur le labour à plat pour éviter de créer des poches à l'érosion à travers des sillons créés par le billonnage et qui se transforment en rigoles. Les meilleurs systèmes d'associations sont cajanusmaïs et cajanus-maïs-arachide.
For the reason of the relative progressive disappearance of the fallow which allowed before the conservation of the soil mineral resources, the problems of agronomic research in the North of the Côte d'Ivoire are closely related to the small surface of the farms. In such a context, the method consisted in characterizing two determining factors: character "soil" which represents the rare resource of the farms and character "leguminous plant" of which need for insertion in intercropping systems. Farming systems pure, associated crop maize-cajanus and maize-groundnut were studied in the North of Côte d'Ivoire. The results showed that the spatial arrangement of sowing appreciably modifies the production of these intercropping systems. It is noted that the crop is supported by intercrop cereal-leguminous plant compared to the mixed crops. On soil, object of this work, the intercrop maize develops as well the productivity as individually cultivated maize. The possibilities of improving traditional intercrop maize-leguminous plants, without the application of fertilizers, are also examined. The superiority of intercropping lies rather in the valorization of the capital soil (Land Equivalent Ratio, LER > 1) that in the labour productivity, which is not distinguished overall from that of the pure cultures; that would mean that intercropping gains of its interest in degraded area. The different calculated total LER also shows a non significant difference between the yields obtained on Labor flat and balks in all various intercrop leguminous plant-maize. So the farmers don't have any fear to cultivate on the labor flat to avoid erosion through furrows created by the Balk and which are transformed into drains. The best intercropping systems are cajanus-maize and cajanus-maize-groundnut.
Downloads
Download data is not yet available.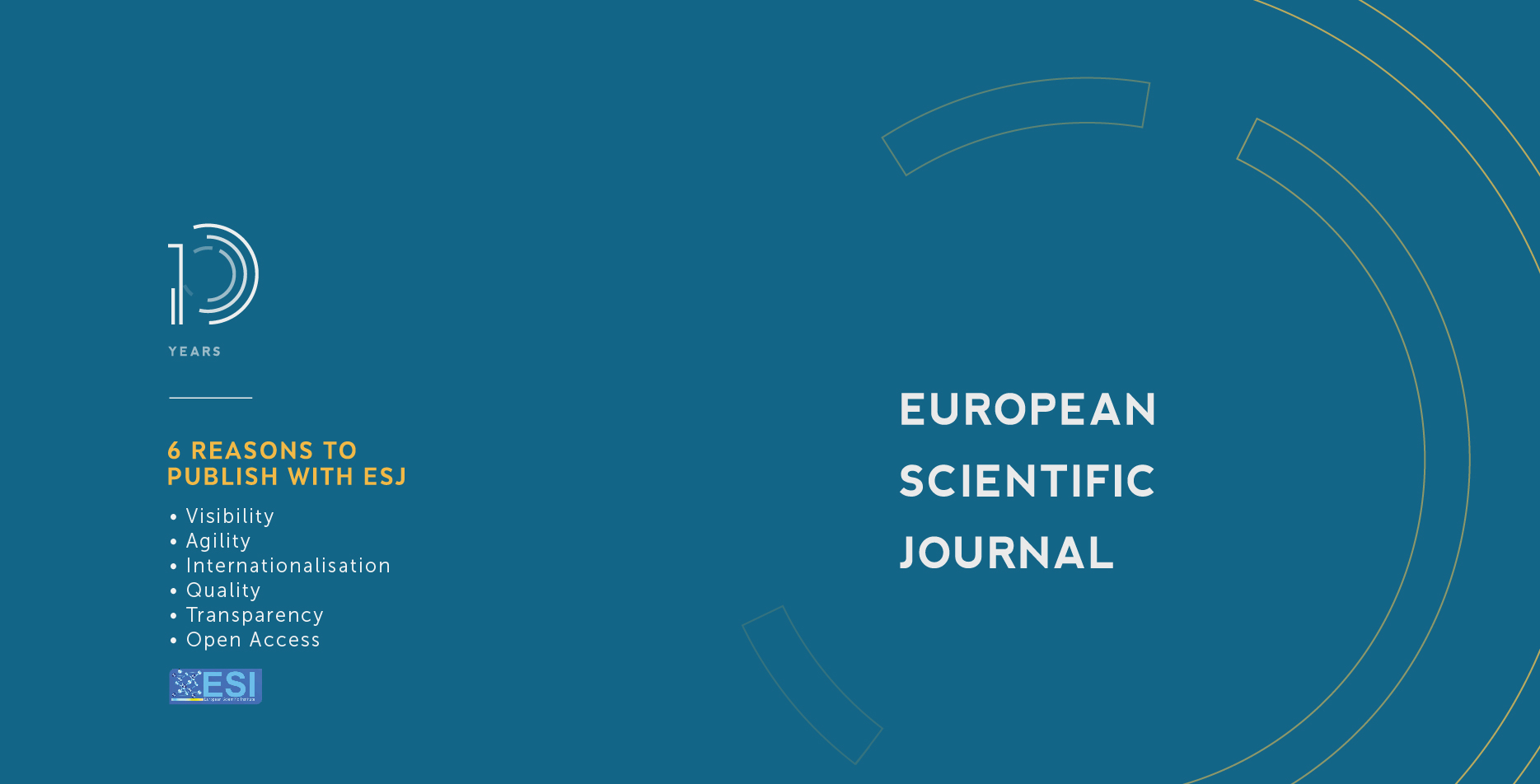 How to Cite
Elie, K. K., Faustin, A. O., & Kouamé Antoine, N. (2021). Intérêt de la culture associée légumineuses-maïs et stratégie de résilience face à la disponibilité en terre cultivable : le cas de la ferme agricole de Kafigué dans département de Korhogo (Nord de la Côte d'Ivoire). European Scientific Journal, ESJ, 17(17), 318. https://doi.org/10.19044/esj.2021.v17n17p318
Section
ESJ Natural/Life/Medical Sciences
Copyright (c) 2021 Kouakou Konan Elie, Akotto Odi Faustin, N'Guessan Kouamé Antoine
This work is licensed under a Creative Commons Attribution-NonCommercial-NoDerivatives 4.0 International License.