Adéquation Du Besoin En Formation Du Personnel De Soins De Santé Maternelle Et Infantile (SMI) Au Burkina Faso
Ousmane Sylla

Université Joseph Ki Zerbo, Département de Santé Publique, Ouagadougou, Burkina Faso Direction Générale de la Santé et de l'Hygiène Publique, Mali

Ahmed Kabore

Université Joseph Ki Zerbo, Département de Santé Publique, Ouagadougou Burkina Faso

Hervé Hien

Université Joseph Ki Zerbo, Département de Santé Publique, Ouagadougou Burkina Faso Centre MURAZ, Bobo-Dioulasso, Burkina Fas
Keywords:
Adéquation, Besoins En Formation, Santé Maternelle, Santé Infantile, Burkina Faso
Abstract
Objectif: Analyser l'adéquation des formations reçues dans le cadre de la lutte contre la mortalité maternelle et infantile avec le besoin en formation du personnel de services de santé de la mère et de l'enfant au Burkina Faso. Méthodes: L'étude est du type transversale, constituée de tous les professionnels de santé des 576 Formatons Sanitaires du premier échelon et des 24 Centre Hospitalier Régional /Centre Médicale avec Antenne chirurgicale de huit régions. Les données ont été collectées par un questionnaire puis vérifié, compilées et analysées sur le logiciel SPSS 20.0. Pour l'analyse des données, nous avons eu recours à deux types d'analyse : une descriptive simple et une bivariée. Résultats: L'étude a montré qu'il existe une inadéquation entre les formations reçues et les besoins en formations. Les principaux besoins en formations sont : la prise en charge intégrée de la maladie de l'enfant soit 52%, le paludisme 46,6%, les soins obstétricaux et néonataux d'urgence de base 46,5% et la planification familiale 45,5%. Conclusion: Au regard de ces résultats, Il est à retenir que parmi les principales formations offertes, seul le paludisme est en adéquation avec les besoins du personnel. Ainsi, il est recommandé aux responsables des différents programmes de santé et aux partenaires techniques et financiers d'impliquer les professionnels dans le choix du thème de la formation afin qu'ils puissent répondent efficacement aux sollicitations des usagers des services de santé.
Objective: To analyze the adequacy of the training received in the fight against maternal and infant mortality with the training needs of maternal and child health service personnel in Burkina Faso. Methods: The study is of the cross-sectional type, made up of all health professionals from the 576 firstlevel health trainers and 24 Regional Hospital / Medical Center with surgical antenna in eight regions. The data were collected by a questionnaire then verified, compiled and analyzed on the SPSS 20.0 software. For the data analysis, we used two types of analysis: a simple descriptive and a bivariate. Results: The study showed that there is an inadequacy between the training received and the training needs. The main training needs are: integrated management of childhood illness 52%, malaria 46.6%, basic emergency obstetric and neonatal care 46.5% and family planning 45, 5%. Conclusion: In view of these results, it should be remembered that among the main training courses offered, only malaria is in line with the needs of the personnel. Thus, it is recommended that those responsible for the health programs and technical and financial partners to involve professionals in the choice of the training topic so that they can respond effectively to the demands of users of health services.
Downloads
Download data is not yet available.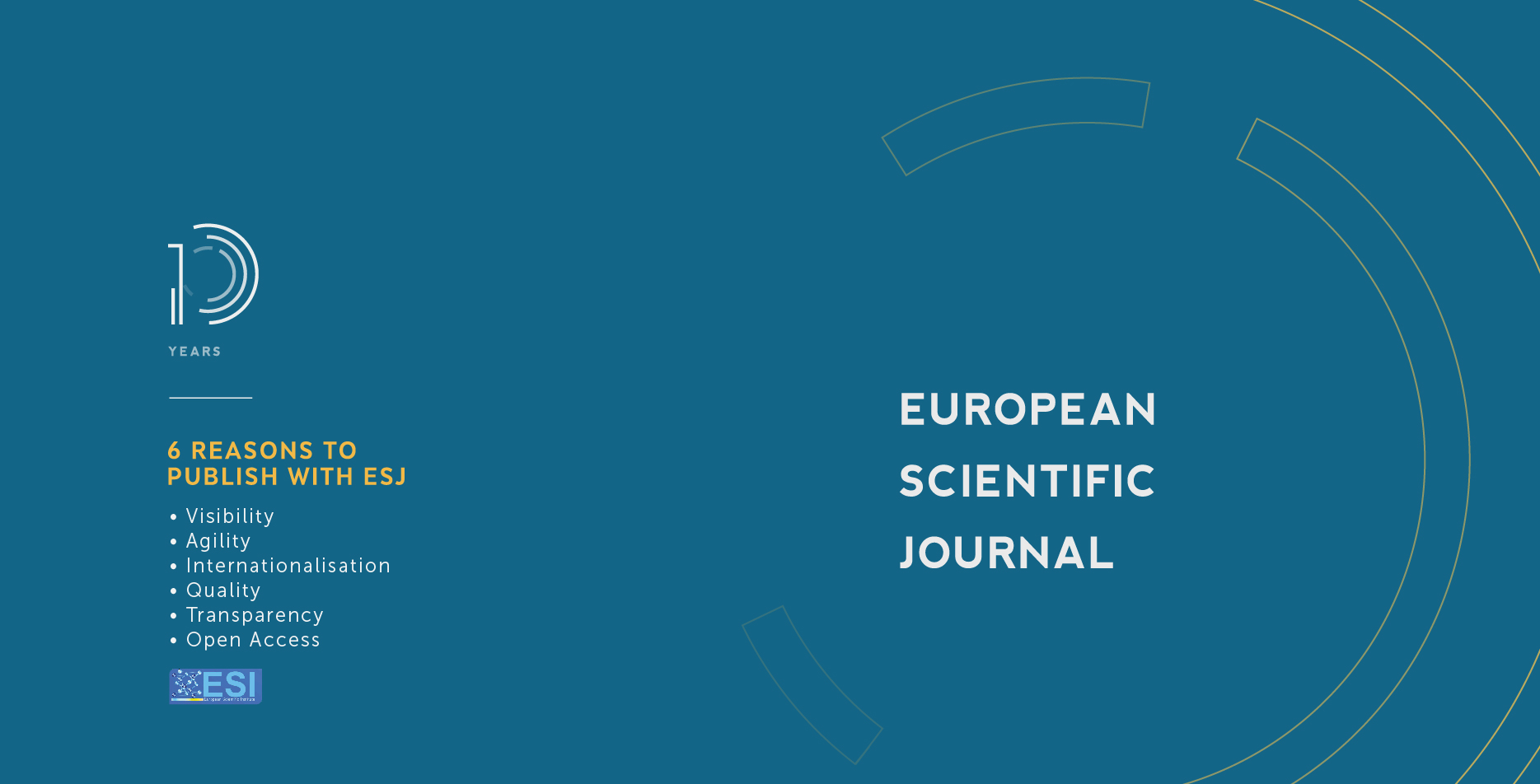 How to Cite
Sylla, O., Kabore, A., & Hien, H. (2021). Adéquation Du Besoin En Formation Du Personnel De Soins De Santé Maternelle Et Infantile (SMI) Au Burkina Faso. European Scientific Journal, ESJ, 17(25), 257. https://doi.org/10.19044/esj.2021.v17n25p257
Section
ESJ Natural/Life/Medical Sciences
Copyright (c) 2021 Ousmane Sylla, Ahmed Kabore, Hervé Hien
This work is licensed under a Creative Commons Attribution-NonCommercial-NoDerivatives 4.0 International License.