Infections Musculosquelettiques De L'adulte AU Centre Hospitalier Universitaire De Brazzaville: Difficultés Diagnostiques Et De Prise En Charge
Angalla Affleck Romaric Ledier

Service de Rhumatologie, Centre Hospitalier Universitaire de Brazzaville, Congo Faculté des Sciences de la Santé, Université Marien Ngouabi, Brazzaville, Congo

Lamini N'Soundaht Norbert Edgard

Service de Rhumatologie, Centre Hospitalier Universitaire de Brazzaville, Congo Faculté des Sciences de la Santé, Université Marien Ngouabi, Brazzaville, Congo

Richard Bileckot

Service de Rhumatologie, Centre Hospitalier Universitaire de Brazzaville, Congo Faculté des Sciences de la Santé, Université Marien Ngouabi, Brazzaville, Congo

Ntsiba Honoré

Service de Rhumatologie, Centre Hospitalier Universitaire de Brazzaville, Congo Faculté des Sciences de la Santé, Université Marien Ngouabi, Brazzaville, Congo

Moyikoua Régis Franck

Service d'imagerie Médicale, Centre Hospitalier Universitaire de Brazzaville, Congo Faculté des Sciences de la Santé, Université Marien NgouabI, Brazzaville, Congo

Bouhelo Pam Kevin Parfait Bienvenu

Service de Traumatologie Orthopédie, Centre Hospitalier Universitaire de Brazzaville, Congo Faculté des Sciences de la Santé, Université Marien Ngouabi, Brazzaville, Congo

Akoli Ekoya Odzala

Service de Rhumatologie, Centre Hospitalier Universitaire de Brazzaville, Brazzaville, Congo

Nkouala Kidede Chabel

Service de Rhumatologie, Centre Hospitalier Universitaire de Brazzaville, Brazzaville, Congo

Omboumahou Bakale Francina

Service de Rhumatologie, Centre Hospitalier Universitaire de Brazzaville, Brazzaville, Congo

Salemo Anna

Service de Rhumatologie, Centre Hospitalier Universitaire de Brazzaville, Brazzaville, Congo

Kaloulou Armande

Service de Rhumatologie, Centre Hospitalier Universitaire de Brazzaville, Brazzaville, Congo
Keywords:
Infection, Arthrite, Ostéite, Spondylodiscite, Myosite, Congo Brazzaville
Abstract
Objectif: Rapporter les difficultés diagnostiques et de prise en charge des infections musculosquelettiques. Patients et méthodes: Etude rétrospective menée dans les services de Rhumatologie et de Traumatologie/Orthopédie du CHU de Brazzaville du 1er Janvier 2017 au 30 Septembre 2020. Nous avons colligé et analysé les dossiers des patients hospitalisés pour infections musculosquelettiques. Le diagnostic d'infection musculosquelettique était retenu sur critères de Wald Vogel et al. Résultats: La fréquence hospitalière était de 1.9%. Les hommes prédominaient (54.8%) avec un sex-ratio de 1.2. L'âge moyen était de 41.7ans (extrêmes 17 et 77 ans). Treize de nos patients étaient les travailleurs indépendants , 12 sans-emploi, les salariés et les étudiants respectivement dans 9 et 8 cas. La majorité de nos patients provenait du milieu rural dans 29 cas (69.1%). Il s'agissait de 13 cas (30.9%) d'ostéomyélites/Ostéites, 12 cas (28.5%) d'arthrites infectieuses, 9 cas (21.4%) de spondylodiscites tuberculoses, 4 cas (9.6%) d'infections sur matériel d'ostéosynthèse et les myosites suppurées. Seuls 6 patients (14%) avaient réalisé une imagerie en coupes (l'IRM dans 4 cas ,la TDM dans 2 cas), avec un délai moyen de réalisation de 6,1 jours (extrêmes 4 et 10 jours) et l'échographie ostéoarticulaire dans 6 cas (14%). L'analyse bactériologique était effectuée dans 25 cas (59.5%), parmi eux, une Pyo culture dans 11 cas (44%), l'analyse du liquide articulaire dans 5 cas (20%), les hémocultures 2 cas et la biopsie osseuse dans 1 cas(4%), avec un délai moyen de réalisation de 5,8 jours (extrêmes 2 et 11 jours). La culture était positive dans 13 cas (52%). Les principaux germes isolés étaient : le streptocoque dans 5 cas (38.4%), le staphylocoque 3 cas (23.1%), l'entérobactérie et le Pseudomonas dans 2cas (15.4%), le bacteroides dans 1 cas (7.7%). Conclusion: Les infections musculosquelettiques sont une urgence diagnostique et thérapeutique et de diagnostic souvent tardif. Les principales difficultés sont le bas niveau socioéconomique et la faible accessibilité du plateau technique.
Objective: This paper focuses on reporting the difficulties in diagnosing and managing musculoskeletal infections. Patients and Methods: Retrospective study was conducted in the Rheumatology and Traumatology/Orthopedics departments of the Brazzaville University Hospital from January 1st, 2017 to September 30th, 2020. The files of hospitalized patients were collected and analyzed for musculoskeletal infections. The diagnosis of musculoskeletal infection was made according to the criteria of Wald Vogel et al. Results: The hospital frequency was 1.9%. Men predominated (54.8%) with a sex ratio of 1.2. The average age was 41.7 years (range 17 and 77). Thirteen of the patients were self-employed, while 12 were unemployed. There were also 9 employees and 8 students. The majority of patients came from rural areas in 29 cases (69.1%). These were 13 cases (30.9%) of osteomyelitis/Osteitis, 12 cases (28.5%) of infectious arthritis, 9 cases (21.4%) of tuberculosis spondylodiscitis, 4 cases (9.6% ) of infections on osteosynthesis material and suppurative myositis. Only 6 patients (14%) had performed sectional imaging (MRI in 4 cases, CT in 2 cases), with an average completion time of 6.1 days (range 4 and 10 days). There were also 6 cases of ultrasound osteoarticular (14%). Bacteriological analysis was performed in 25 cases (59.5%): Pyo culture in 11 cases (44%), joint fluid analysis in 5 cases (20%), blood cultures in 2 cases and bone biopsy in 1 case (4%), with an average completion time of 5.8 days (range 2 and 11 days). Culture was positive in 13 cases (52%). The main germs isolated were streptococcus in 5 cases (38.4%), staphylococcus in 3 cases (23.1%), enterobacteria and Pseudomonas in 2 cases (15.4%), and bacteroides in 1 case ( 7.7%). Conclusion: Musculoskeletal infections are a diagnostic and therapeutic emergency which is often late in diagnosis. The main difficulties are the low socioeconomic level and the poor accessibility of the technical platform.
Downloads
Download data is not yet available.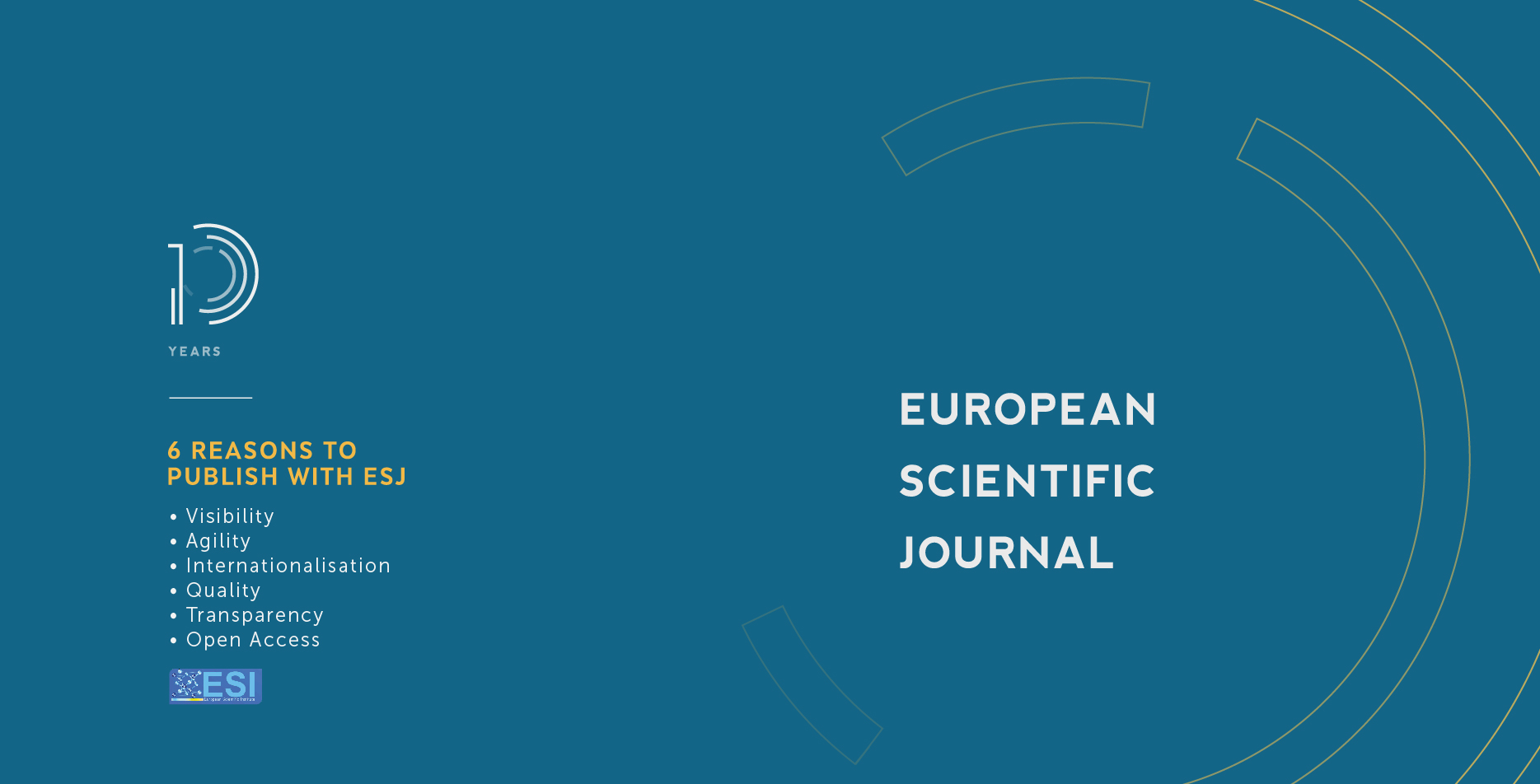 How to Cite
Romaric Ledier, A. A., Norbert Edgard, L. N., Bileckot, R., Honoré, N., Régis Franck, M., Kevin Parfait Bienvenu, B. P., Odzala, A. E., Chabel, N. K., Bakale Francina, O., Anna, S., & Armande, K. (2021). Infections Musculosquelettiques De L'adulte AU Centre Hospitalier Universitaire De Brazzaville: Difficultés Diagnostiques Et De Prise En Charge. European Scientific Journal, ESJ, 17(25), 325. https://doi.org/10.19044/esj.2021.v17n25p325
Section
ESJ Natural/Life/Medical Sciences
Copyright (c) 2021 Angalla Affleck Romaric Ledier, Lamini N'Soundaht Norbert Edgard, Richard Bileckot, Ntsiba Honoré, Moyikoua Régis Franck, Bouhelo Pam Kevin Parfait Bienvenu, Akoli Ekoya Odzala, Nkouala Kidede Chabel, Omboumahou Bakale Francina, Salemo Anna, Kaloulou Armande
This work is licensed under a Creative Commons Attribution-NonCommercial-NoDerivatives 4.0 International License.