L'Écriture du Dieu : Libération de la pensée humaine des banalités telluriques
Majida Sayegh

Faculté des Lettres et des Sciences Humaines (Section 5) Département de Langue et Littérature Françaises, Université Libanaise
Keywords:
Écriture du Dieu, pensée tellurique, prison, souvenir, formule, infini, éternité, labyrinthe, apothéose
Abstract
Dans "L'Écriture du Dieu", Borges nous présente Tzinacan, le dernier prêtre de la pyramide de Qaholom, torturé et emprisonné. Armé de sa persévérance contemplative, il lutte pour se délivrer des entraves matérielles de sa prison et de son corps martyrisé par d'interminables années de captivité. Afin d'atteindre un affranchissement corporel et moral définitif, il entreprend la quête d'une formule fatidique de quatorze mots dont chacun contient toute l'entropie de l'univers. Mais avant d'y parvenir, il doit passer par des épreuves liées à toutes sortes de labyrinthes effrayants : depuis ses propres souvenirs, ses réflexions sur la vie et sur le langage, jusqu'aux rêves du sable, étouffants, emboités et infinis. Ces cauchemars le poussent à changer de stratégie dans sa recherche de l'énigmatique formule céleste qui lui donnerait tous les pouvoirs sur les autres humains à condition de la prononcer, mais la survenue de l'union avec le divin lui fit oublier sa propre identité ainsi que toutes ses préoccupations telluriques. Submergé par la béatitude, il s'enfonce définitivement dans l'oubli éternel pour partager avec tous les êtres un monde anonyme et infini.
In "The Writing of God'', Borges introduces us to Tzinacán who is the last priest of the pyramid of Qaholom. Tortured and imprisoned, yet armed with his contemplative perseverance, he struggles to free himself from the material shackles of his prison and his body was martyred by endless years of confinement. In order to reach a definitive physical and moral emancipation, he embarks on a quest for a fateful formula of fourteen words, each of which contains all the entropy of the universe. Before succeeding, he must go through numerous trials in terrifying labyrinths. This ranges from his own memories, his reflections on life and on language, to the dreams of sand, stifling, interlocking, and infinite. These nightmares pushed him to change his strategy in his quest for the enigmatic celestial formula that would give him ultimate power over other humans, so long as he pronounces it. His union with the divine, however, made him forget his own identity as well as all his telluric worries. Overcome by bliss, he sinks into eternal oblivion thus sharing with all beings an anonymous and infinite world.
Downloads
Download data is not yet available.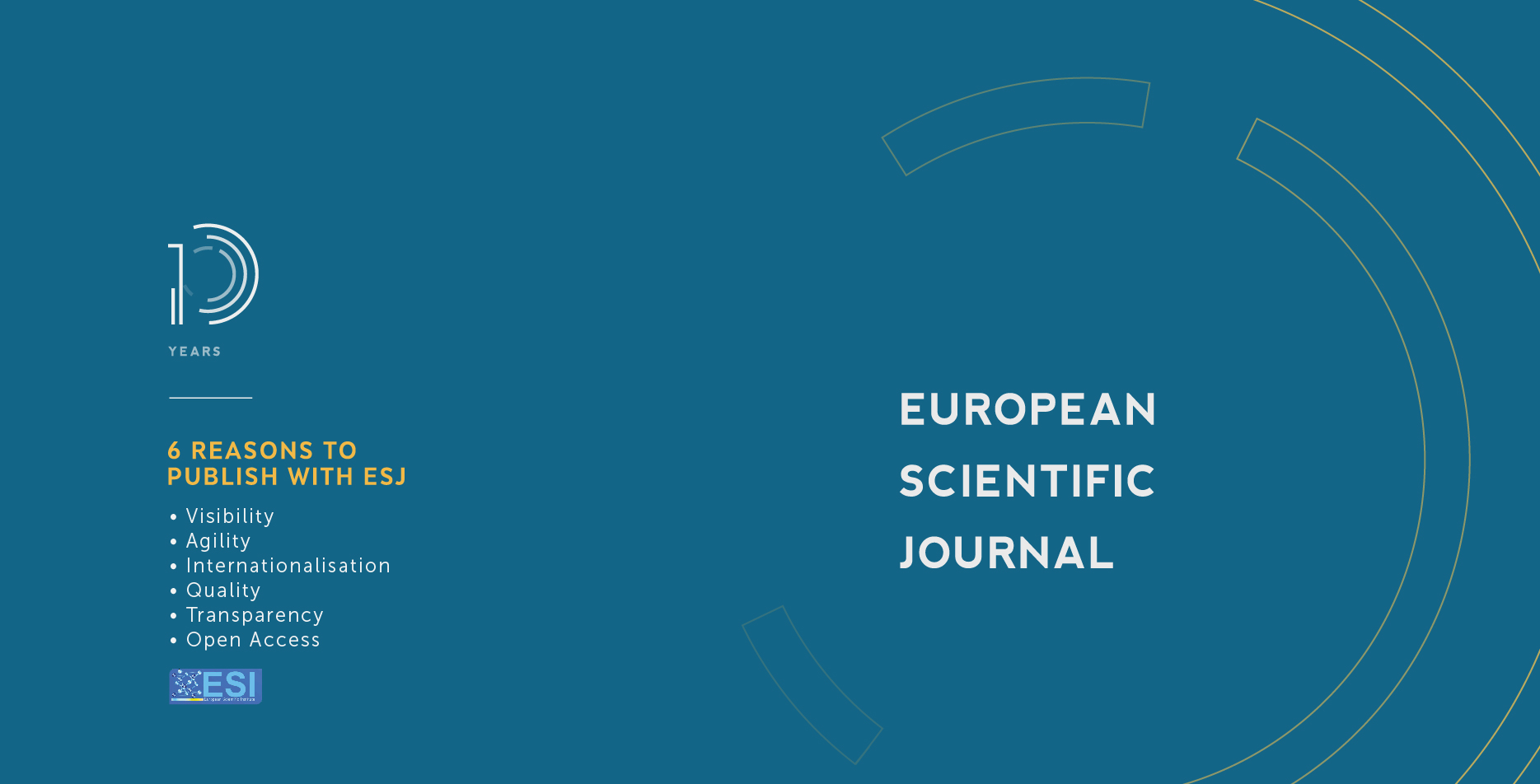 How to Cite
Sayegh, M. (2021). L'Écriture du Dieu : Libération de la pensée humaine des banalités telluriques. European Scientific Journal, ESJ, 17(33), 43. https://doi.org/10.19044/esj.2021.v17n33p43
Copyright (c) 2021 Majida Sayegh
This work is licensed under a Creative Commons Attribution-NonCommercial-NoDerivatives 4.0 International License.