Evaluation de Différents Types de Substrats sur Le Développement des Plantules de Palmiers À Huile (Elaeis Guineensis Jacq.) en Côte d'Ivoire
N'Guessan Assiénin Hauverset

Centre National de Recherche Agronomique, Laboratoire d'Entomologie, Station de Recherches de La Mé, Abidjan, Côte d'Ivoire

Gogoue Dessan Obed

Centre National de Recherche Agronomique, Laboratoire d'Agronomie-Physiologie, Station de Recherches de La Mé, Abidjan, Côte d'Ivoire

Anougba Bossoma Danielle

Centre National de Recherche Agronomique, Laboratoire d'Entomologie, Station de Recherches de La Mé, Abidjan, Côte d'Ivoire Université Nangui Abrogoua, Laboratoire d'Ecologie et Développement Durable des Ecosystèmes, Abidjan, Côte d'Ivoire

Dembélé Inza

Centre National de Recherche Agronomique, Service Exploitation, Station de Recherches de La Mé, Abidjan, Côte d'Ivoire

Allou Kouassi

Centre National de Recherche Agronomique Laboratoire d'Entomologie, Station de Recherche sur le cocotier, Marc Delorme, Port-Bouët, Abidjan, Côte d'Ivoire
Keywords:
Mortality Rate, Oil Palm, Pre-Nursery, Substrat
Abstract
Côte d'Ivoire is the main African exporter of palm oil in ECOWAS. In order to maintain its production, many practices such as the use of mineral and organic fertilizers are necessary. The general objective of this study was to compare the development of oil palm seedlings on five (5) different substrates consisting of potting soil, cow dung, and decomposing palm fibers. The results on the count of dead seedlings showed a low mortality rate on the 100 % potting soil substrate. Evaluation of some morphological parameters revealed better leaf growth in length, a large number of leaves, better fresh weight, larger diameter and better green color of the chlorophyll-rich leaves in the evolved seedlings on the substrates of 50 % potting soil, 25 % cow dung, and 25 % palm fiber, except for the 100 % potting soil. It would be advisable to use cow dung and palm fiber substrates for better development of the oil palm in the pre-nursery.
La Côte d'Ivoire, est le principal exportateur africain d'huile de palme au niveau de la CEDEAO. Pour maintenir sa production, de nombreuses pratiques telles que l'apport de fertilisants minéraux et organiques sont nécessaires. L'objectif général de cette étude était de comparer le développement des plantules de palmier à huile sur cinq (5) substrats différents constitués du terreau, de la bouse de vache et de fibres de palmier en décomposition. Les résultats sur le dénombrement de plantules mortes ont montré un faible taux de mortalité au niveau du substrat constitué uniquement du terreau 100 %. L'évaluation de certains paramètres morphologiques a révélé une meilleure croissance des feuilles en longueur, un nombre important de feuilles, un meilleur poids frais, un gros diamètre et une meilleure couleur verte des feuilles riches en chlorophylle chez les plantules évoluées sur les substrats de 50 % de terreau, 25 % de Bouse de vache et 25 % de fibre de palmier, à l'exception des 100 % de terreau. Il serait bon de constituer des substrats à base de bouse de vache et de fibre de palmier pour un meilleur développement du palmier à huile en pré-pépinière.
Downloads
Download data is not yet available.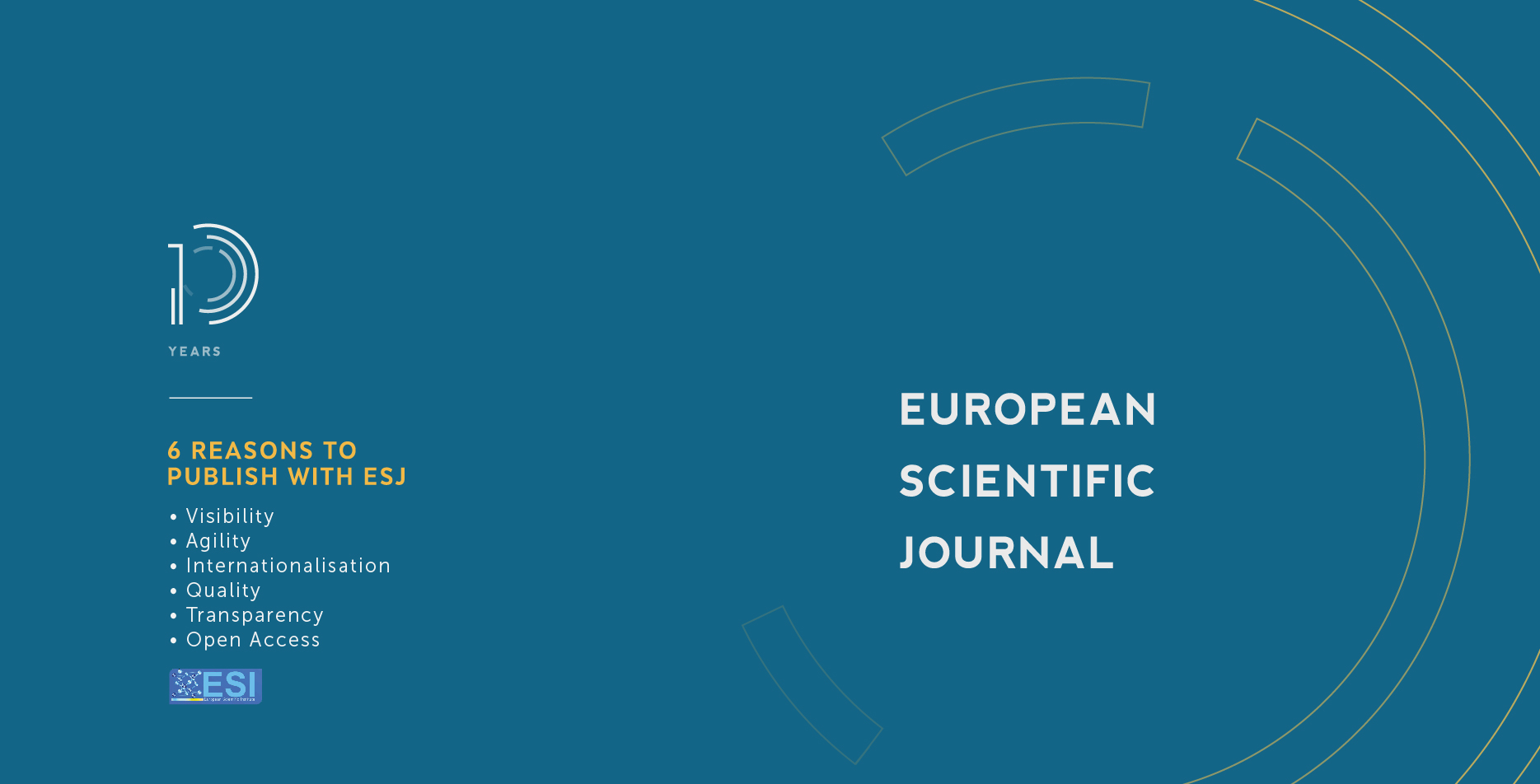 How to Cite
Hauverset, N. A., Obed, G. D., Danielle, A. B., Inza, D., & Kouassi, A. (2021). Evaluation de Différents Types de Substrats sur Le Développement des Plantules de Palmiers À Huile (Elaeis Guineensis Jacq.) en Côte d'Ivoire. European Scientific Journal, ESJ, 17(37), 1. https://doi.org/10.19044/esj.2021.v17n37p1
Section
ESJ Natural/Life/Medical Sciences
Copyright (c) 2021 N'Guessan Assiénin Hauverset, Gogoue Dessan Obed, Anougba Bossoma Danielle, Dembélé Inza, Allou Kouassi
This work is licensed under a Creative Commons Attribution-NonCommercial-NoDerivatives 4.0 International License.