La Résilience chez des Adolescentes Victimes d'agressions Sexuelles Commises par des Femmes en Côte d'Ivoire
Mélissa Affoué Kouassi

Assistante, Laboratoire de Psychologie Génétique Différentielle/Département de Psychologie/Sciences de l'Homme et de la Société (SHS) Université Félix Houphouët-Boigny, Côte d'Ivoire

Anna-Corinne Bissouma

Pédopsychiatre, Docteur en Psychologie, Chargée de Recherche à l'Institut National de Santé Publique, Côte d'Ivoire
Keywords:
Résilience, Agression, sexuelle, Femmes, Adolescentes
Abstract
L'objectif de cette étude menée sur trois adolescentes en foyer d'accueil, est de comprendre le processus de résilience à travers des facteurs individuels, chez des victimes d'agressions sexuelles commises par des femmes, à Abidjan (Côte d'Ivoire). L'Hypothèse postule que ces facteurs sont déterminants dans la reconstruction résiliente. La méthode clinique et l'étude de cas ont guidé le choix des instruments de collecte des données, à savoir : le CD-RISC de Connor et Davidson (2003) et l'Exercice de résilience de Strümpfer (2001). La théorie des facteurs de protection de Garmezy (1990) a permis d'interpréter les résultats par le biais de l'analyse qualitative du contenu des réponses. Ces résultats montrent que les facteurs individuels interviennent dans la construction résiliente. Ceux-ci identifient la compétence cognitive, la spiritualité et la confiance en soi comme facteurs de protection de la résilience chez les participantes à l'étude.
The objective of the study on three adolescent girls in foster home, is to understand the process of resilience through individual factors, in victims of sexual assault committed by women, in Abidjan (Ivory Coast). The hypothesis postulates that these are determinants in resilient reconstruction. The clinical method and the case study guided the choice of data collection instruments, namely: the CD-RISC of Connor and Davidson (2003) and the Résilience Exercise of Strümpfer (2001). Garmezy's protective factor theory allowed us to interpret the results through qualitative analysis of the content of responses. These results show that individual factors are involved in resilient construction. They identify cognitive competences, spirituality and self-confidence as protective factors for resilience in the study participants.
Downloads
Download data is not yet available.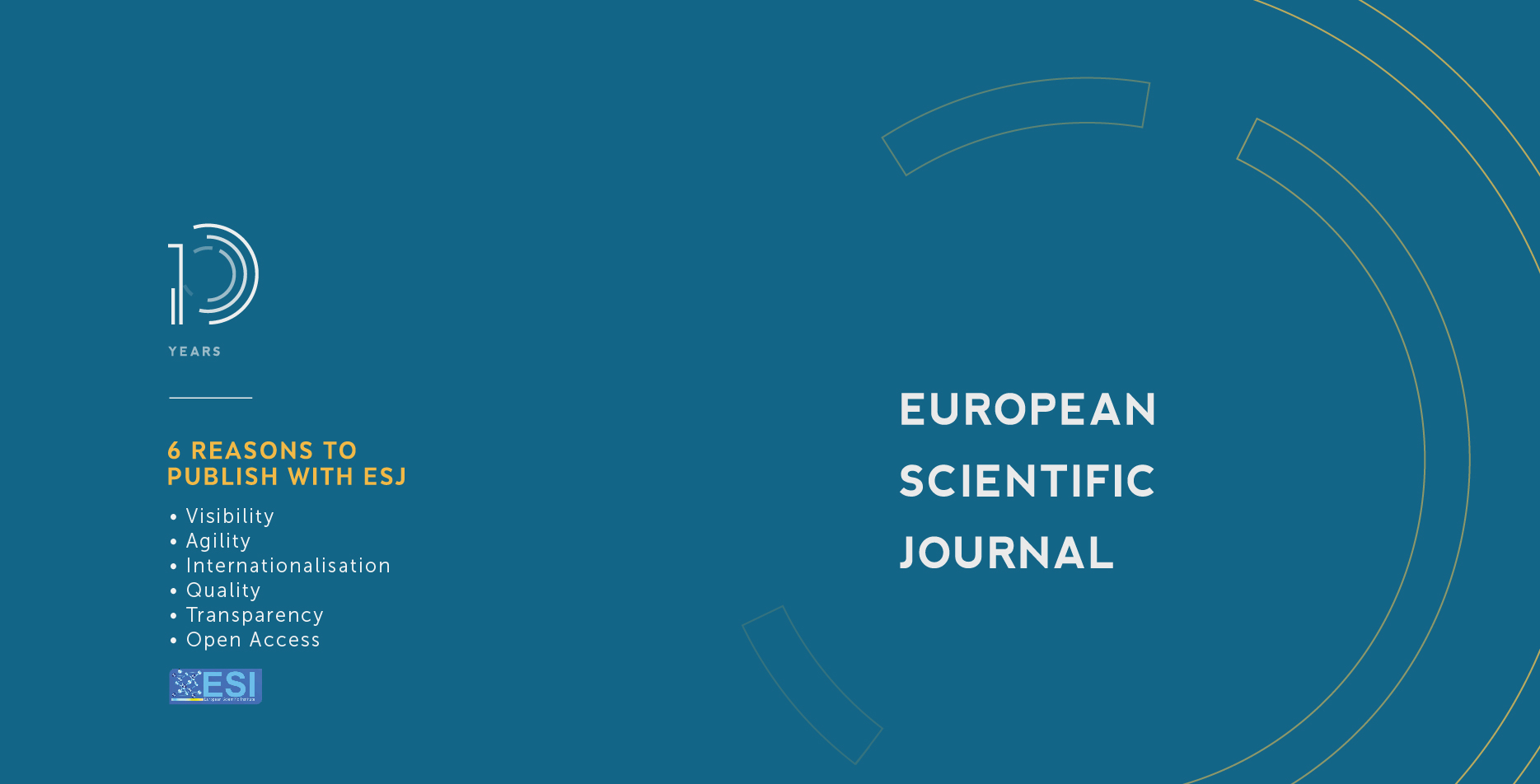 How to Cite
Kouassi, M. A., & Bissouma, A.-C. (2021). La Résilience chez des Adolescentes Victimes d'agressions Sexuelles Commises par des Femmes en Côte d'Ivoire. European Scientific Journal, ESJ, 17(36), 129. https://doi.org/10.19044/esj.2021.v17n36p129
Copyright (c) 2021 Mélissa Affoué Kouassi, Anna-Corinne Bissouma
This work is licensed under a Creative Commons Attribution-NonCommercial-NoDerivatives 4.0 International License.