Contraintes d'acces aux Soins de Sante Face a la Croissance Demographique de la Zone Sanitaire Ouidah/Kpomasse/Tori-Bossito
Tchinkoun Ayathe Carine

Ecole Doctorale Pluridisciplinaire "Espace, culture et Santé" Département de Géographie et Aménagement du Territoire, Université d'Abomey-Calavi, Bénin

Azonhe Hervé Thierry

Ecole Doctorale Pluridisciplinaire "Espace, culture et Santé" Département de Géographie et Aménagement du Territoire, Université d'Abomey-Calavi, Bénin

Dako Kpacha Sabine M.

Université de Parakou, Laboratoire des Climatologie et Ethnoclimatologie Tropicales, Bénin

Hounkponou Prince Edouard

Ecole Doctorale Pluridisciplinaire "Espace, culture et Santé" Département de Géographie et Aménagement du Territoire, Université d'Abomey-Calavi, Bénin
Keywords:
Ouidah/Kpomassè/Tori-Bossito, croissance démographique, contraintes, accès, soins de santé
Abstract
La nécessité, voire l'exigence de disposer des services de santé de qualité, accessibles géographiquement s'impose à une population sans cesse en croissance. Les infrastructures sanitaires, les équipements médicaux, la disponibilité du personnel soignant nécessaire pour accueillir et prendre en charge cette population font toujours défaut. La présente étude aborde les contraintes d'accès aux soins de santé face à l'explosion démographique de la zone sanitaire Ouidah/Kpomassè/Tori-Bossito. Les observations, la recherche documentaire et les travaux de terrain sont les principales étapes de la méthodologie adoptée. Les données utilisées ont été collectées auprès de 900 ménages et 78 personnes ressources. L'Indice de Confort Matériel (ICM) a été calculé pour déterminer le confort des enquêtés. Les Analyse Factorielle des Composantes (AFC) ont été réalisées pour évaluer le lien entre l'accès aux soins de santé et les différentes variables indépendantes. Le modèle SWOT (Strenght, Weaknesses, Opportunities, Threats) a permis d'évaluer les contraintes liées à l'accessibilité aux soins face à la croissance démographique observée dans la zone sanitaire Ouidah/Kpomassè/Tori-Bossito (OKT). Les résultats ont révélé que la disponibilité, la répartition des infrastructures sanitaires et du personnel soignant, le confort matériel du ménage, l'état de praticabilité des voies d'accès aux centres de santé conditionnent l'accessibilité aux soins des ménages. Malgré les efforts fournis par l'Etat et les collectivités territoriales, l'offre de soins de santé est insuffisante au regard du croît démographique.
The need, indeed the requirement, to have quality health services that are geographically accessible is imposed on an ever-growing population. Health infrastructure, medical equipment and the availability of the nursing staff necessary to welcome and take care of this population are still lacking. This study addresses the constraints of access to healthcare in the face of the demographic explosion in the Ouidah/Kpomassè/Tori-Bossito health zone.  Observations, documentary research and fieldwork are the main stages of the methodology adopted. The data used was collected from 900 households and 78 resource persons. The Material Comfort Index (ICM) was calculated to determine the comfort of the respondents. The Component Factor Analysis (AFC) was carried out to assess the link between access to health care and the various independent variables. The SWOT model (Strength, Weaknesses, Opportunities, Threats) made it possible to assess the constraints related to access to care in the face of the demographic growth observed in the Ouidah/Kpomassè/Tori-Bossito (OKT) health zone. The results revealed that the availability and distribution of health infrastructure and nursing staff, the material comfort of the household, the state of practicability of access routes to health centers condition access to household care. Despite the efforts made by the State and local authorities, the supply of health care is insufficient in view of the demographic growth.
Downloads
Download data is not yet available.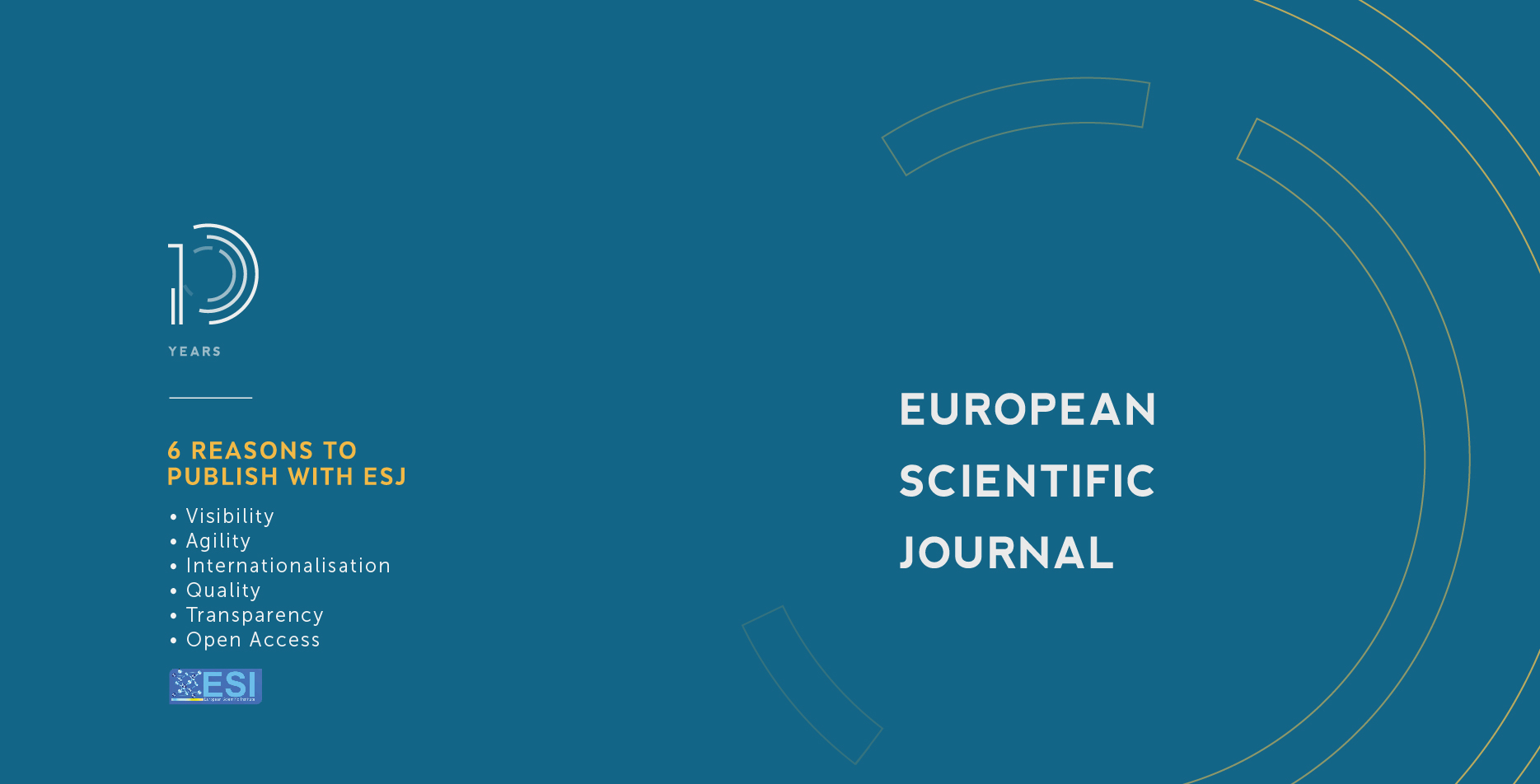 How to Cite
Carine, T. A., Thierry, A. H., Sabine M., D. K., & Edouard, H. P. (2021). Contraintes d'acces aux Soins de Sante Face a la Croissance Demographique de la Zone Sanitaire Ouidah/Kpomasse/Tori-Bossito. European Scientific Journal, ESJ, 17(36), 183. https://doi.org/10.19044/esj.2021.v17n36p183
Copyright (c) 2021 Tchinkoun Ayathe Carine, Azonhe Hervé Thierry, Dako Kpacha Sabine M., Hounkponou Prince Edouard
This work is licensed under a Creative Commons Attribution-NonCommercial-NoDerivatives 4.0 International License.