Caracteristiques Du Système D'exploitation Des Poulets Locaux Dans Deux Zones Agro-Ecologiques (Sud Forestier Et Centre Savanicole) De La Côte d'Ivoire
Loukou N'Goran Etienne

Maître-Assistant, Département de Biochimie-Génétique, UFR de Sciences Biologiques,Université Peleforo Gon-Coulibaly, Korhogo, Côte d'Ivoire

Soro Kouhana

Assistant, Département de Biochimie-Génétique, UFR de Sciences Biologiques, Université Peleforo Gon-Coulibaly, Korhogo

Soro Brahima

Maitre-Assistant, Laboratoire de Génétiques, UFR Biosciences, Université Félix Houphouët Boigny, Abidjan,

Rognon Xavier

Professor in Animal genetics, UFR Génétique, Elevage et Reproduction, AgroParisTech/département SVS

Kayang B. Boniface

Senior Lecturer, Department of Animal Science, College of Agriculture & Consumer Sciences, University of Ghana Legon, Ghana,

Youssao Abdou Karim Issaka

Professeur Titulaire, Département de Production et Santé Animales, Ecole Polytechnique d'Abomey-Calavi, Université d'Abomey-Calavi, Cotonou, Bénin

Yapi-Gnaoré Chia Valentine Valentine

Directrice Générale du Centre International de recherche-développement sur l'élevage en zone subhumide (CIRDES), Avenu du Gouverneur Louveau, Bobo-Dioulasso, Burkina Faso
Keywords:
Amélioration, Système Extensif, Poulet Local, Production
Abstract
Les poulets locaux, malgré leur rôle important dans l'aviculture ivoirienne, souffrent de leur faible productivité. Pour contribuer à l'amélioration de leur productivité, une étude descriptive a été réalisée sur son élevage auprès 206 paysans natifs de deux zones agro-écologiques à l'aide d'un questionnaire. Les résultats indiquent les paysans exploitent les poulets locaux dans un système exclusivement extensif. L'aviculture villageoise est une activité dominée par les hommes (79,60 %) et la considérant comme secondaire (97 %). La plupart de ces aviculteurs sont analphabètes (52,5 %). La rusticité et la qualité organoleptique des produits constituent les principales motivations en faveur de cet élevage dans 82 % cas en moyenne. Ils ont débuté l'élevage par achat (59 %) d'un petit noyau initial, par don ou par héritage (41 %) en zone de forêt et par confiage (60 %) en zone de savane. La 1ère ponte d'une poulette intervient en moyenne à 6 mois d'âge (52,5 %). Un faible effectif (23 poulets) composé en majorité de jeunes sujets (55,21 %), de poules (33,19 %) et de coqs (11,40%) a été observé dans les cheptels. Le plein air intégral (73,30 %) a été le mode privilégié d'élevage en zone de savane. Les épizooties (54,35 %) et les prédateurs (38 %) ont été les premières causes de mortalité. Les produits d'élevage issus de ce système ont été utilisés en autoconsommation (62 %) en zone de forêt et vendus (65 %) en zone de savane. La levée des contraintes caractérisant le système le système extensif pourrait aider à l'amélioration de la productivité des poules locales.
Local chickens play an important role in Ivorian poultry farming, but this animal resource suffers from its low productivity. In order to contribute to the improvement of this productivity, a descriptive study was carried out on its breeding among two hundred and six (206) farmers who were native to two agro-ecological zones using a structured questionnaire. The results indicate that these farmers are exploiting local chickens in an extensive system exclusively. Village poultry farming is an activity dominated by men (79.60%) and considered secondary (97%). Most of these poultry farmers are illiterate (52.5%) and the rusticity and organoleptic quality of the products are the main motivations for this breeding in an average of 82% cases. They began breeding by purchasing a small nucleus (59%), by gifts or inheritance (41%) in the Forest zone and by entrusting (60%) in the Savannah zone. The first laying of a pullet occurs on average at 6 months of age (52.5%) and the early pullet lays its first eggs between 4 and 6 months (13%). A few chickens (23), the majority of which were youngsters (55.21%), hens (33.19%) and roosters (11.40%), were observed in the flocks. In Savannah areas, free-range rearing (73.30%) was the preferred method of rearing. Epizootics (54.35%) and predators (38%) were the main causes of mortality. The livestock products from this system were used for self-consumption (62%) in the forest zone and sold (65%) in the Savannah zone. Removing the constraints that characterize the extensive system could help to improve the productivity of local chickens.
Downloads
Download data is not yet available.
PlumX Statistics
References
1. Amadou, M.B., Idi, A., & Benabdeljelil, K. (2010). Aviculture familiale rurale au Niger: Alimentation et performances zootechniques. RIDAF, 19(1), 5-12.
2. Akoutey A., Tosso M., Guedegbe O., Boko K., Akourki A., & Thon A. 2018. Effets du ratio poules-coqs sur la fertilité des oeufs en aviculture traditionnelle de type amélioré au Bénin.
3. Ayssiwede, S.B., Dieng, A., Houinato, M.R.B., Chrysostome, C.A.A.M., Issay, I., Hornick, J.L., and Missouhou, A. (2013). Elevage des poulets traditionnels ou indigènes au Sénégal et en Afrique Subsaharienne: état des lieux et contraintes. In Annales de Médecine Vétérinaire (Vol. 158, pp. 101-117). ULg-Université de Liège.
4. Bantiéni, T., Modibo, S. (2000). Caractéristiques des Elevages avicoles suivis par l'APEX dans les Cercles de Kangaba et Dioïla: Définition de Rations d'appoint à tester pour l'aviculture villageoise In: Sonaiya, E.B. (ed). Issues in Family poultry Research and Development. Proceedings of an International workshop held on December 9-13, 1997 at M'Bour, Senegal, 111-131.
5. Bonfoh B. 1997. Les dominantes pathologies et les contraintes sur la productivité des poulets dans le système avicole extensif en Gambie : proposition de solution. Thèse de Doctorat de 3e cycle de biologie animale, N° 26, Université Cheikh Anta Diop, Dakar, Sénégal.
6. Brou G.K.G., Adou C.F.D., Kouassi K.D., & Diomandé D. 2020. Analyse technique de l'elevage du poulet traditionnel en milieu rural dans le Departement de Dimbokro en Cote d'Ivoire. Agronomie Africaine, 32(2), 121-134.
7. Chitate, F., Guta, M. (2001). Country Report: Zimbabwe. Alders R G and Spradbrow P B (Editors). Actes de l'atelier de planification de la SADC sur le contrôle des maladies de Newcastle des poulets villageois. Du 6 au 9 Mars 2000, Maputo, Mozambique, pp. 47-52.
8. Fall A.K., & Dieng A. 2017. L'aviculture urbaine familiale au Sénégal: caractérisation et rôle socio-économique dans la commune de Thiès. Sciences de la vie, de la terre et agronomie, 4(2).
9. FAO. 1984. Animal genetic resource conservation by management, databanks and training. Animal Production and Health. Rome, Italy. 44 (1): 89-99.
10. FAO. 2005. Système d'information de la FAO sur l'eau et l'agriculture. http://www.fao.org/nr/water/aquastat/countries/cote_divoire/indexfra.stm
11. Fotsa, J.C. (2008). Caractérisation des populations de poules locales (Gallus gallus) au Cameroun. Mémoire de Thèse de l'Université de Dschang, Cameroun. 301 p.
12. Fotsa, J.C., Rognon, X., Tixier-Boichard, M., Ngou, NJD., Poné, KD., Manjeli, Y. et Bordas, A. (2007). Exploitation de la poule locale en zone de forêt humide du Cameroun. Bulletin de santé et production animale en Afrique, 55 : 59-73.
13. Guèye, E.F. (1998). Poultry plays an important role in African village life. World Poultry, 14 (10) : 14-17.
14. Guèye, E.F. (2002). Employment and income generation through family poultry in low-income food-deficit countries. World's Poultry Science Journal, 58 (4): 541-557.
15. Guèye, E.F. (2003). Aviculture familiale et aviculture industrielle : Coopération au lieu de compétition. Bulletin RIDAF, 13 (2): 1-2.
16. Guèye, E.F. (2004). Evaluation d'un projet pilote d'aviculture à petite échelle financée par le Fonds International pour le développement Agricole. Etudes de terrain dans les régions de Kolda et Kaolack (Sénégal).- Rome : FIDA.- 26p
17. ITAVI. (2016). Performances techniques et coûts de production en volailles de chair, poulettes et poules pondeuses. 64p
18. INS. (2014). Recensement Général de la Population et de l'Habitat (RGPH) 2014. https://www.ins.ci
19. Issa, Y., Mopate, L. Y., & Missohou, A. (2012). Commercialisation et consommation de la volaille traditionnelle en Afrique subsaharienne. Journal of animal & plant sciences, 14(3), 1985-1995.
20. Joel E.B.W.A., Monzenga J.C., Mosala F., Rutakaza N., & José E.B. W.A. 2019. Aviculture traditionnelle dans la ville de Kisangani, Province de la Tshopo en République Démocratique du Congo. Revue Marocaine des Sciences Agronomiques et Vétérinaires, 7(3).
21. Khieu B. 1998. Chicken production, food security and renovative extension methodology in the SPFS Cambodia. In: Poultry as a tool in poverty eradication and promotion of gender equality. Actes d'un atelier sur la sécurité alimentaire. Du 22 au 26 Mars 1999. Tune Landboskole, Denmark
22. Kolawole, R. (2010). Frequency and Effect of Spur Gene on Metric Parameters in the Nigerian Local Chicken in a Southern Guinea Savannah Area of Nigeria (Doctoral dissertation, Master's Thesis, Department of Animal Production, Federal University of Technology Minna, Niger State, Nigeria).
23. Mammo, M., Berhan, T., & Tadelle, D. (2008). Village chicken characteristics and their seasonal production situation in Jamma District, South Wollo, Ethiopia. Livest. Res. Rural Dev, 20.
24. MICS, (2016). Enquête à Indicateurs Multiples 2016 : La situation des femmes et des enfants en Côte d'Ivoire. Ministère du Plan et du Développement, 442 p
25. MIRAH, (2014).Plan stratégique de développement de l'élevage, de la pêche et de l'aquaculture en Côte d'Ivoire (PSDEPA 2014-2020). 2014. Tome I : Diagnostic – Stratégie de développement – Orientations stratégiques
26. MIRAH, (2015). MIRAH (2015). Filière avicole : les professionnels ivoiriens présentent l'apport d'une filière stratégique dans l'économie nationale. http://www.gouv.ci/_actualitearticle.php?d=1&recordID=5502&p=5
27. Missohou, A., Dieye, P.N., & Talaki, E. (2002). Rural poultry production and productivity in southern Senegal. Livestock Research for Rural Development, 14(2), 2002.
28. Mogesse H.H. 2007. Phenotypic and genetic characterization of indigenous chicken populations in Northwest Ethiopia. Ph.D. Thesis. Faculty of Natural and Agricultural Sciences. University of the Free State, Bloemfontein, South Africa. 186 p.
29. Mpupu, B., Mwengi, I., Kawata, C., Kinga, D., & Katunda, O. (2019). Revue Africaine d'Environnement et d'Agriculture. Revue Africaine d'Environnement et d'Agriculture, 2(1), 76-83.
30. Muchadeyi, F.C., Sibanda, S., Kusina, N.T., Kusina, J., Makuza, S. (2004). The village chicken production system in Rushinga District of Zimbabwe. Livestock Research for Rural Development 16 (6). http://www.lrrd.org/lrrd16/6/much16040.htm
31. Muchadeyi F.C., Sibanda S., Kusina N.T., Kusina J., Makuza S. 2005. Village chicken flock dynamics and the contribution of chickens to household livelihoods in a smallholder farming are in Zimbabwe. Tropical Animal Health Production 37(4): 333-334.
32. Mukiibi-Muka, G. (1992). Epidemiology of Newcastle disease in village chickens and the need to vaccinate them. Newcastle disease in village chicken. Control with thermo-stable oral vaccines. Ed. PB Spradbrow. Proceedings, (39), 155-158.
33. Nahimana, G., Ossebi, W., Missohou, A., and Ayssiwede, S.B. (2019). Analyse de l'importance socio-économique de l'aviculture familiale dans le Département de Salemata au Sénégal. International Journal of Biological and Chemical Sciences, 13(7), 3131-3143.
34. Pindé, S., Tapsoba, A. S. R., Traoré, F., Ouédraogo, R., Ba, S., Sanou, M., & Simporé, J. (2020). Caractérisation et typologie des systèmes d'élevage de la poule locale du Burkina Faso. Journal of Animal & Plant Sciences Vol.46 (2): 8212-8225
35. Samson K.N. (2005). Productivity and socio-cultural aspects of local poultry phenotypes in coastal kenya, M.Sc Thesis. The Royal Veterinary and Agricultural University, Copenhagen, Denmark. Sonaiya, E.B., Olori, V.E. (1989). Village chicken production in south-western Nigeria. Dans les Actes d'un Atelier International sur le Développement de l'Aviculture Rural en Afrique. (Sonayia, E.B., Ed), 13-16 Novembre 1989, Ile-Ife, Nigeria, pp. 243-247.
36. UE, (2017). Etat des lieux des filières de production végétales et animales et revue des politiques agricoles. Côte d'Ivoire.
37. Van Eekeren, N. Maas, A. Saatkamp, H.W. and Verschuur, M. (2004). L'aviculture à petite échelle dans les zones tropicales. Agrodok 4 (4e édn), Wageningen, Pays-Bas, 83 p.
38. Zaman M A., Sorensen P. and Howlider M R: 2006. Egg production performances of a breed and three crossbreeds under semi-scavenging system of management. https://ir.ucc.edu.gh/xmlui/handle/123456789/4464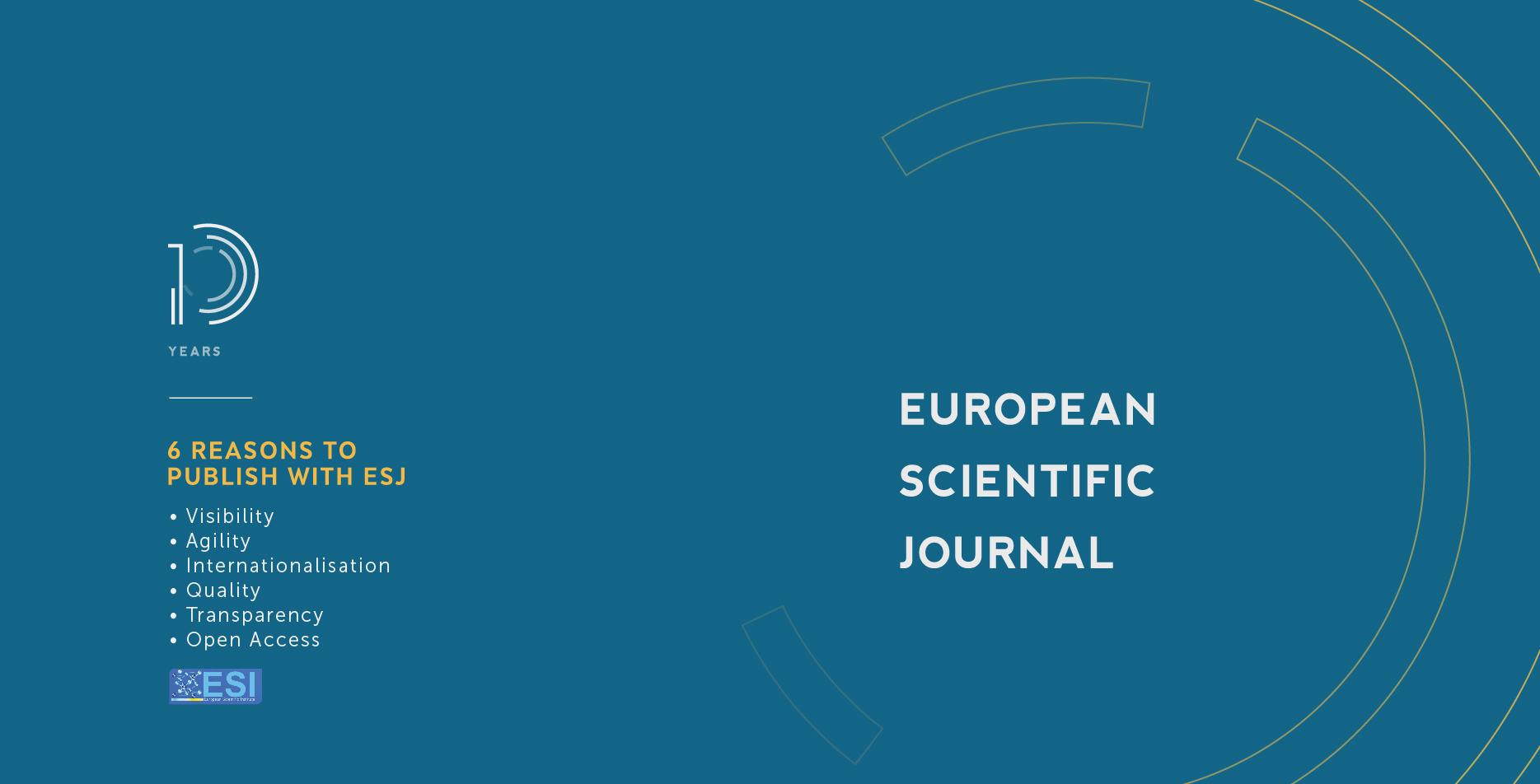 How to Cite
Etienne, L. N., Kouhana, S., Brahima, S., Xavier, R., Boniface, K. B., Karim Issaka, Y. A., & Valentine, Y.-G. C. V. (2021). Caracteristiques Du Système D'exploitation Des Poulets Locaux Dans Deux Zones Agro-Ecologiques (Sud Forestier Et Centre Savanicole) De La Côte d'Ivoire. European Scientific Journal, ESJ, 17(40), 240. https://doi.org/10.19044/esj.2021.v17n40p240
Section
ESJ Natural/Life/Medical Sciences
Copyright (c) 2021 Loukou N'Goran Etienne, Soro Kouhana, Soro Brahima, Rognon Xavier, Kayang B. Boniface, Youssao Abdou Karim Issaka, Yapi-Gnaoré Chia Valentine Valentine
This work is licensed under a Creative Commons Attribution-NonCommercial-NoDerivatives 4.0 International License.