Cas D'une Fausse Fracture De La Verge Par Rupture De La Veine Dorsale Profonde Au Centre Hospitalo-Universitaire Departemental -Oueme Plateau De Porto Novo, Benin
Ngaguene Juvénal

Médecin Résident en Urologie-Andrologie à la clinique universitaire d'urologie Andrologie du Centre Hospitalo Universitaire Hubert Koutoukou Maga , faculté des sciences de la santé Cotonou, Université d'Abomey

Natchagande Gilles

Chirurgien Urologue praticien au centre hospitalo-universitaire départemental Ouémé Plateau, Porto novo

Muhindo Valimungighe Moïse

Médecin Résident en chirurgie générale, Faculté des Sciences de la Santé -Cotonou, Université d'Abomey Calavi, Benin - Faculté de Médecine de l'Université Catholique du Graben-Butembo, RDC

Soumanou Fouad

Chirurgien Urologue praticien au centre hospitalo-universitaire départemental Ouémé Plateau, Porto novo

Bori Moussa

Médecin Résident en Urologie-Andrologie à la clinique universitaire d'urologie Andrologie du Centre Hospitalo Universitaire Hubert Koutoukou Maga , faculté des sciences de la santé Cotonou, Université d'Abomey Calavi, Benin

Lawani Ismaël

Chirurgien Général et viscéral au centre hospitalo-universitaire départemental Ouémé Plateau, Porto novo, Maître Assistant à la faculté des sciences de la santé de Cotonou, Université d'Abomey Calavi, Benin

Yevi Dodji Magloire Ines

Chirurgien Urologue à la clinique universitaire d'urologie Andrologie du centre hospitalo-universitaire Hubert Koutoukou Maga de Cotonou, Maitre-Assistant à la faculté des sciences de la santé de Cotonou, Université d'Abomey Calavi

Hodonou Fred

Chirurgien Urologue à la clinique universitaire d'urologie Andrologie du centre hospitalo-universitaire Hubert Koutoukou Maga de Cotonou, Maitre-Assistant à la faculté des sciences de la santé de Cotonou, Université d'Abomey Calavi

Agounkpe Michel Michael

Chirurgien Urologue praticien à la clinique universitaire d'urologie Andrologie du centre hospitalo-universitaire Hubert Koutoukou Maga de Cotonou

Dossou Francis Moïse Djidenou Moïse Djidenou

Chef de service de chirurgie générale au centre hospitalo-universitaire départemental Ouémé Plateau, Porto novo, Professeur Titulaire de CAMES à la faculté des sciences de la santé de Cotonou, Université d'Abomey Calavi, Benin

Avakoudjo Josué Georges Dejinnin

Chef de service à la clinique universitaire d'urologie Andrologie du centre hospitalo-universitaire Hubert Koutoukou Maga de Cotonou, Professeur Titulaire de CAMES à la faculté des sciences de la santé de Cotonou, Université d'Abomey Calavi et Président de la société Béninoise d'Urologie, Benin
Keywords:
Fausse Fracture De La Verge, Rupture Veine Dorsale Profonde, Chirurgie
Abstract
Introduction : Les traumatismes du pénis intéressant le réseau vasculaire sont rarement rapportés dans la littérature. La rupture de la veine profonde du pénis est une urgence urologique dont la clinique peut simuler une fracture de la verge.
Nous rapportons un cas de rupture de la veine profonde du pénis survenue lors d'un faux pas de coït.
Patient et Méthodes : Il s'est agi d'un patient âgé de 26 ans présentant une tuméfaction de tout le pénis précédée d'une douleur minime et d'une détumescence progressive survenue au décours d'un coït. L'exploration chirurgicale a mis en évidence une lésion incomplète de la veine dorsale profonde et qui a été réparée.
Conclusion : La rupture de la veine dorsale profonde est rare et peut simuler une fracture des corps érectiles. . L'exploration chirurgicale reste un moyen diagnostique et thérapeutique accessible.
Introduction: Penile trauma involving the vascular network is rarely reported in this paper. The rupture of the deep vein of the penis is a urological emergency which can simulate a fracture of the penis. A case of rupture of the deep vein of the penis is reported, which occurred during a false coitus.
Patient and Methods: The case study was a 26-year-old patient with swelling of the entire penis. This was preceded by minimal pain and progressive detumescence during coitus. Surgical exploration revealed an incomplete lesion of the deep dorsal vein, which was repaired.
Conclusion: Rupture of the deep dorsal vein is rare and may simulate a fracture of the erectile bodies. Surgical exploration remains an accessible diagnostic and therapeutic means.
Downloads
Download data is not yet available.
References
1. Al-Shaiji, TF., Amann, J., & Brock, GB. (2009). Fractured penis: diagnosis and management. J Sex Med 6:3231–40.
2. Baran, C., Topsakal, M., Kavukcu, E., & Karadeniz (2011). Superficialdorsal vein rupture imitating penile fracture.Korean J Urol,52(4): 293-4 doi : 10.4111/kju.2011.52.4.293.
3. Coffin, G., Méria, P., & Desgrandcham, F. (2017). Traumatismes des organes génitaux externes. EMC, Chap 80 P8-13.
4. Godec, CJ., Reiser, R., & Logush, AZ. (1988). The erect penis injury prone organ. J Trauma; 28: 124-6.
5. Koifman, L., Barros, R., Júnior, RA., Cavalcanti, AG., & Favorito, LA. (2010). Penile fracture: diagnosis, treatment and outcomes of 150 patients. Urology;76: 1488- 92.
6. Kurkar, A., Ahmad A.E., Hazem O. (2014). Fausse fracture du pénis: pathologie différente mais similaire présentation clinique et prise en charge. Annales d'urologie . Vol 6 , P123.
7. Mahapatra, RS., Kundu, AK., & Pal, DK. (2015). Fracture du pénis: notre Expérience dans un hôpital de soins tertiaires. World J Mens Health.; 33: 95-102.
8. Polo, HE., Garrigós, MJ., Ruiz, PM., Tendero, TP., & Marcos, SM. (2000). Hématome pénien causée par une rupture de la veine dorsale profonde pendant les rapports sexuels. Arch Esp Urol; 53: 473 - 5.
9. Prunet, D. & Bouchot, O. (1996). Penile injuries. Prog Urol ; 6:987–93.
10. Shah, DK., Paul, EM., Meyersfield, SA., & Schoor, RA. (2003). False fracture of the penis. Urologie; 61: 125- 9.
11. Sanda, GO., Heyns, CF., Soumana, A., & Rachid, S. (2006). Fracture du pénis un examen de la gestion. Niger J Surg Res 8 (3–4): 116–8.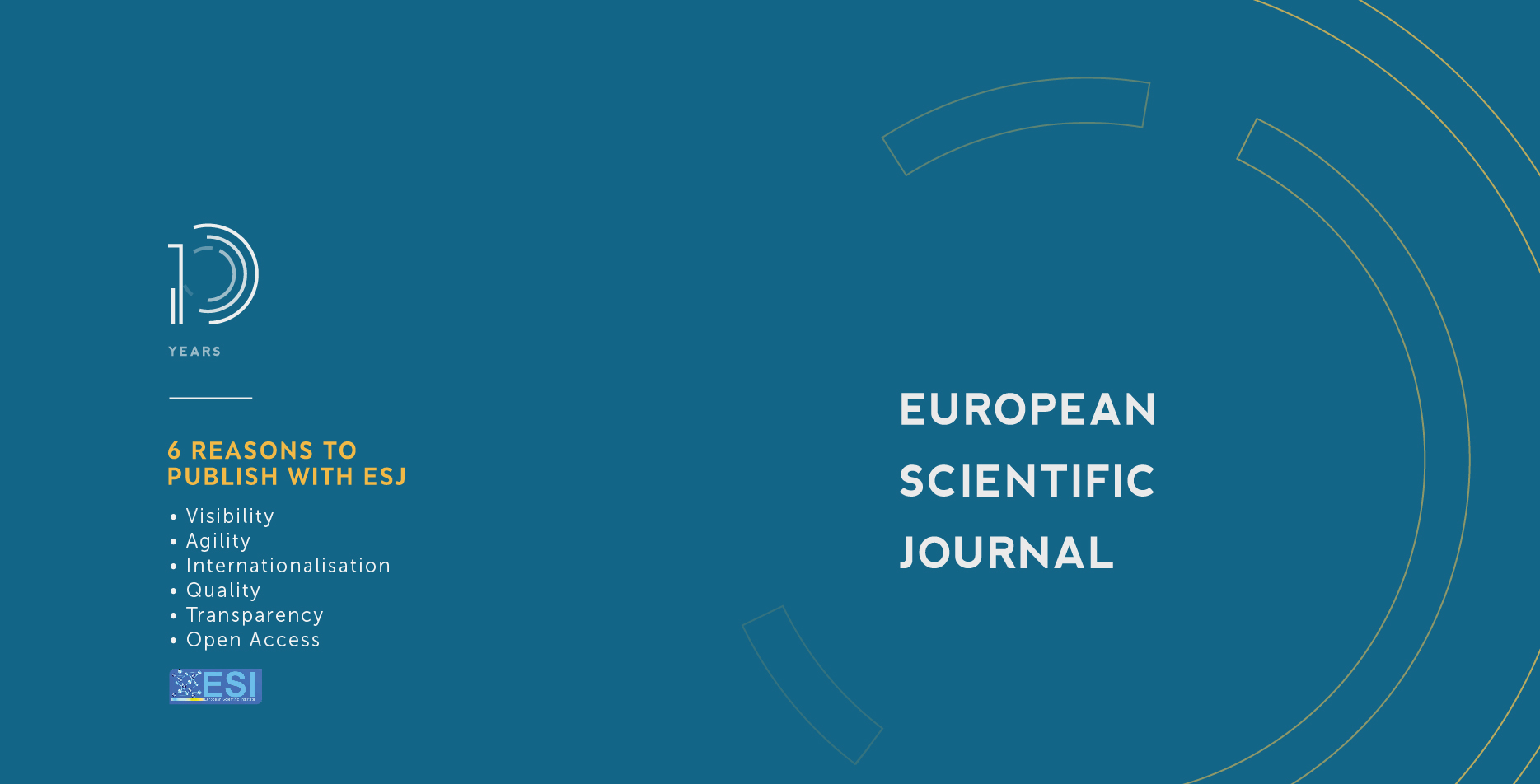 How to Cite
Juvénal, N., Gilles, N., Moïse, M. V., Fouad, S., Moussa, B., Ismaël, L., Magloire Ines, Y. D., Fred, H., Michael, A. M., Moïse Djidenou, D. F. M. D., & Dejinnin, A. J. G. (2021). Cas D'une Fausse Fracture De La Verge Par Rupture De La Veine Dorsale Profonde Au Centre Hospitalo-Universitaire Departemental -Oueme Plateau De Porto Novo, Benin. European Scientific Journal, ESJ, 17(43), 50. https://doi.org/10.19044/esj.2021.v17n43p50
Section
ESJ Natural/Life/Medical Sciences
Copyright (c) 2021 Ngaguene Juvénal, Natchagande Gilles, Muhindo Valimungighe Moïse, Soumanou Fouad, Bori Moussa, Lawani Ismaël, Yevi Dodji Magloire Ines, Hodonou Fred, Agounkpe Michel Michael Michel Michael, Dossou Francis Moïse Djidenou Moïse Djidenou, Avakoudjo Josué Georges Dejinnin
This work is licensed under a Creative Commons Attribution-NonCommercial-NoDerivatives 4.0 International License.