AFRICOM and the Burdens of Securitisation in Africa
Kialee Nyiayaana

Department of Political and Administrative Studies, Faculty of Social Sciences, University of Port Harcourt, Port Harcourt, Nigeria

Clare Ifeyinwa Nwankpa

Department of Political and Administrative Studies, University of Port Harcourt, Port Harcourt, Nigeria
Keywords:
AFRICOM, security, Africa, China, United States, politics of protection
Abstract
This article aims at analyzing the nature and role of the United States Africa Command (AFRICOM) in the governance security in Africa. It depended on secondary data, which were obtained from journals, newspapers, books, and annual reports on the activities of the Command. A combination of thematic, content and historical methods of data analysis was used to interpret and explain the nature, role, and challenges of AFRICOM in the governance of security in Africa. Guided by the theory of securitization, the results indicate that the nature of AFRICOM's security governance reflects continuity and change in the United States' militarism in Africa and the evolving character of the securitization order in the continent since the events of 9/11. The analysis shows that the securitization role of AFRICOM involves competitive militarisation strategically designed to contain the rising economic and political influence of China on the continent. Yet, its counterterrorism operations fall short of addressing the structural sources of Africa's security predicaments. In these contexts, AFRICOM's activities have had little or any significant impact on the protection of life and property in Africa. In fact, by articulating and reproducing Africa as security deficient and security dependent on the West, the concept and activities of AFRICOM broadly constitute a phase in the genealogies of coloniality of Western militarism and securitization in the continent.
Downloads
Download data is not yet available.
PlumX Statistics
References
1. Abioye, O. (2021). Insecurity: US won't relocate Africa Command to Nigeria, others,
2. Abioye, O. (2021). Insecurity: US won't relocate Africa Command to Nigeria, others, Pentagon replies Buhari. Punch May 8, available @ https://punchng.com/insecurity-us-wont-relocate-africa-command-to-nigeria-others-pentagon-replies-buhari/. Retrieved January 20, 2022.
3. Adebayo, A (2021) 'Buhari and AFRICOM. TheGuardian, 12 May, available @ https://guardian.ng/opinion/buhari-and-africom/. Retrieved 20th July 2021.
4. Badalič, V. (2021). "The war against vague threats: the redefinitions of imminent threat and anticipatory use of force." Security Dialogue 2021, 52(2) 174-191.
5. Badmus, B.G. & Afolabi, G.A. (2017). The surge of terrorism and US military intervention in Africa: experience from the Gulf of Guinea, Scholars Journal of Arts, Humanities and Social 5(6A):575-582.
6. Berschinski, R.G. (2007). Africom's dilemma: the 'global war on terrorism,' 'capacity
7. building,' humanitarianism, and the future of u.s. security policy in africa. Report of US. Army war College, Strategic Studies Institute, 122 Forbes Avenue, Carlisle, PA.
8. Burgess, S.F. (2008). US Africa Command, changing security dynamics, and perceptions of US Africa policy, Research paper, US Air Force institute for national security studies, Colorado.
9. Buzan, B. and Wæver, O. ( 2003) Regions and Powers, Cambridge: Cambridge University Press.
10. Carl, L. A. (2010). "The Political Economy of African Responses to the U.S. Africa Command" Africa Today, 57(1), 2-23.
11. Conteh-Morgan, E. (2021). Strategies of Sino-American Rivalry in Africa: From 2000 to COVID-19.Vestnik RUDN. International Relations, 21(2), 265-278.
12. Davies, M. (2008), "China's Developmental Model Comes to Africa." Review of African Political Economy, 35 (115), 134-137.
13. Fasakin, A. (2022). Subaltern Securitization: The Use of Protest and Violence in Postcolonial Nigeria. Unpublished Ph.D Dissertation. Stockholm University, Department of Economic History and International Relations, Stockholm.
14. Filimon, L., (2016). "An Overview of the Copenhagen School's Approach to Security Studies: Constructing (In)Security Through Performative Power." The Romanian Journal for Baltic and Nordic Studies, 8 (2).
15. French, H.W., (1996). "France's Army Keeps Grip in African Ex-Colonies" The New York Times May 22, 1996, at https://www.nytimes.com/1996/05/22/world/france-s-army-keeps-grip-in-african-ex-colonies.html Retrieved May 5, 2022.
16. Gilbert, L.D., Uzodike, U.O., and Isike, C., (2009). "The United States Africa Command: Security for Whom?" The Journal of Pan African Studies, 2(9), 264-281.
17. Hofstedt, T.A. (2009). CHINA in AFRICA: an AFRICOM response. Naval War College Review, 62(3), 79-100.
18. Holslag, J. (2006). China's new mercantilism in central Africa', African and Asian Studies 5(2), 133–169.
19. Ikenberry, G. J. (2008). The Rise of China and the Future of the West - Can the Liberal System Survive, Foreign Affairs, 87, January/February, 23-37.
20. Jamieson, D G (2009). "AFRICOM: a threat or an opportunity for African security?" South African Journal of International Affairs, 16(3), 311-329.
21. Jones, R. (2016). Violent Borders: Refugees and the Right to Move. London: Verso
22. Klare, M. and Volman, D. (2006). The African "oil rush" and US national security, Third World Quarterly, 27(4), 609–628.
23. Large, D. (2008). "Beyond 'Dragon in the Bush': The Study of China–Africa Relations." African Affairs, Volume 107, Issue 426, 45–61.
24. Mbembe, A. (2021). Out of the Dark Night. Columbia University Press
McNally, C.A.( 2012). "Sino-Capitalism China's reemergence and the international political economy." World Politics 64(4), 741–76.
25. Mearsheimer, J J. (2001). The tragedy of great power politics. New York, N.Y.: W. W. Norton.
26. Mustafa, N. H. (2008). By inviting Bush we are dishonouring ourselves, Review of African Political Economy, 35 (115), 147-152.
27. Nathan, L. (2009). "AFRICOM: A Threat to Africa's Security." Contemporary Security Policy, 30(1), 58-61.
28. National Intelligence Council, Global trends 2025. (2008).Washington, D.C.: Government Printing Office.
29. Navarro, Peter (2007). The coming China wars: Upper Saddle River, NJ: Financial Times Press.
30. Ndlovu-Gatsheni, S.J. (2015). "Genealogies of coloniality and implications for Africa's development." Africa Development, 40(3), 13-40.
31. Ndlovu-Gatsheni and Victor Ojakorotu (2010). "Surveillance over a zone of conflict: Africom and the politics of securitisation of Africa." The Journal of Pan African Studies, 3(6), 9 4 -110.
32. Obi, C.I. (2008). Enter the Dragon? Chinese Oil Companies & Resistance in the Niger Delta, Review of African Political Economy, 35:117, 417-434.
33. Onor, K. (2021). "Moving US Africa Command to Africa will not solve the continent's security issues." The Conversation." Available @ https://theconversation.com/moving-us-africa-command-to-africa-will-not-solve-the-continents-security-issues-160119. Retrieved January 25, 2022.
34. Pay, V.N. and Nwosu, E. (2020). China's Engagement with Africa: Promoting Rentierism?
35. A Case Study of Sino-Nigerian Economic Relations. Asian Affairs, 51 (2), pp. 347-364.
36. Petry, D. (2011). Using AFRICOM to counter China's aggressive African policies. US Air Force Academy, Department of Military & Strategic Studies, Colorado.
37. Pham, J.P. (2008). America's New Africa Command: Paradigm Shift or Step Backwards? The Brown Journal of World Affairs, 15(1), 257-272.
38. Simonds, J. K. (2016). "A hybrid theory of securitization in Non-traditional Spatialities: understanding roles and Responsibilities in the high seas." A Dissertation submitted to Belfast University in partial fulfilment of the requirements for the degree of Master of Arts in Violence, Terrorism and Security.
39. Tella, O. (2016) AFRICOM: hard or soft power initiative? African Security Review, 25(4), 393-406.
40. The 2018 Annual Report on the United States Africa Command available @ https://www.africom.mil/document/30467/u-s-africa-command-2018-posture-statement Retrieved March 29, 2022.
41. Townsend, S.T. (2021). Statement of United States Marine Corps Commander United States Africa Command before the United States House of Representative Committee on Armed Services, April 20, 2021.
42. Townsend, S.T. (2020). Statement of United States Marine Corps Commander United States Africa Command before the Senate Committee on Armed Services, January 30, 2020.
43. Ugwuja, A.A. (2018). The United States' Africa Command (AFRICOM) and Africa's security in the Twenty- First Century, Renaissance University Journal of Management and Social Sciences, 4(1), 61-84.
44. Waldhauser, T.D. (2019). Statement of United States Marine Corps Commander United States Africa Command before the Senate Committee on Armed Services, 7 February, 2019.
45. Wai, Z. (2014) "The empire's new clothes: Africa, liberal interventionism and contemporary world order" Review of African Political Economy, 41(142), 483-499.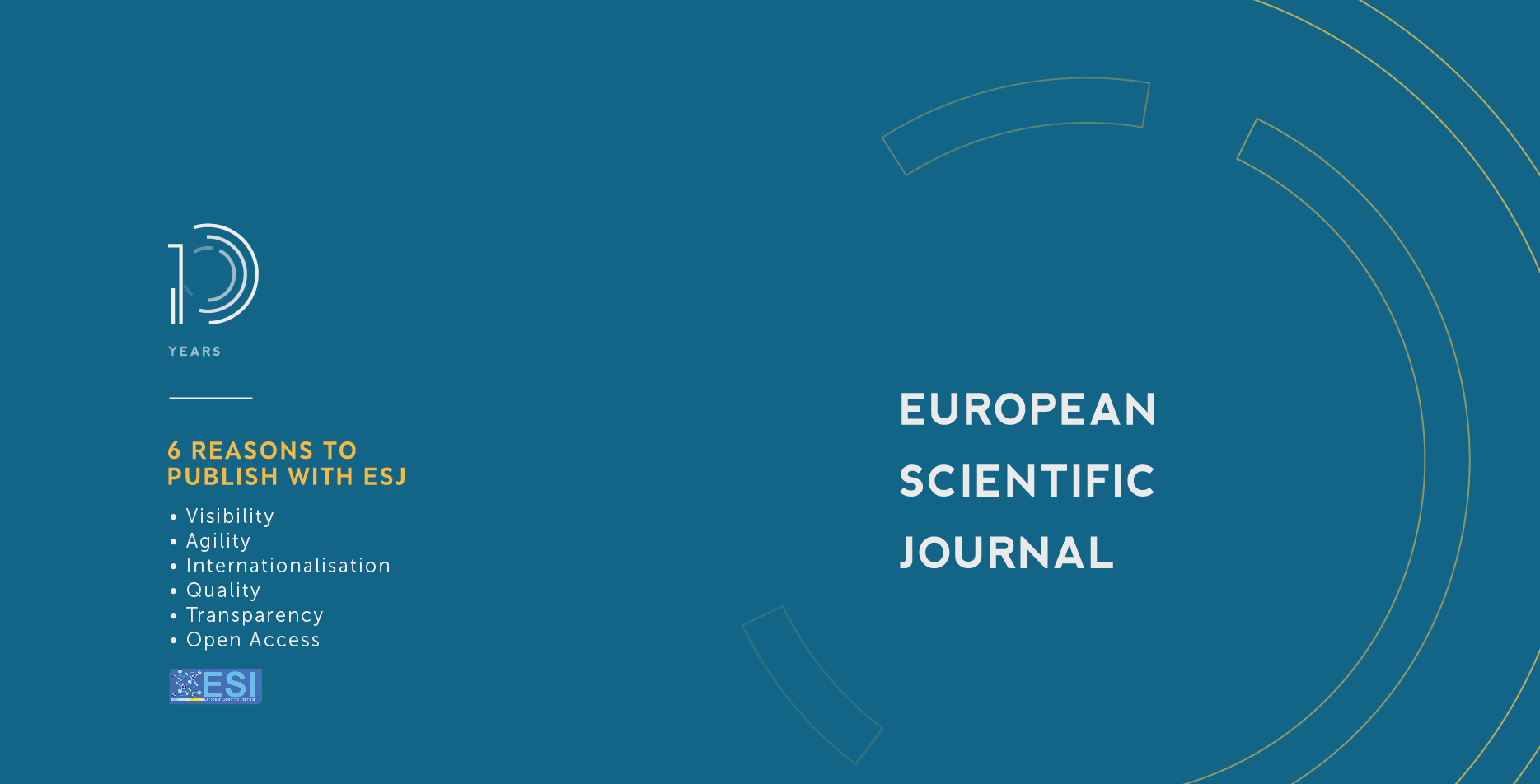 How to Cite
Nyiayaana, K., & Nwankpa, C. I. (2022). AFRICOM and the Burdens of Securitisation in Africa. European Scientific Journal, ESJ, 18(20), 190. https://doi.org/10.19044/esj.2022.v18n20p190
Copyright (c) 2022 Kialee Nyiayaana
This work is licensed under a Creative Commons Attribution-NonCommercial-NoDerivatives 4.0 International License.