Reconstitution Lithostratigraphique des Formations Albiennes du Puits k1 du Bassin Offshore Ivoirien: Identification des Réservoirs
T.M. Kesse

Institut National Polytechnique Houphouët Boigny, Ecole Supérieure des Mines et Géologies, Yamoussoukro, Côte d'Ivoire

A.F.A. Kouao

Université Félix Houphouët Boigny, UFR des Sciences de la Terre et des Ressources minières, Laboratoire Géosciences des Environnements Sédimentaires et des Energies, Abidjan, Côte d'Ivoire

F. Y. P. Assalé

Université Félix Houphouët Boigny, UFR des Sciences de la Terre et des Ressources minières, Laboratoire Géosciences des Environnements Sédimentaires et des Energies, Abidjan, Côte d'Ivoire

S. Tiene

Université Félix Houphouët Boigny, UFR des Sciences de la Terre et des Ressources minières, Laboratoire Géosciences des Environnements Sédimentaires et des Energies, Abidjan, Côte d'Ivoire

S. Monde

Université Félix Houphouët Boigny, UFR des Sciences de la Terre et des Ressources minières, Laboratoire Géosciences des Environnements Sédimentaires et des Energies, Abidjan, Côte d'Ivoire
Keywords:
Reconstruction, Ivorian Offshore, Logging, Cuttings
Abstract
La mise en évidence des fluides dans les réservoirs albiens du puits K1 du bassin offshore ivoirien a été possible grâce aux traitements des données lithologiques et diagraphiques aux logiciels Strater et Interactive Petrophysics (IP). La reconstitution lithologique des formations de ce puits révèle trois unités lithologiques qui sont dans le sens du forage : unité 1, unité 2 et unité 3. Les épaisseurs respectives de ces unités sont 37 m, 109 m et 52 m. L'unité 1 forme une épaisse roche couverture et est constituée d'argilites avec de fines intercalations de sables/grès et de dolomie. L'unité 2 est caractérisée par une alternance d'argilites, de dolomies et de sables/grès. Cette unité est caractérisée par l'existence de quatre réservoirs à hydrocarbures. Les épaisseurs de ces réservoirs sont respectivement dans le sens du forage : 11,30 m, 2,74 m, 3,35 m et 11,6 m. Ce sont des réservoirs gréseux dont la porosité est assez bonne à très bonne (10 à 27%). Tous ces réservoirs ne contiennent que du gaz à l'exception du premier réservoir qui renferme en plus du gaz, de l'huile et de l'eau. Enfin, l'unité 3 comprend des argilites avec un banc de sable/grès et des traces de calcaire et de dolomie.
The highlighting of fluids in the Albian reservoirs of the K1 well in the Ivorian offshore basin was possible thanks to the processing of lithological and log data with Strater and Interactive Petrophysics (IP) software. The lithological reconstruction of the formations of this well reveals three lithological units which are in the direction of the drilling: unit 1, unit 2 and unit 3. The respective thicknesses of these units are 37 m, 109 m and 52 m. Unit 1 forms a thick cap rock and consists of argillites with fine sand/sandstone and dolomite intercalations. Unit 2 is characterized by an alternation of argillites, dolomites and sands/sandstones. This unit is characterized by the existence of four hydrocarbon reservoirs. The thicknesses of these reservoirs are respectively in the direction of drilling: 11.30 m, 2.74 m, 3.35 m and 11.6 m. These are sandstone reservoirs with fairly good to very good porosity (10 to 27%). All these tanks contain only gas except for the first tank which also contains gas, oil and water. Finally, Unit 3 includes argillites with a sand/sandstone layer and limestone and dolomite trail.
Downloads
Download data is not yet available.
References
1. Bessoles B. 1977. Géologie de l'Afrique, le craton ouest africain Mém. B.R.G.M. n°88, 402 p.
2. Blarez E. et Mascle J. 1988. Shallow structure and evolution of the Ivory Coast and Ghana transform margin. Mar. Pet. Geol. Min., 54-64.
3. Blarez E. 1986. La marge continentale de la Côte d'Ivoire-Ghana. Structure et évolution d'une marge continentale transformant, Thèse de doctorat d'Etat Es. Sc., Paris VI (France), 188p.
4. Tastet J. P., Martin L., Aka K. 1993. Géologie et environnements sédimentaires de la marge continentale de Côte d'Ivoire in Environnement et ressources aquatiques de la Côte d'Ivoire, Tome I. Le milieu marin. Ed. ORSTOM, Paris, 23-61.
5. Rider M. H. 2006. The geological interpretation of well logs. Rider-French Consulting Ltd (Edit), Second edition, 280p.
6. Selley R. C. 1982. Introduction to sedimentology. Academic press Inc. U.S; 2 Rev Ed. 287p.
7. Serra O. 1985. Diagraphies différées. Bases de l'interprétation : Interprétation des données diagraphiques. Tome 2. Bulletin des Centres de Rech. Explo. -Product. Elf-Aquitaine, Pau, 7, 631p.
8. Serra O. 1986. Les diagraphies différées : leur emploi en géologie sédimentaire. Bull. Centres Recherches Exploration-Production Elf-Aquitaine, 10 (2), 205-227.
9. Doveton J. H. 1986. Log analysis of subsurface geology concepts and computer methods: Wiley Interscience, New York, 273p.
10. Andersen M. A. 2011. Core Truth in Formation Evaluation, Schlumberger Oilfield Review, Spring 23, no.1, pp. 60–62.
11. Gary N. S. 2009. Sedimentology and stratigraphy. Second edition. Wiley-Black well: A John Wiley & Sons, Ltd., Publication 111 River Street, Hoboken, USA, 419p.
12. Kouao A. F. A. 2017. Apport des diagraphies à la reconstitution électrofacio-séquentielle des dépôts crétacés : paléoenvironnement et eustatisme du bassin ivoirien. Thèse de Doctorat unique, Université Félix Houphouët-Boigny, Côte d'Ivoire, 163p.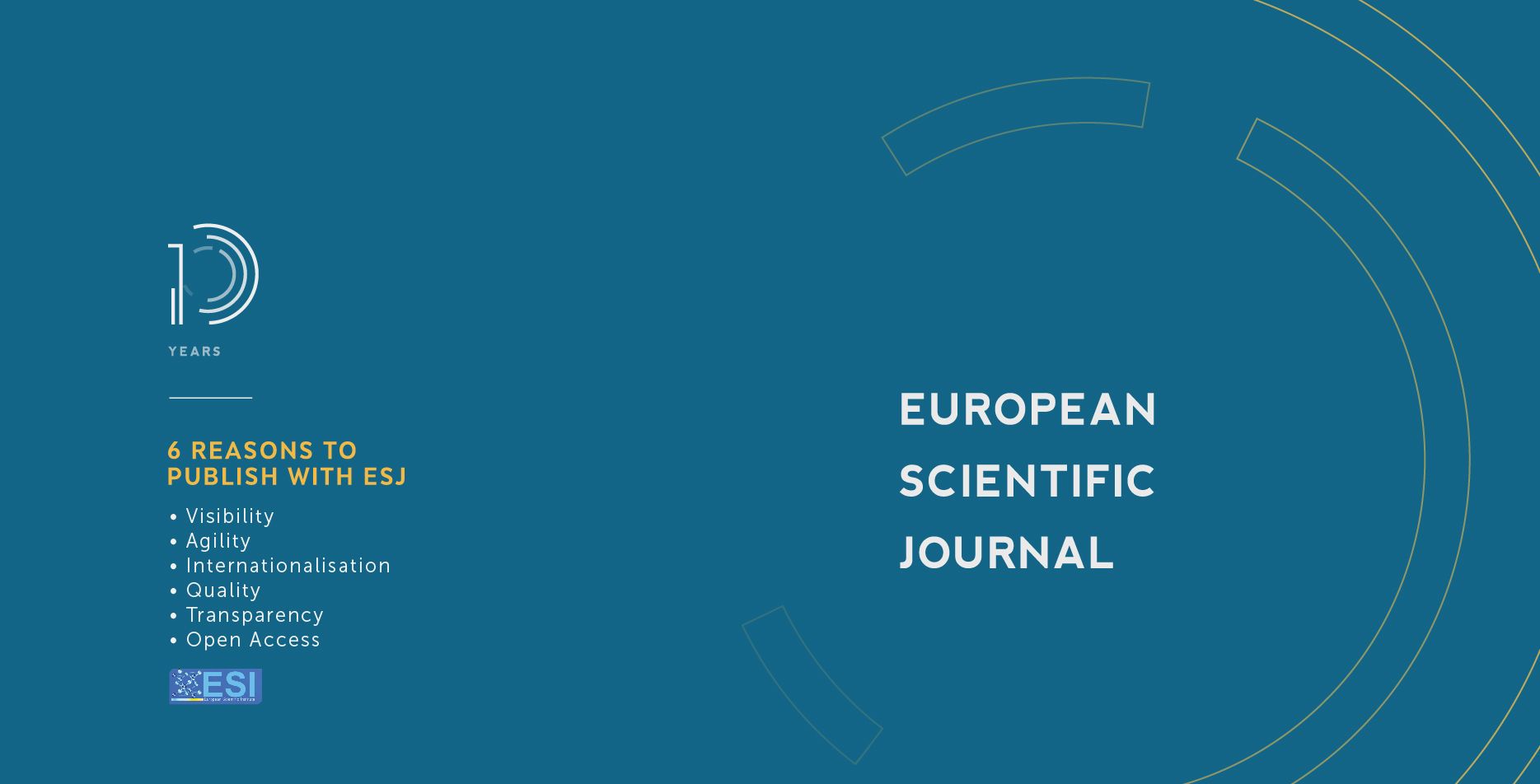 How to Cite
Kesse, T., Kouao, A., Assalé, F. Y. P., Tiene, S., & Monde, S. (2022). Reconstitution Lithostratigraphique des Formations Albiennes du Puits k1 du Bassin Offshore Ivoirien: Identification des Réservoirs. European Scientific Journal, ESJ, 18(36), 246. https://doi.org/10.19044/esj.2022.v18n36p246
Section
ESJ Natural/Life/Medical Sciences
Copyright (c) 2022 T.M. Kesse, A.F.A. Kouao, F. Y. P. Assalé, S. Tiene, S. Monde
This work is licensed under a Creative Commons Attribution-NonCommercial-NoDerivatives 4.0 International License.