Connaissances et Pratiques des Pharmaciens et Auxiliaires des Officines de Pharmacie de la Ville de Parakou Face aux Topiques Auriculaires en 2021
Fatiou Alabi Bouraïma

Maitre-Assistant, Faculté de Médecine, Université de Parakou, Benin

Appolinaire Koukouroum

Faculté de Médecine, Université de Parakou, Benin

Samaké Djibril

Centre de Santé de Réference de la Commune V de Bamako, Mali

Alexis do Santos

Faculté des Sciences de la Santé, Université d'Abomey Calavi, Benin

François Avakoudjo

Faculté des Sciences de la Santé, Université d'Abomey Calavi, Benin

Marius Flatin

Faculté de Médecine, Université de Parakou, Benin

Spéro Raoul Hounkpatin

Faculté de Médecine, Université de Parakou, Benin
Keywords:
Connaissances, pratiques, topiques auriculaires, pharmacie, Parakou
Abstract
Introduction : Les topiques auriculaires (TA) sont très utilisés dans le monde en raison de leur remarquable efficacité. L'objectif de cette étude était d'évaluer les connaissances et pratiques des pharmaciens et auxiliaires des officines de pharmacie de la ville de Parakou face aux topiques auriculaires en 2021. Méthode : Il s'est agi d'une étude transversale à visée descriptive et analytique portant sur les pharmaciens et auxiliaires des 19 officines de la ville de Parakou. Les données ont été collectées à l'aide d'une fiche d'enquête du 8 Avril 2021 au 8 Juillet 2021. Résultats : Sur les 129 sujets colligés, les auxiliaires représentaient 86,05% des enquêtés et les pharmaciens (13,95%). La sex-ratio était de 0,32 avec une prédominance féminine. L'âge moyen était de 31,78 ans ±8,52ans. Près de la moitié des enquêtés avaient en majorité moins de 5 ans d'ancienneté (49,61%). La majorité des enquêtés (66,67%) avaient reçu leurs connaissances sur les topiques auriculaires lors de leur formation de base. Les gouttes auriculaires étaient la forme galénique connue de tous (100%). Les antibiotiques étaient la classe thérapeutique la plus connue (97,64 %). Seuls 11,62% des enquêtés avaient une bonne connaissance des topiques auriculaires. Le bon niveau était significativement plus retrouvé chez les pharmaciens comparativement aux auxiliaires de pharmacie (p=0,004). Les topiques auriculaires étaient délivrés hors prescription médicale dans 97,67% des cas. L'automédication représentait 89,92% selon les enquêtés. En cas d'automédication, l'intégrité des tympans n'était pas vérifiée dans 92,80% des cas. La pratique adéquate était retrouvée chez 40,31% des enquêtés.  Conclusion : Cette étude a montré que le niveau de connaissance du personnel de pharmacie sur les topiques auriculaires est insuffisant mais la pratique est adéquate chez 40% des enquêtés.  Des mesures d'information et de sensibilisation sur les topiques auriculaires sont à envisager pour améliorer les niveaux de connaissance et de pratique des pharmaciens et auxiliaires des officines de pharmacie de la ville de Parakou sur les topiques auriculaires.
Introduction: Topical Ear Medication (TEM) is widely used around the world because of its remarkable efficacy. The goal of this study was to assess the knowledge and practices of pharmacists and associate pharmacists with regard to topical ear medication in Parakou city in 2021. Method: This was a descriptive and analytical cross-sectional study on pharmacists and their associates in the 19 pharmacies of Parakou city. Data were collected using a survey form from April 8, 2021 to July 8, 2021. Results: Out of 129 subjects collected, associate pharmacists represented 86.05% of respondents and pharmacists (13.95%). The sex ratio was 0.32 with a female predominance. The average age was 31.78 years ± 8.52 years. Nearly half of the respondents had mostly less than 5 years of seniority (49.61%). The majority of respondents (66.67%) had received their knowledge on topical ear medication during their basic training. Ear drops were the dosage form known to everyone (100%). Antibiotics were the best known therapeutic class (97.64%). Only 11.62% of respondents had a good knowledge of topical ear medication. The good level was found significantly more among pharmacists compared to associate pharmacists (p=0.004). Topical ear medication was delivered without a medical prescription in 97.67% of cases. Self-medication accounted for 89.92% according to respondents. In case of self-medication, the integrity of eardrums was not checked in 92.80% of cases. Adequate practice was found in 40.31% of respondents. Conclusion: It appears from this study that the level of pharmacy staff knowledge on topical ear medication is insufficient but the practice is adequate in 40% of respondents. Measures of sensibilisation should be taken to improve the level of knowledge and practice among pharmacists and their associates on topical ear medication in Parakou city.
Downloads
Download data is not yet available.
PlumX Statistics
References
1. Société Française d'ORL (SFORL). Recommandations pour la pratique clinique : Utilisation des gouttes et poudres à usage auriculaires [En ligne]. Arceil : Lob Conseil ; 2001 [consulté le 2 fév 2021]. Disponible sur : https://www.orlfrance.org/wp-content/uploads/2017/06/RPC2_gouttes_auric _court.pdf
2. Toye G, Aremu KS, Esan OT, Dosunmu AO, Raji MM. Topical ear drop self-medication practice among the Ear, Nose, and Throat patients in Ido Ekiti, Nigeria: A cross-sectional study. Ann Afr Med.2018 ; 17(2):70: Doi : 10.4103/aam.aam_28_17
3. Hounkpatin SHR, Flatin MC, Avakoudjo F, Lawson-Afouda S, Vodouhe UB, Dossou-Kpanou KAFB, Njouokep Kembou Gj, Adjibabi W. L'automédication en ORL au centre hospitalier départemental du Borgou à Parakou dans le Nord-Bénin. La revue africaine d'ORL et de la Chirurgie cervico-faciale. 2015 ;15 (1) : 20-5.
4. Ikeda K, Morizono T. The preparation of acetic acid for use in otic drops and its effect on endocohlear potential and pH in inner ear fluid. Am J Otolaryngol. 1989; 10(8): 382-5. Doi: 10.1016/0196-0709(89)90032-x
5. José EM, Oudou N. L'Enquête CAP (Connaissances, Attitudes, Pratiques) en Recherche Médicale. Health Sci Dis. 2013 ; 14(2) : 1-3.
6. Ganfon H, Diallo T, Nanga C, Coulibaly N, Benao V, Ekanmian G, Sandouidi A, Daniel GE. Connaissances et pratiques de la prise en charge du paludisme par le personnel des pharmacies privées de cinq grandes villes du Bénin, Burkina Faso et Mali en 2014. Médecine et Santé Tropicales. 2017 ; 27(2) : 164-9.
7. Mbow, Fatou, Dela Nai, Sara Chace Dwyer, Aparna Jain, and Babacar Mane. Les pharmacies privées dans l'offre de services de planification familiale au Sénégal : Une étude pilote [en ligne]. Dakar : Population Council, The Evidence Project ; 2019 [consulté le 20 aout 2021]. Disponible sur : https://knoledgecommons.popcouncil.org, doi10.31899/rh12.1020
8. Badoum G, Toloba Y, Thiombiano R, Ouédraogo G, Ouédraogo B. Attitude du pharmacien d'officine dans la dispensation des médicaments de l'asthme. Revue des Maladies Respiratoires. 2015 ; 32(1) : 18-23. Doi. org/10. 1016/j. rmr.2013. 0 9.019
9. Afolabi OA, Ehalaiye BF, Fadare JO. Abdur-Rahman AB, Ehalaiye DN. Survey of ototopical self-medication among patients attending ENT and family medicine departments in a Nigerian hospital. European Journal of General Practice. 2011 ; 17(3) : 167–70. Doi.org/10.3109/13814788.2011.565323
10. Haute autorité de santé. Rapport d'évaluation des gouttes auriculaires associant un corticoïde à un (des) antibiotique(s) dans le traitement local des otites externes aiguës [en ligne]. [Consulté le 2 sept 2021]. Disponible sur https://www.hassante.fr/plugins/ModuleXitiKLEE/types/FileDocument/doXiti.jsp?id=c_2824773
11. Hillen U, Geier J, Goos M. Contact allergies in patients with eczema of the external ear canal. Results of the Information Network of Dermatological Clinics and the German Contact Allergy Group. Hautarzt. 2000; 51(4):239-43. Doi: 10.1007/s001050051111.
12. Van Ginkel CJW, Bruintjes TD, Huizing EH. Allergy due to topical medications in chronic otitis externa and chronic otitis media. Clin Otolaryngol. 1995 ; 20 (4) : 326-8. Doi: 10.1111/j.1365-2273.1995.tb00052. X
13. Dauman R, Dulon D. Ototoxicité médicamenteuse. Traité d'Otorhino-laryngologie : 20-184-B-10.1995 ; 7 (4) : 1-7. Doi :10.1016 /S02 46-0351(12)39238-6
14. Hounsa A, Kouadio L, De Mol P. Automédication par les antibiotiques provenant des pharmacies privées de la ville d'Abidjan en Côte d'Ivoire. Med Mal Infect. 2010 ; 40(6) : 333-40. Doi. org/ 10.1016 /j.medmal. 2009.10.002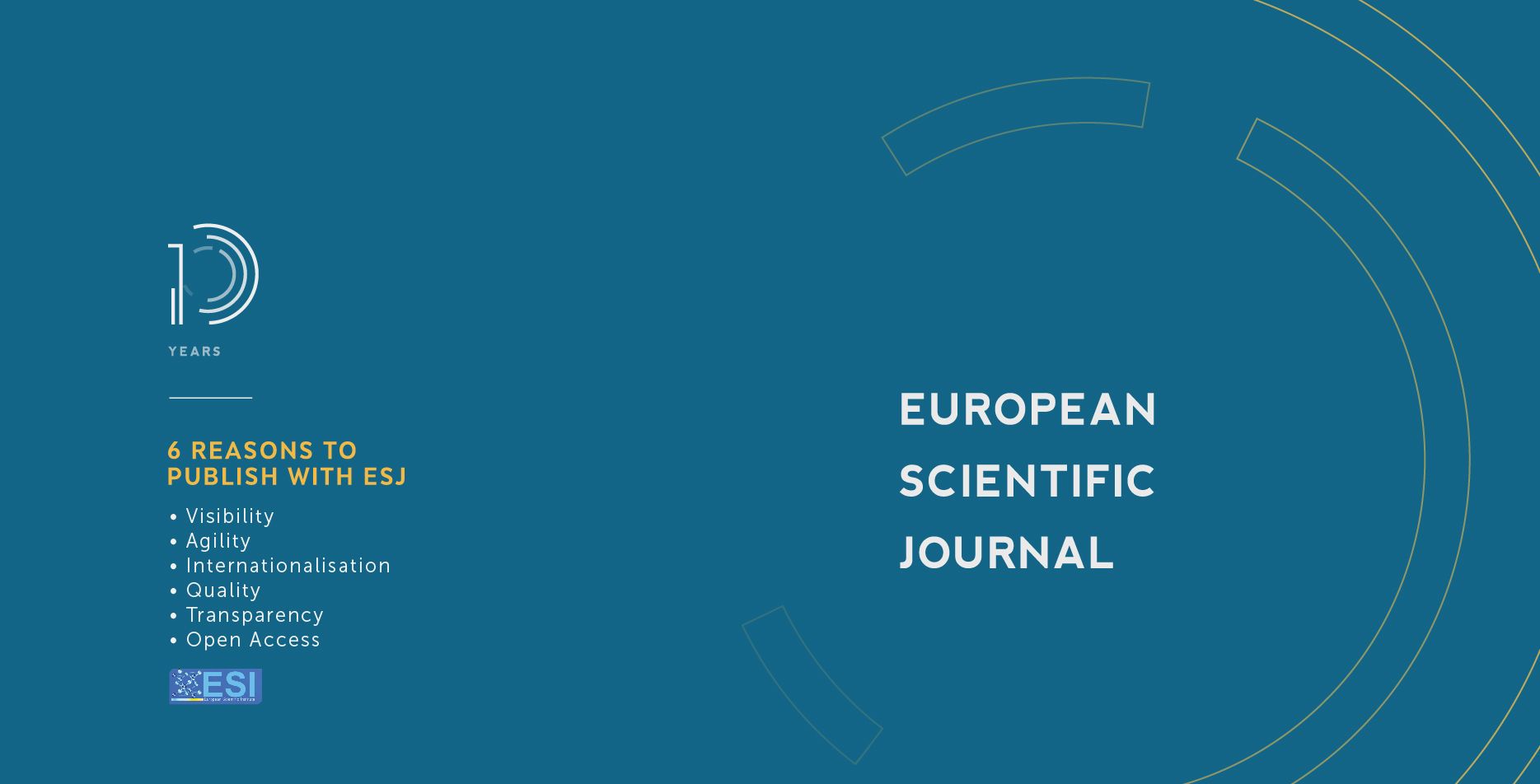 How to Cite
Bouraïma, F. A., Koukouroum, A., Djibril, S., Santos, A. do, Avakoudjo, F., Flatin, M., & Hounkpatin, S. R. (2022). Connaissances et Pratiques des Pharmaciens et Auxiliaires des Officines de Pharmacie de la Ville de Parakou Face aux Topiques Auriculaires en 2021. European Scientific Journal, ESJ, 18(36), 294. https://doi.org/10.19044/esj.2022.v18n36p294
Section
ESJ Natural/Life/Medical Sciences
Copyright (c) 2022 Fatiou Alabi Bouraïma, Appolinaire Koukouroum, Samaké Djibril, Alexis do Santos, François Avakoudjo, Marius Flatin, Spéro Raoul Hounkpatin
This work is licensed under a Creative Commons Attribution-NonCommercial-NoDerivatives 4.0 International License.