Qualité Biologique de l'Eau de Consommation et MalAdaptabilités Biologiques chez des Enfants de 6 à 59 Mois de Milieux Socio-Sanitaires Différents
N'guessan Pazé Kouamé

Département de Paléoanthropologie. Institut des Sciences Anthropologiques de Développement (ISAD), Université Félix Houphouët-Boigny d'Abidjan Cocody (UFHB). Laboratoire de Biomorphologie.et d'Anthropologie physique rattaché aux Unités de Formation et de Recherche en Sciences Humaines et Sociales et en OdontoStomatologie de l'UFHB

Firmin Kouassi Kouakou

Département de Paléoanthropologie. Institut des Sciences Anthropologiques de Développement (ISAD), Université Félix Houphouët-Boigny d'Abidjan Cocody (UFHB). Laboratoire de Biomorphologie.et d'Anthropologie physique rattaché aux Unités de Formation et de Recherche en Sciences Humaines et Sociales et en OdontoStomatologie de l'UFHB

Julien Coulibaly Kalpy

Institut pasteur d'Abidjan, Côte d'Ivoire

Kouakou Jérôme Kouadio

Département de Paléoanthropologie, Institut des Sciences Anthropologiques de Développement (ISAD), Université Félix Houphouët-Boigny d'Abidjan Cocody (UFHB). Laboratoire de Biomorphologie.et d'Anthropologie physique rattaché aux Unités de Formation et de Recherche en Sciences Humaines et Sociales et en OdontoStomatologie de l'UFHB

Siméon Kouassi Kouakou

Département d'Archéoanthropologie, Institut des Sciences Anthropologiques de Développement (ISAD), Université Félix Houphouët-Boigny d'Abidjan Cocody (UFHB). Côte d'Ivoire

Jean-Bertin Beugré

Laboratoire de biomorphologie, UFR d'odonto-stomatologie d'abidjan, Université Félix Houphouët-Boigny d'Abidjan Cocody (UFHB), Côte d'Ivoire
Keywords:
Qualité de l'eau, conditions socio-sanitaires, mal-adaptabilité biologique, enfants, Abidjan, Cote d'ivoire
Abstract
Les mal-adaptabilités  biologiques de l'enfant semblent être le produit des stimulations offertes par le milieu de vie. L'influence de celles-ci sur le fonctionnement biophysiologique de l'enfant n'est pas suffisamment examinée. La présente étude se propose de comparer les mal-adaptabilités biologiques des enfants consommant une eau de qualité pathogène à celles de leurs pairs ayant accès à une eau de qualité non pathogène. Cet examen a porté sur 152 enfants ivoiriens âgés de 6 à 59 mois. Chez ces derniers, des prélèvements d'eau selon la source disponible dans le ménage ont été analysés. Ces analyses ont permis de déterminer le niveau de contamination microbiologique en recourant à la méthode de la filtration sur membrane. L'examen des mal-adaptabilités biologiques des deux groupes d'enfants s'est fait en considérant les fréquences de pathologies physiques récurrentes en une année. Les résultats montrent que les sujets qui consomment une eau de qualité pathogène présentent une fréquence de mal-adaptabilités biologiques supérieure à celle de leurs pairs consommant une eau de meilleure qualité microbiologique. Par exemple, les pathologies hydriques, telles les infections entériques, sont significativement différentes entre les deux groupes de nourrissons et d'enfants. On note respectivement une fréquence de 8,9% ; 7,2% contre 0% ; 0%. Ces résultats confirment l'hypothèse selon laquelle la qualité microbiologique de l'eau consommée dans un milieu de vie constitue un facteur qui exerce une action différentielle sur l'apparition des mal-adaptabilités biologiques.
The biological maladjustments of the child seem to be the product of the stimuli offered by the living environment. The influence of these stimuli on the biophysiological functioning of the child has not been sufficiently examined. The present study compares the biological maladjustments of children consuming water of pathogenic quality with those of their peers having access to water of non-pathogenic quality. The study involved 152 Ivorian children aged 6 to 59 months. Water samples were taken from these children according to the source available in the household. These analyses were used to determine the level of microbiological contamination using the membrane filtration method. The examination of the biological maladjustments of the two groups of children was done by considering the frequencies of recurrent physical pathologies in one year. The results show that subjects consuming water of pathogenic quality have a higher frequency of biological maladjustments than their peers consuming water of better microbiological quality. For example, waterborne pathologies such as enteric infections are significantly different between the two groups of infants and children. The frequency was 8.9% and 7.2% respectively, compared to 0% and 0%. These results support the hypothesis that the microbiological quality of the water consumed in a living environment is a factor that exerts a differential action on the occurrence of biological maladjustments.
Downloads
Download data is not yet available.
References
1. Angoua, E., Dongo, K., Templeton, M. R., Zinsstag, J., & Bonfoh, B. (2018). Barriers to access improved water and sanitation in poor peri-urban settlements of Abidjan, Côte d'Ivoire. PloS one, 13(8), e0202928. https://doi.org/10.1371/journal.pone.0202928.
2. Bahino, j. (2018). analyse de la qualité de l'air dans les zones urbaines en Afrique : caractérisation de la pollution gazeuse des espèces chimiques NO2, SO2, HNO3, NH3 et O3 à abidjan et cotonou (doctoral dissertation, université félix houphouët-boigny).
3. Desyibelew, H. D., & Dadi, A. F. (2019). Burden and determinants of malnutrition among pregnant women in Africa : A systematic review and meta-analysis. PloS one, 14(9), e0221712
4. Diallo,A.I.(2021), études des bactéries environnementaux associés à la diarrhée chez les enfants de moins de cinq ans en milieu semi urbain Dakarois en 2018. Revue Africaine et malgache pour la recherche scientifique/science et santé, 1(3).
5. El Ghazi, I., Berni, I., Menouni, A., Amane, M., Kestemont, M. P., & El Jaafari, S. (2020). Étude de la relation entre l'exposition à la pollution atmosphérique liée au trafic routier et l'incidence des pathologies respiratoires au niveau de la ville de Meknès, Maroc. International Journal of Innovation and Applied Studies, 31(3), 428-443.
6. Froment, A., Bley, D., & Enel, C. (2007). Anthropologie épidémiologique : la dimension médicale de l'écologie humaine. L'homme et sa diversité. Perspectives et enjeux de l'anthropologie biologique, Paris, CNRS Éditions, 69-81.
7. Gärtner, N., Germann, L., Wanyama, K., Ouma, H. et Meierhofer, R. (2021). Garder l'eau des kiosques propre : Stratégies pour réduire la recontamination pendant le transport et le stockage dans l'est de l'Ouganda. Recherche sur l'eau X, 10, 100079.
8. INS,(2017). La situation des femmes et des enfants en Côte d'Ivoire. Enquête par grappe à indicateurs multiples. (Abidjan : Côte d'Ivoire). pp. 442. https://www.unicef.org/cotedivoire/sites/unicef.org.cotedivoire/files/2019-01/C%25C3%25B4te%2520d%2527Ivoire_MICS%25202016.pdf
9. INS,(2014). Recensement Général de la Population et de l'Habitat 2014 (Abidjan : Institut Nationale de la Statistique), pp. 49.
10. Koletzko, B., Godfrey, K. M., Poston, L., Szajewska, H., Van Goudoever, J. B., De Waard, M., … & Zalewski, B. M. (2019). Nutrition during pregnancy, lactation and early childhood and its implications for maternal and long-term child health : the early nutrition project recommendations. Annals of Nutrition and Metabolism, 74(2), 93-106.
11. Kouadio, K. J., Kouassi, K. F., & Kouamé, N. P. (2018). Adaptabilité Biologique Chez Des Enfants Issus De Milieu De Vie Différent. European Scientific Journal, ESJ, 14(18), 178. https://doi.org/10.19044/esj.2018.v14n18p178
12. Kouamé, N. P., Kouadio, K. J. et Kouassi, K. F. (2019). Développement physique des enfants de milieu de vie et de niveau d'adaptabilité biologique différent. Antropo, (41), 1-15.
13. Moran, E. F. (2000). Human adaptability: An introduction to ecological anthropology, 2e éd. Boulder, Colorado: Westview Press, p 446
14. Lee, G. O., Whitney, H. J., Blum, A. G., Lybik, N., Cevallos, W., Trueba, G., Levy, K. et Eisenberg, J. (2020). Household coping strategies associated with unreliable water supplies and diarrhea in Ecuador, an upper-middle-income country. Water research, 170, 115269. https://doi.org/10.1016/j.watres.2019.115269
15. Lin, A., Arnold, B. F., Afreen, S., Goto, R., Huda, T.M., Haque, R., Raqib.R.,Unicomb,L., Ahmed,T., John M. Colford Jr. Et Luby.S.P. (2013). Conditions environnementales des ménages sont associées à des troubles de la croissance et de l'entéropathie au Bangladesh Rural. American Journal and Hygiene, 89 (1), 130-137.
16. Luby, S.P, Rahman, M., Arnold, BF, Unicomb, L., Ashraf, S., Winch, PJ, … et Colford Jr, J.M. (2018). Effets de la qualité de l'eau, de l'assainissement, du lavage des mains et des interventions nutritionnelles sur la diarrhée et la croissance des enfants dans les zones rurales du Bangladesh : un essai contrôlé randomisé en grappes. The Lancet Global Health, 6 (3), 302-315. doi: 10.1016/S2214-109X(17)30490-4
17. Kouakou, J. G. S., Oga, S., Claon, S., Bama, M., Koua, D. M., Houénou, Y., & Kouadio, L. K. (2012). Conditions d'accès et de stockage de l'eau : enquête dans les ménages en zone périurbaine à Abidjan en 2010. Santé Publique, 24(2), 133-142.
18. Momberg, DJ, Voth-Gaeddert, LE, Ngandu, BC, Richter, L., May, J., Norris, SA, & Said-Mohamed, R. (2020). Facteurs d'eau, d'assainissement et d'hygiène (WASH) associés à la croissance entre la naissance et l'âge de 1 an chez les enfants à Soweto, Afrique du Sud : résultats de l'étude Soweto Baby WASH. Journal de l'eau et de la santé, 18 (5), 798-819.
19. Null, C., Stewart, C.P., Pickering, A.J., Dentz, H.N., Arnold, B.F., Arnold, C.D., … et Colford Jr, J.M. (2018). Effets de la qualité de l'eau, de l'assainissement, du lavage des mains et des interventions nutritionnelles sur la diarrhée et la croissance des enfants dans les zones rurales du Kenya : un essai contrôlé randomisé en grappes. The Lancet Global Health , 6 (3), 302-315. https://doi.org/10.1016/S2214-109X(17)30490-4.
20. OMS (2017). Directives de qualité pour l'eau de boisson : 4e éd. Intégrant le premier additif. Genève : http://apps.who.int/iris.
21. OMS (2006). child growth standards, Acta paediatrica (Oslo, Norway : 1992). Supplement, 450, 76–85. https://doi.org/10.1111/j.1651-2227.2006.tb02378.x
22. UN-HABITAT, 2012. Côte d'Ivoire : profil urbain de port Bouët. P.32. https://un habitat.org/cote-divoire-profil-urbain-de-port-bouet-french.
23. Sy, I., Traoré, D., Diène, A. N., Koné, B., Lô, B., Faye, O., … et Tanner, M. (2017). Eau potable, assainissement et risque de maladies diarrhéiques dans la Communauté urbaine de Nouakchott, Mauritanie. Santé Publique, 29(5), 741-750.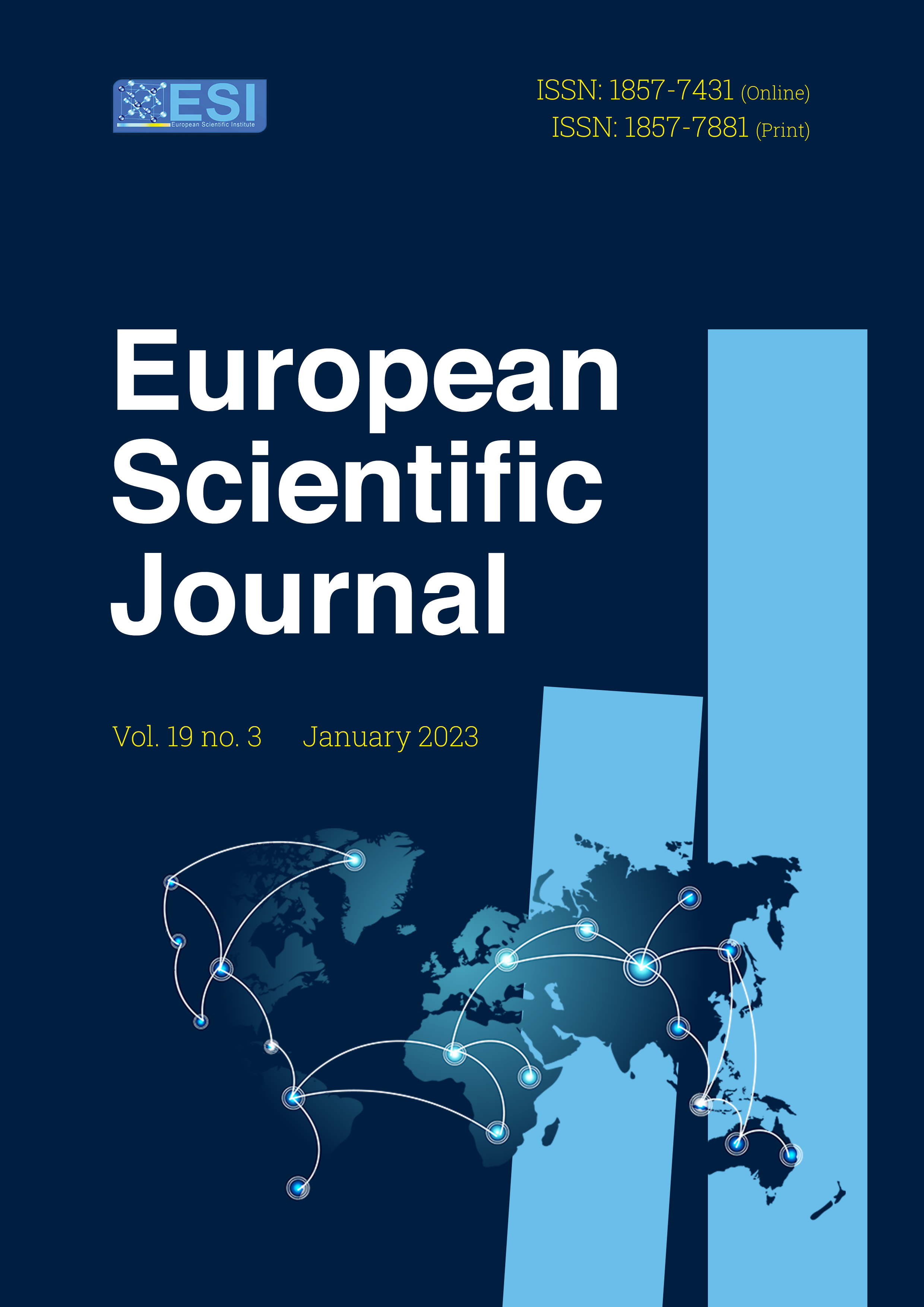 How to Cite
Kouamé, N. P., Kouakou, F. K., Kalpy, J. C., Kouadio, K. J., Kouakou, S. K., & Beugré, J.-B. (2023). Qualité Biologique de l'Eau de Consommation et MalAdaptabilités Biologiques chez des Enfants de 6 à 59 Mois de Milieux Socio-Sanitaires Différents. European Scientific Journal, ESJ, 19(3), 74. https://doi.org/10.19044/esj.2023.v19n3p74
Section
ESJ Natural/Life/Medical Sciences
Copyright (c) 2023 N'guessan Pazé Kouamé, Firmin Kouassi Kouakou, Julien Coulibaly Kalpy, Kouakou Jérôme Kouadio, Siméon Kouassi Kouakou, Jean-Bertin Beugré
This work is licensed under a Creative Commons Attribution-NonCommercial-NoDerivatives 4.0 International License.