Diversité Floristique Et Valeur De Conservation De La Forêt Classée De N'ganda-N'ganda (Sud-Est De La Cote D'ivoire)
Akaffou Tchimou Antoine

Unité de Formation et de Recherches en Sciences de la Nature, Université Nangui Abrogoua, Laboratoire de botanique, Côte d'Ivoire

Neuba Danho Fursy Rodelec

Unité de Formation et de Recherches en Sciences de la Nature, Université Nangui Abrogoua, Laboratoire de botanique, Côte d'Ivoire

Malan Djah François

Unité de Formation et de Recherches en Sciences de la Nature, Université Nangui Abrogoua, Laboratoire de botanique, Côte d'Ivoire
Keywords:
Diversité Floristique, Forêt Classée De N'ganda-N'ganda, Côte d'Ivoire
Abstract
L'étude a été entreprise en vue de contribuer à une meilleure connaissance de la flore de la forêt classée de N'ganda-N'ganda. Pour ce faire, la technique de relevés itinérants a été utilisée. Les inventaires itinérants ont permis d'obtenir une liste de 445 espèces de plantes réparties en 293 genres et 96 familles. Les familles les plus dominantes diffèrent d'un milieu à un autre. Les Rubiaceae sont parmi les familles prépondérantes, quel que soit le type de milieu. Les types biologiques sont dominés par les phanérophytes à plus de 60 %. Le spectre phytogéographique est marqué par une dominance des espèces Guinéo-Congolaises, dans les deux types de forêts. En savane, les hémicryptopytes sont les types biologiques les plus dominants. Le nombre élevé d'espèces endémiques de Haute Guinée (58) et ivoiriennes (09) couplé par la présence de 22 taxons classés de rares, devenus rares et en voie d'extinction pour la flore de la Côte d'Ivoire et de 20 taxons de la liste rouge de l'UICN (2015), représente sa caractéristique particulière. Les traits particuliers de cette flore doivent susciter plus d'attention de la part des gestionnaires de cette forêt.
This study focuses on providing a better knowledge of the flora of N'ganda-N'ganda forest. The itinerant survey technique was used, and this made it possible to obtain a list of 445 species which was distributed between 293 genera and 96 families. The most dominant families deffer by space. Rubiaceae was between dominated families and all types of spaces. The biological types are dominated more than 60% by the phanerophyts. Phytogeographic spectrum is marked by a strong dominance of species known as Guineo-Congolese in two types of forest. In Savanah, hemicryptophyts was the most dominated biological types. The high number of endemic species from Upper Guinea (58) and Ivorian (9), coupled with the presence of 22 taxa classified as rare and endangered for the flora of Côte d'Ivoire and 20 taxa of IUCN Red List (2015), represents its special character. Particular traits of this flora should attract more attention from managers of this forest.
Downloads
Download data is not yet available.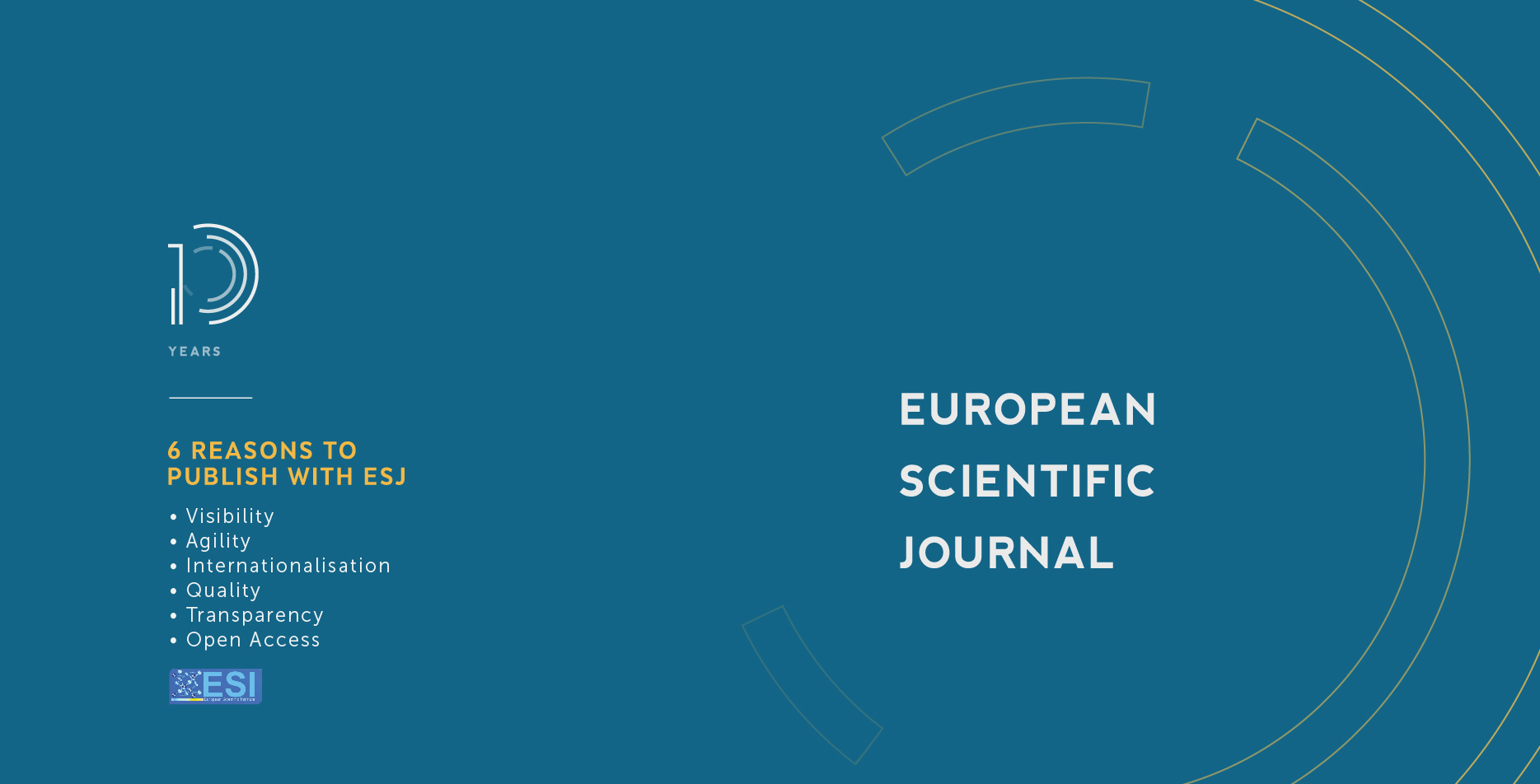 How to Cite
Antoine, A. T., Rodelec, N. D. F., & François, M. D. (2020). Diversité Floristique Et Valeur De Conservation De La Forêt Classée De N'ganda-N'ganda (Sud-Est De La Cote D'ivoire). European Scientific Journal, ESJ, 16(36), 329. https://doi.org/10.19044/esj.2020.v16n36p329
Section
ESJ Natural/Life/Medical Sciences
Copyright (c) 2020 Akaffou Tchimou Antoine, Neuba Danho Fursy Rodelec, Malan Djah François
This work is licensed under a Creative Commons Attribution-NonCommercial-NoDerivatives 4.0 International License.