The Importance of Multilingual Information and Plain English in Response to the COVID-19 Pandemic
Barbara Cappuzzo

University of Palermo, Italy
Keywords:
Multilingual information, linguistic minorities, plain English
Abstract
Health is a common issue for all human beings. As a consequence, everyone in the world has in some way to cope with the language of medicine. This is true now more than ever due to the global health crisis caused by the current COVID-19 pandemic, which has introduced a great amount of terms, previously mostly used by epidemiologists and statisticians, but which now have entered the daily lexicon of many languages. As the medium of international scientific communication, English is the language of worldwide information about the pandemic, and the main source of terms and expressions for other languages. The impact of the COVID-19 pandemic on English lexicon has been so deep that the Oxford English Dictionary Online (OED) released special updates in 2020 to fulfil the need to document the phenomenon. However, previous studies (Khan et al. 2020; Deang and Salazar 2021) have highlighted the important question concerning the existence of several ethnic minorities who have Limited English Proficiency (LEP) and therefore do not receive sufficient and appropriate information to defend themselves adequately against SARS-CoV-2, the virus we have all been fighting for more than one year now. The aim of this study is to highlight the importance of language and translation as essential components to provide all demographic groups/communities with access to COVID-19-related information in languages other than English and enable them to follow official health key rules. The main websites of Italian governmental and nongovernmental institutions were investigated, and the analysis focused on the availability and type of content of the multilingual material, as well as on information accessibility and clarity. The results showed important differences in the number of available languages and, even more, in the level of intelligibility of COVID-19 material in the English language. In this respect, this study intends to foster the use of plain English in the dissemination material provided by the websites of the main healthcare public institutions in Italy, a country with an ever-increasing number of registered foreigners, the majority born in non-EU countries.
Downloads
Download data is not yet available.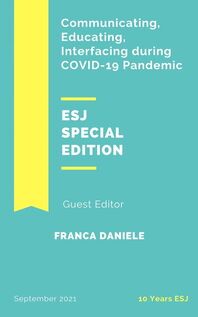 How to Cite
Cappuzzo, B. (2021). The Importance of Multilingual Information and Plain English in Response to the COVID-19 Pandemic. European Scientific Journal, ESJ, 17(30), 37. https://doi.org/10.19044/esj.2021.v17n30p37
Copyright (c) 2021 Barbara Cappuzzo
This work is licensed under a Creative Commons Attribution-NonCommercial-NoDerivatives 4.0 International License.