Proposition d'un Cadre Conceptuel d'analyse de la Responsabilité Sociétale des Universités (RSU) : Cas du Maroc
Alami Hasnaa

Professeure Habilitée à l'École Nationale de Commerce et de Gestion Université Chouaïb Doukkali, El Jadida. Laboratoire d'Études en Sciences Économiques et de Management (LERSEM)

Alami Asmaa

Professeure Habilitée à la Faculté des Sciences Juridiques, Économiques et Sociales Université Hassan II, Casablanca. Laboratoire des Études Juridiques, Civiles et Fikh Moaamalat
Keywords:
Responsabilité sociale des entreprises, Responsabilité sociale des universités, Parties prenantes, Pyramide de Carroll
Abstract
Comme dans la plupart des pays Américains, Nord-Américains et Européens, les Universités marocaines ne doivent pas se limiter à leurs fonctions principales d'enseignement et de recherches. Elles sont appelées à remplir de nouvelles missions et assumer de nouvelles responsabilités conformes aux directives et aux principes du développement durable. À l'image de la responsabilité sociale des entreprises, l'objectif de la présente recherche est de construire un cadre conceptuel de la responsabilité sociale des Universités marocaines. Deux modèles théoriques ont constitué l'ossature du cadre d'analyse : la théorie des parties prenantes et le modèle de Carroll. Le travail est basé sur une approche descriptive, il cherche à croiser les missions d'enseignement et de recherche des Universités marocaines avec les deux modèles théoriques. La coaction de ces deux approches permet d'appréhender finement les quatre responsabilités que les Universités doivent prendre en compte : responsabilité économique, responsabilité académique, responsabilité légale et responsabilité discrétionnaire, afin qu'elles remplissent pleinement leurs missions de formation-recherche.
As in most American, North American and European countries, Moroccan universities should not limit themselves to their main teaching and research functions. They are called upon to fulfill new missions and assume new responsibilities in accordance with the directives and principles of sustainable development. Like corporate social responsibility, the objective of this research is to build a conceptual framework for the social responsibility of Moroccan universities. Two theoretical models formed the backbone of the analytical framework: stakeholder theory and Carroll's model. The work is based on a descriptive approach, it seeks to combine the teaching and research missions of Moroccan universities with the two theoretical models. The coaction of these two approaches provides a detailed understanding of the four responsibilities that universities must account for: economic responsibility, academic responsibility, legal responsibility and discretionary responsibility, so that they fully fulfill their training-research missions.
Downloads
Download data is not yet available.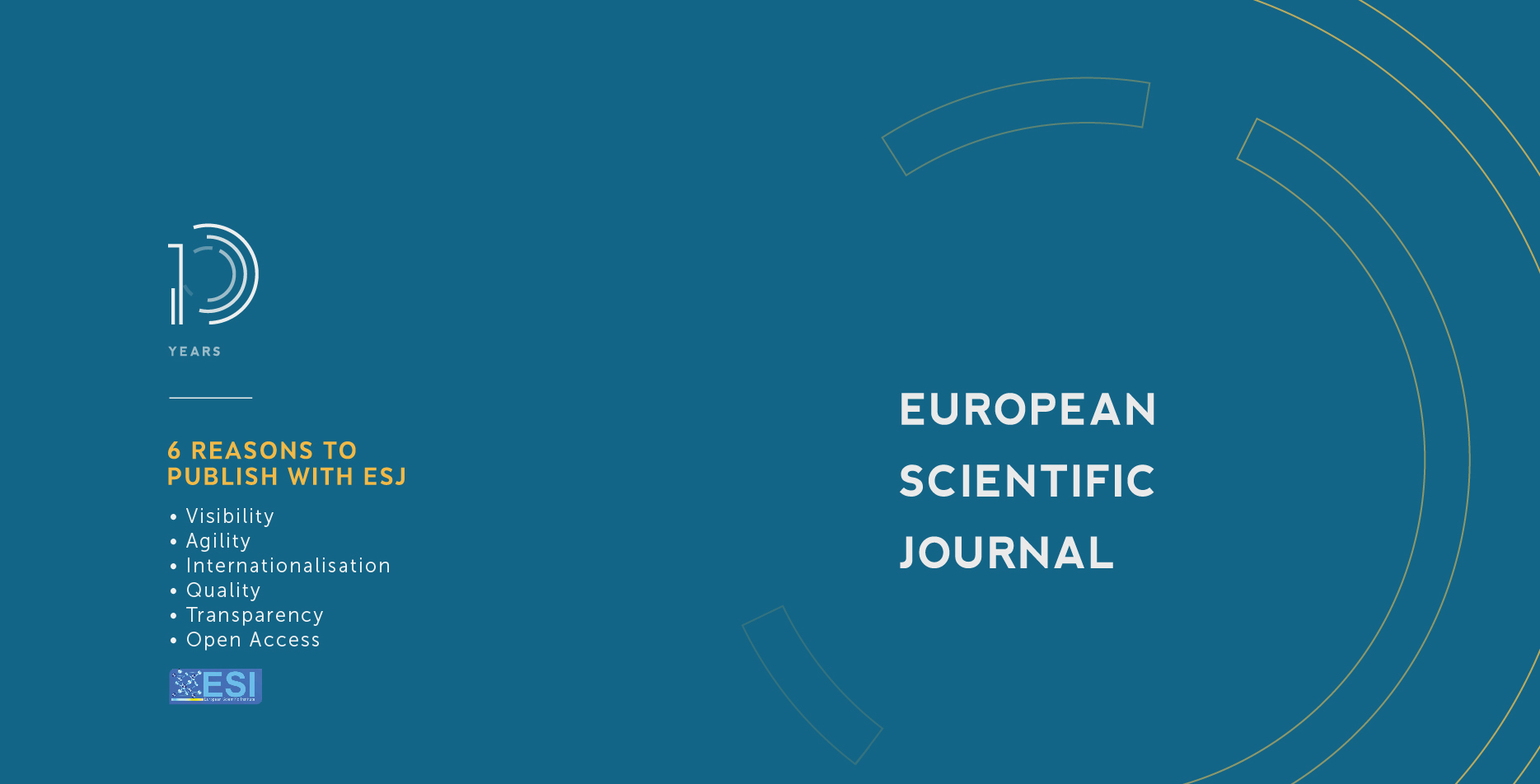 How to Cite
Hasnaa, A., & Asmaa, A. (2021). Proposition d'un Cadre Conceptuel d'analyse de la Responsabilité Sociétale des Universités (RSU) : Cas du Maroc. European Scientific Journal, ESJ, 17(35), 224. https://doi.org/10.19044/esj.2021.v17n35p224
Section
ESJ Social Sciences
Copyright (c) 2021 Alami Hasnaa, Alami Asmaa
This work is licensed under a Creative Commons Attribution-NonCommercial-NoDerivatives 4.0 International License.