Textilome Abdominal Chez L'enfant: Les Trois Premières Observations au Sénégal
Camara Souleymane

Service de Chirurgie Pédiatrique, CHU Aristide Le Dantec,Dakar, Sénégal

Niane Aminah Oumoul Rassoul

Service de Chirurgie Pédiatrique, CHU Albert Royer, Avenue Cheikh Anta Diop, Dakar, Sénégal

Yonga Daniel Tenfa

Service de Chirurgie Pédiatrique, CHU Aristide Le Dantec,Dakar, Sénégal

Zeng Florent Tshibwid A.

Service de Chirurgie Pédiatrique, CHU Albert Royer, Avenue Cheikh Anta Diop, Dakar, Sénégal

Ndour Oumar

Service de Chirurgie Pédiatrique, CHU Aristide Le Dantec,Dakar, Sénégal

Ngom Gabriel

Service de Chirurgie Pédiatrique, CHU Albert Royer, Avenue Cheikh Anta Diop, Dakar, Sénégal
Keywords:
Abdominal Textiloma, Child, Appendicular Abscess Surgery
Abstract
Les cas pédiatriques de textilomes sont rares. Ils sont caractérisés par le poly-morphisme clinique, les errances diagnostiques et le retard de prise en charge. L'objectif était de rapporter les trois premiers cas pédiatriques au Sénégal et d'identifier les facteurs de risque. La tomodensitométrie abdominale avait permis de poser le diagnostic dans les trois cas. La laparotomie exploratrice confirmait les textilomes. Les suites opératoires étaient simples.
Pediatric cases of gossipyboma are rare. They are characterized by clinical pol-ymorphism, misdiagnosis and delayed management. The aim was to report the first three pediatric cases in Senegal and to identify their risk factors. Abdominal CT scan made the diagnosis in all three cases. Exploratory laparotomy con-firmed textilomas. Postoperative follow-up was uneventful.
Downloads
Download data is not yet available.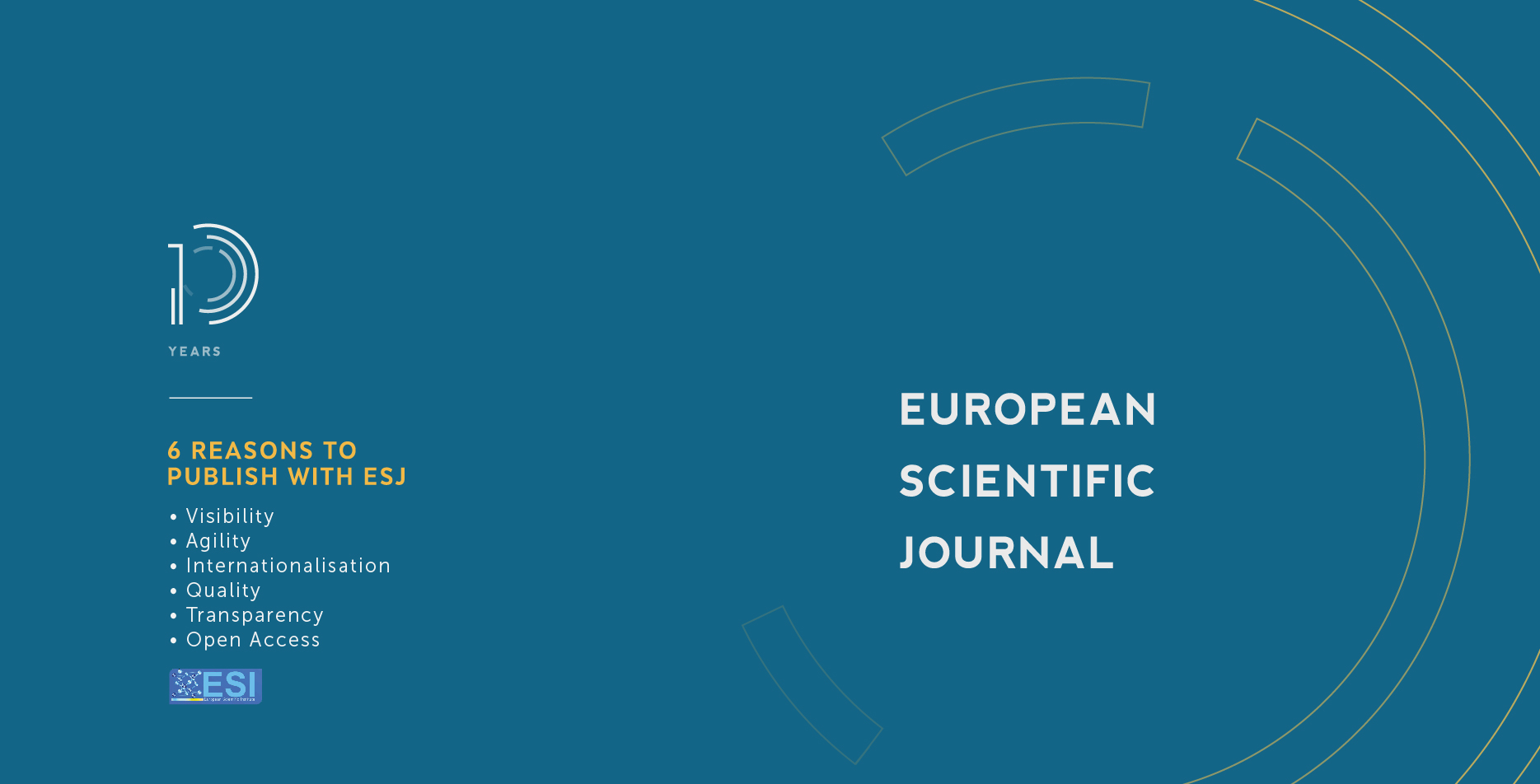 How to Cite
Souleymane, C., Aminah Oumoul Rassoul, N., Tenfa, Y. D., Tshibwid A., Z. F., Oumar, N., & Gabriel, N. (2021). Textilome Abdominal Chez L'enfant: Les Trois Premières Observations au Sénégal. European Scientific Journal, ESJ, 17(37), 225. Retrieved from https://eujournal.org/index.php/esj/article/view/14850
Section
ESJ Natural/Life/Medical Sciences
Copyright (c) 2021 Camara Souleymane, Niane Aminah Oumoul Rassoul, Yonga Daniel Tenfa, Zeng Florent Tshibwid A., Ndour Oumar, Ngom Gabriel
This work is licensed under a Creative Commons Attribution-NonCommercial-NoDerivatives 4.0 International License.