Les hôpitaux du Maghreb face au COVID-19 : Etude de la participation des parties prenantes au processus de décision
Nassim Guennaz

Institut Superieur De Gestion Et Planification, Algerie
Keywords:
Collégialité, rationalité, étude longitudinale, modèle de la poubelle
Abstract
Le modèle du « garbage can » a fait l'objet de plusieurs études, il est associé aux organisations de type anarchie organisée, à l'image des hôpitaux. Cet article s'intéresse à l'influence des parties prenantes externes sur ce modèle décisionnel, sujet de recherche qui a été peu abordé par la littérature. Compte tenu du contexte d'interaction des hôpitaux avec des parties intéressées externes, nous visons à comprendre les articulations exactes se déroulant dans le processus de décision au sein de ces structures de santé. La crise sanitaire mondiale due au COVID-19 a mis les hôpitaux au centre des opérations, et a été marquée par une multitude d'interventions d'acteurs externes, cette situation va constituer notre contexte d'étude. Pour réaliser cette recherche une étude longitudinale de trois hôpitaux en Algérie qui s'appuie sur cinquante-trois entretiens permet de dresser un cadre théorique explicatif. Nous apportons une description processuelle en situation de crise, en considérant le rôle des acteurs en présence. Le processus de décision est décrit en deux phases : (1) une phase d'intelligence où se déroule une coproduction des séquences de décisions entre les hôpitaux et les parties prenantes de l'autorité publique ;(2) une deuxième phase d'interaction où le processus se déroule selon le modèle de la poubelle. Nous identifions aussi les rationalités mises en jeu dans une approche holistique du processus étudié : la rationalité limitée et la rationalité contextuelle.
The garbage can model has been the subject of several studies; it is associated with organizations of the organized anarchy type, such as hospitals. This article focuses on the influence of external stakeholders on this decisionmaking model, a research topic that has been little addressed in the literature. Given the context of the interaction of hospitals with external interested parties, we aim to understand the exact articulations taking place in the decision-making process within these health structures. The global health crisis due to COVID-19 has put hospitals at the center of operations and has been marked by a multitude of interventions by external actors, this situation will constitute our context of the study. To carry out this research, a longitudinal study of three hospitals in Algeria which is based on fifty-three interviews makes it possible to draw up an explanatory theoretical framework. We provide a procedural description of a crisis situation, considering the role of the actors involved. The decision-making process is described in two phases: (1) an intelligence phase where a co-production of decision sequences takes place between hospitals and public authority stakeholders; (2) a second interaction phase where the process takes place according to the model of the garbage can. We also identify the nationalities involved in a holistic approach to the process studied: limited rationality and contextual rationality.
Downloads
Download data is not yet available.
References
1. Ashmos, D.P. , Duchon, D.& McDaniel, R. R. (1998).Participation in strategic decision making: the role of organizational predisposition and issue interpretation.Decision Sciences,29 (1), 25-51.
2. Bardin, L. (2001). L'analyse de contenu. Presses Universitaires de France.
3. Baumard, P., Donada, C. ,Ibert,J. & Xuereb,J.(2014).La collecte des données et la gestion de leurs sources. In R.-A. Thietart et al. (Ed.), Méthodes de recherche en management (pp.261-296). Dunod.
4. Bendor, J., Moe, T., & Shotts, K.W. (2001).Recycling the garbage can: an assessment of the research program. American Political Science Review, 95(1), 169–190.
5. Bloor, M., Wood, F.(2006).Keywords in Qualitative Methods: A Vocabulary of Research Concepts. Sage, London.
6. Bouglet, J. & Joffre, O. (2015). Les priorités du dirigeant face à ses parties prenantes : l'apport d'une approche centrée sur les attentes. Management international, 20(1), 12-25.
7. Chatelain-Ponroy, S., Musselin, C., Mignot-Gerard, S. & Sponem,S. (2014). La prise de décision stratégique dans les organisations publiques collégiales. Le cas des universités françaises. In Bachir Mazouz (Ed.), La stratégie des organisations de l'Etat. Contexte d'analyse, paramètres de décision et gestion du changement (pp.137 – 158).Presses de l'Université du Québec.
8. Cohen M., March J. & Olsen J. (1972). A Garbage Can Model of Organizational Choice. Administrative Science Quarterly, 17(17), 1-25.
9. Cohen, M. D., March, J. G. & Olsen, J. P. (2012) .A garbage can model at forty: a solution that still attracts problems. In A. Lomi & J. R. Harrison (eds), The Garbage Can Model of Organizational Choice: Looking Forward at Forty (pp. 19–30). Emerald Group Publishing Limited.
10. Crozier, M. & Friedberg, E. (1977). L'acteur et le système. Éditions du Seuil.
11. Damart, S. ,David , A. & Roy, B. (2001).« Comment organiser et structurer le processus de décision pour favoriser la concertation entre parties prenantes et accroître la légitimité de la décision », Lamsade (Rapport de recherche), Université Paris IX Dauphine.
12. Desreumaux, A. ; Romelaer, P. (2001).Investissement et organisation. In Charreaux G. (Ed.), Images de l'investissement (pp. 61-114). Vuibert/FNEGE
13. Edelenbos, J. & Klijn, E. (2005). Managing stakeholder involvement in decision making : a comparative analysis of six interactive processes in the Netherlands. Journal of Public Administration Research and Theory,16(3),417-446.
14. Elwardi, K., Bakkali, M., Laglaoui, A. (2021). Gestion de la crise covid-19 : cas d'un hôpital
15. public marocain. Revue internationale des sciences de gestion, 4(2), 607- 620.
16. Eyestone R. (1978). From Social Issue to Public Policy.Wiley.
17. Fioretti, G.& Lomi, A. (2008). The garbage can model of organizational choice: An agent-based reconstruction. Simulation Modelling Practice and Theory,16(2),192-217.
18. Friedberg , E. (1993).Le pouvoir et la règle. Seuil.
19. Gavard-Perret ,M., Gotteland, D. & Haon ,C. (2012).Méthodologie de la recherche en sciences de gestion. Pearson Education France.
20. Gavard-Perret, M.-L. & Helme-Guizon, A. (2012).Choisir parmi les techniques spécifiques d'analyse qualitative. In. Gavard-Perret M-L., Gotteland D., Haon C., (Eds.), Méthodologie de la recherche : réussir son mémoire ou sa thèse en sciences de gestion (pp. 275-308). Pearson Education France.
21. Glouberman, S. & Mintzberg, H. (2001).Managing the care of health and the cure of Disease-Part I: Differentiation. Health care management review, 26(1),56-69.
22. Grenier , C. & Josserand, E. (2014). Recherches sur le contenu et recherches sur le processus, In R.-A. Thiétart (Ed), Méthodes de recherche en management (pp. 129-164).Dunod.
23. Hill, C.W.L .& Jones, T.M. (1992). Stakeholder – Agency Theory.Journal of Management Studies, 29(2),131-154.
24. Hafsi, T., Séguin, F. & Toulouse, J-M (2000). La stratégie des organisations : une synthèse. Les Éditions Transcontinentales.
25. Houssin, D. (2020). La coopération sanitaire internationale à l'épreuve du COVID-19.Politique étrangère, 85(3), 33-45.
26. Huault, I. (2017). James March : ambiguïté et déraison dans les organisations, In S.Charreire Petit, I. Huault (Eds.), Les grands auteurs en Management (pp.343-357) .EMS Edition.
27. Lauesen, L. M. (2015).Sustainable Governance in Hybrid Organizations: An International Case Study of Water Companies. Routledge.
28. Lazega, E. & Wattebled, O. (2010).Deux définitions de la collégialité et leur articulation: le cas d'un diocèse catholique. Sociologie du Travail, 52(4), 480 – 502.
29. Lazega, E. (1999). Le phénomène collégial : une théorie structurale de l'action collective entre pairs. Revue française de sociologie, 40(4), 639–670.
30. Lincoln, Y. S., & Guba, E. (1985). Naturalistic inquiry. Sage.
31. March , J. G. (1978). Bounded Rationality, Ambiguity and the Engineering of Choice. Bell Journal of Economics, 9(2), 587-608 .
32. Mitchell R.K. , Agle B.R. & Wood D.J. (1997). Toward a Theory of Stakeholder Identification and Salience : Defining the Principle of Who and What Really Counts. Academy of Management Review, 22(4) ,853-886.
33. Miles, M. B.& Huberman, M.A. (1984). Qualitative Analysis : A Sourcebook of New Methods.
Sage publications.
34. Miles, M., & Huberman, A. M. (2007). Analyse des données qualitatives.De Boeck Université.
35. Musca, G. (2006). Une stratégie de recherche processuelle : l'étude longitudinale de cas Enchâssés. M@n@gement, 9(3), 145-168.
36. Neville, B. A. , Bell, S. J. & Whitwell, Gregory J (2011). Stakeholder Salience Revisited: Refining, Redefining, and Refueling an Underdeveloped Conceptual Tool . Journal of Business Ethics,102(3),357–378.
37. Paillé, P., & Mucchielli, A. (2016).L'analyse qualitative en sciences humaines et sociales. Armand Colin.
38. Pierre , Jon; Peters , B. Guy (2005). Governing Complex Societies Trajectories and Scenarios. Palgrave Macmillan.
39. Pinfield, L. T. (1986). A Field Evaluation of Perspectives on Organizational Decision Making. Administrative Science Quarterly, 31(3),365-388.
40. Queste , J. , Wassenaar, T. (2018). Comment la recherche concertée contribue à l'écologie territoriale .Cahiers Agricultures, 27(1).
41. Romelaer, P (1994). La contribution de James G. March à la théorie des organisations. Revue Française de Gestion,98,48-60.
42. Simon, H. (1955). A behavioral model of rational choice.The quarterly journal of economics, 69(1),99-118.
43. Touzard, H. (2006). Consultation, concertation, négociation : Une courte note théorique. Négociations, 5(1), 67-74.
44. Vallejo, J. , Sampieri-Teissier, N. & Baret, C. (2015). Comprendre les difficultés de la mise en œuvre de la délégation de gestion à l'hôpital. Une lecture par le concept d'anarchie organisée. Communication au 3ème congrès de l'association de recherche appliquée au management des organisations de santé (ARAMOS), Montpellier, France.
45. Vallejo, J., Sampieri-Teissier, N. & Baret, C. (2018). La mise en place des pôles d'activité médicale à l'hôpital public : quel est l'impact d'un changement de structure organisationnelle sur le processus de décision ? 6ème congrès de L'Association de Recherche Appliquée au Management des Organisations de Santé (ARAMOS), Paris, France.
46. Waguespack, D.M.(2006). Reconciling garbage cans and rational actors: Explaining organizational decisions about environmental hazard management. Social Science Research, 35(n°1),40–59.
47. Waters, M. (1989). Collegiality, Bureaucratisation, and Professionalization: A Weberian Analysis. American Journal of Sociology, 94(5), 945–972.
48. Yin, R. K. (2014).Case Study Research : Design and Methods. Sage.
49. Yin, R. K. (2003). Case Study Research: Design and Methods. Sage.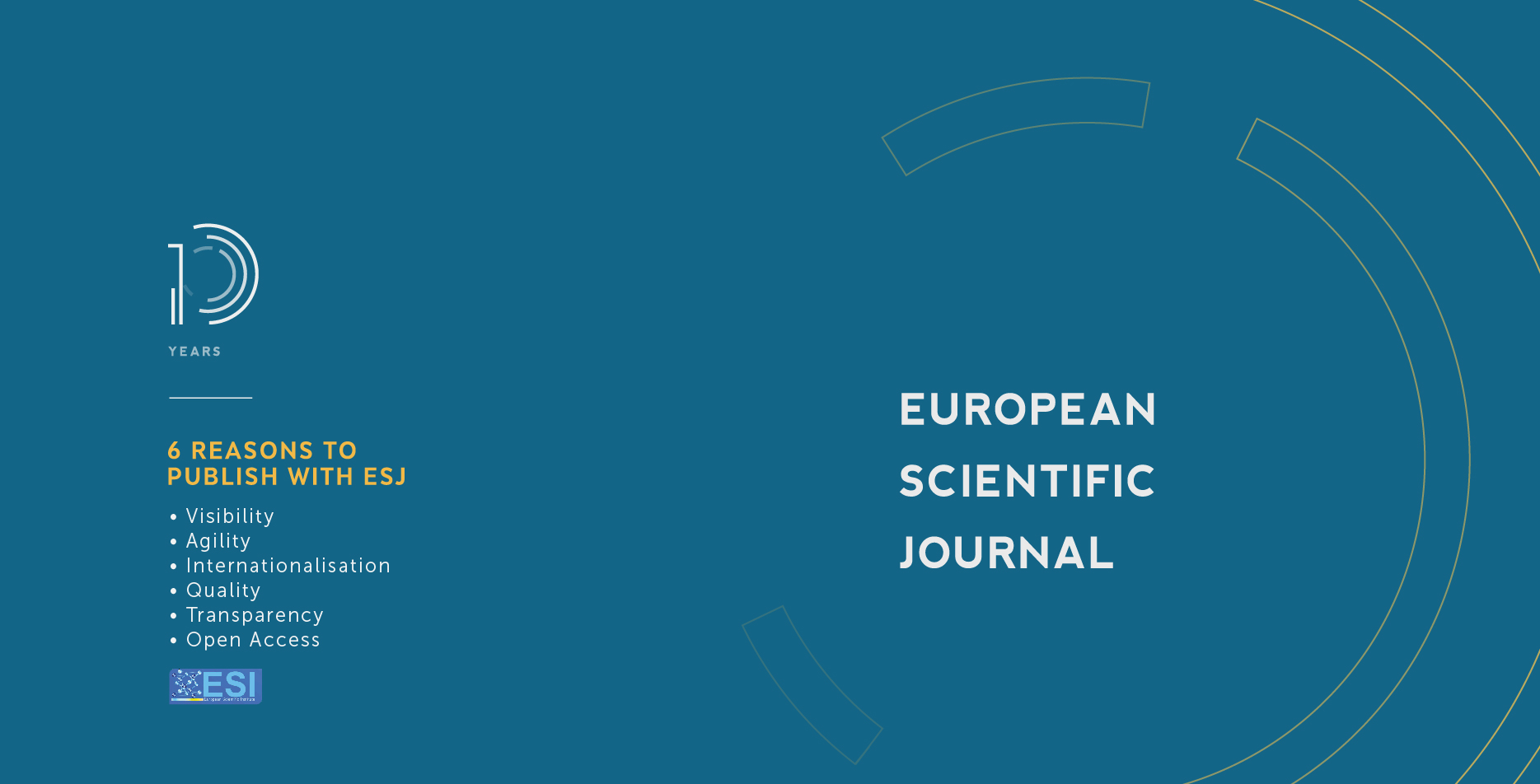 How to Cite
Guennaz, N. (2022). Les hôpitaux du Maghreb face au COVID-19 : Etude de la participation des parties prenantes au processus de décision. European Scientific Journal, ESJ, 18(19), 139. https://doi.org/10.19044/esj.2022.v18n19p139
Section
ESJ Social Sciences
Copyright (c) 2022 Guennaz Nassim
This work is licensed under a Creative Commons Attribution-NonCommercial-NoDerivatives 4.0 International License.