Importation des Nourritures et Securite Alimentaire des Menages a Bukavu
Amos Cishunguluka Kanani

Prof Associé à l'Université Officielle de Bukavu, RDC

Shukuru Bwira David

Assistant à l'Université Officielle de Bukavu, RDC

Rugambwa Sebuyange Jérôme

Chef de Travaux à l'Université Officielle de Bukavu, RDC
Keywords:
Importation des aliments, sécurité alimentaire, disponibilité, agriculture, RDC
Abstract
The objectives of this study were to explain the factors behind the high consumption of imported food products and to identify their contribution to household food security in Bukavu. The use of observation, interviews, questionnaires, and documentation allowed access to data, the analysis of which was based on both qualitative and quantitative approaches. The findings from this study revealed that 56% of households consume more imported products because they are the most available; 26% consume them because of quantity and 15% because of quality. However, the survey revealed that local products are more preferred (77%) by households. As for the feeling of being food secure with imported food, 71% of households admit that importing food is an alternative to the unavailability of local products, but does not give them the feeling of being food secure. In order to achieve real and guaranteed food security, the respondents generally suggest reviving the agro-pastoral sector by reforming the rural production system.
Expliquer les facteurs de la consommation élevée des produits alimentaires importés et relever leur apport à la sécurité alimentaire des ménages à Bukavu ont été les objectifs de cette étude. Le recours à l'observation, l'entretien, le questionnaire et la documentation a permis l'accès aux données dont l'analyse a articulé le qualitatif et le quantitatif. Il est ressorti de cette étude que 56% de ménages consomment plus les produits importés parce que ces produits sont les plus disponibles ; 26% les consomment pour raison de quantité et 15% pour raison de qualité. Cependant, l'enquête a révélé que les produits locaux sont plus préférés (77%) des ménages). Quant au sentiment d'être en sécurité alimentaire à partir des aliments importés, 71% des ménages avouent que l'importation des aliments est une alternative à la disponibilité des produits locaux, mais ne leur donne pas le sentiment d'être en sécurité alimentaire. En vue d'une sécurité alimentaire réelle et garantie, les enquêtés suggèrent globalement la relance du secteur agropastoral impliquant la réforme du système de la production rurale.
Downloads
Download data is not yet available.
References
1. ANAPI(2019). Investissements dans le secteur agricole en République Démocratique du Congo. Cahiers sectoriels, Rapport annuel.
2. Consortium Crongd Sud-Kivu (2010), La dépendance alimentaire au Sud-Kivu.
3. FAO (1996). La situation mondiale de l'alimentation et de l'agriculture, Rome.
4. FAO (2016). The state of world fisheries and aquaculture. contributing to food security and nutrition for all, Rome.
5. FAO (2021). Perspectives de récolte et situation alimentaire - Rapport mondial trimestriel no 2, juillet 2021. Rome.
https://doi.org/10.4060/cb5603fr
6. FAO, OMS, Unicef (2018). L'état de la sécurité alimentaire et de la nutrition dans le monde. Renforcer la résilience face aux changements climatiques pour la sécurité alimentaire et la nutrition. Rome.
7. Feeding Time For These Atlantic and Southern, 2022 World Population Review, Demographics, maps, Graphs, https://worldpopulationreview.com, consulté le 30 avril 2022.
8. IPC (2022). Analyse de l'insécurité alimentaire aiguë et de la malnutrition aiguë en République Démocratique du Congo
9. Morgan, B. W. (1997). L'agriculture en Afrique subsaharienne : Production, alimentation et politique, Bulletin de la Société géographique de Liège, 33, 1997, 93-101
10. reliefweb &OCHA (Rapport 2018), DR Congo, Sécurité alimentaire, niveau de production agricole et animale, Evaluation de la Campagne Agricole 2017-2018 et Bilan Alimentaire du pays, Evaluation and lessons Learned
11. Roch, J. (1988). Le rôle des importations dans la consommation alimentaire en Côte d'ivoire ? Cahier des sciences humaines, Économie ORSTOM, Petit Bassam, 04BP 293, Abidjan 04, Côte d'lvoire
12. Sommet mondial de l'alimentation (1996). Rome.
13. Vwima Ngezirabona, S. et Rushigira, C. (2020), "Problématique de l'intégration de l'agriculture du Sud-Kivu à la République Démocratique du Congo dans la Communauté Économique des Pays des Grands Lacs", Revue "Repères et perspectives Économiques, Vol. 4 / Numéro spécial/
14. Vwima Ngezirabona, S., Mastaki, J.-L. et Lebailly, P. (2013). Le rôle du commerce frontalier des produits alimentaires avec le Rwanda dans l'approvisionnement des ménages de la ville de Bukavu (province du Sud-Kivu) 2013, In Brot, Jean (Ed.) Les Cahiers de l'Association Tiers-Monde n° 28-2013 : XXVIIIes Journées sur le Développement "Mobilités internationales, déséquilibres et développement : vers un développement durable et une mondialisation décarbonée ?"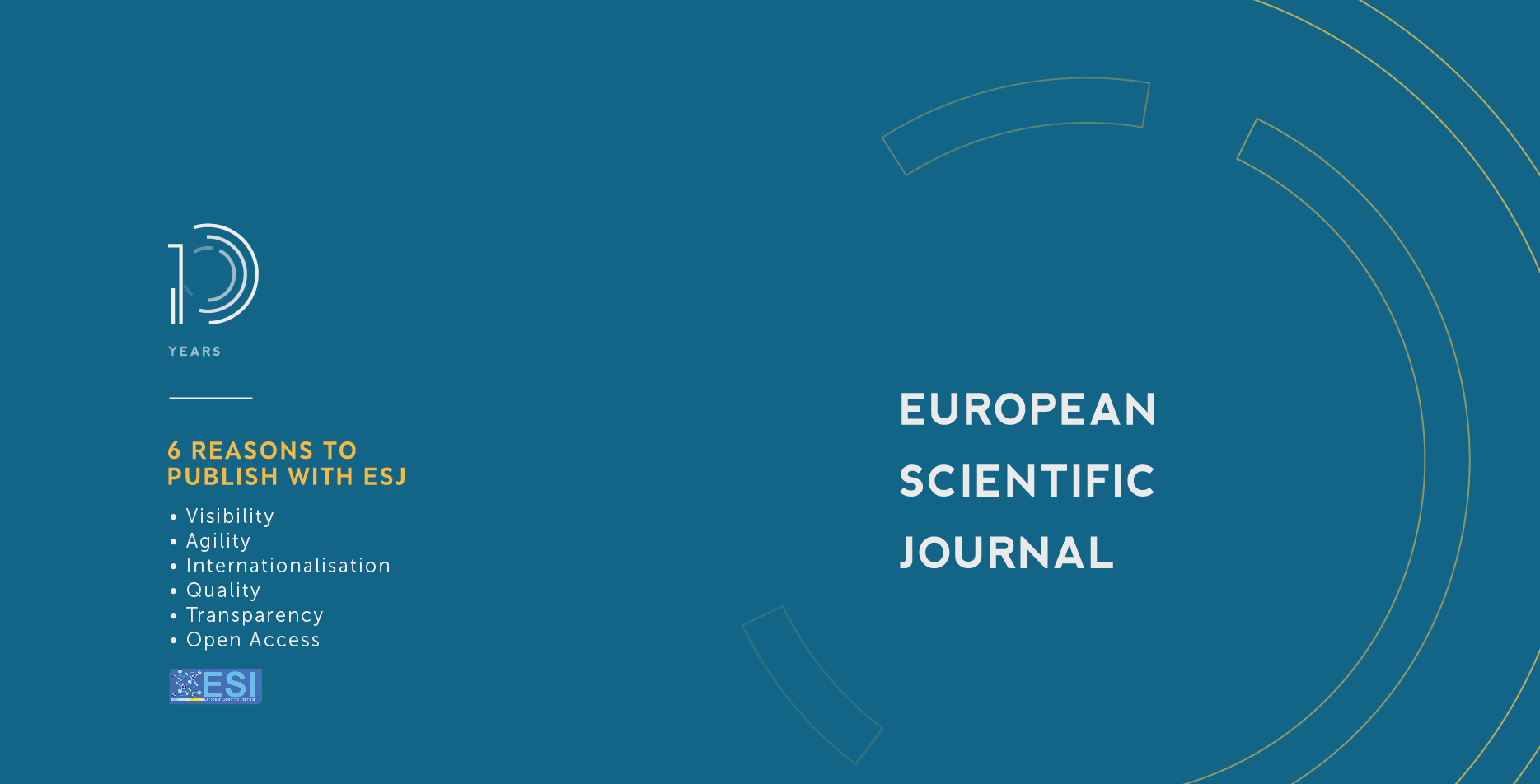 How to Cite
Kanani, A. C., David, S. B., & Jérôme, R. S. (2022). Importation des Nourritures et Securite Alimentaire des Menages a Bukavu. European Scientific Journal, ESJ, 18(20), 172. https://doi.org/10.19044/esj.2022.v18n20p172
Copyright (c) 2022 Amos Cishunguluka Kanani, Shukuru Bwira David, Rugambwa Sebuyange Jérôme
This work is licensed under a Creative Commons Attribution-NonCommercial-NoDerivatives 4.0 International License.