Prospection, Enquête et Collectes des Accessions de Poivron (Capsicum annuum L.) Cultivés dans la Région de Diffa, Niger
Moussa Diagara Saley

Université Abdou Moumouni de Niamey, Niger

Harouna Issa Amadou

Université Abdou Moumouni de Niamey, Niger

Kaka Kiari Boukar Kéllou

Université de Diffa, Niger

Moussa Mamoudou Boubacar

Université de Diffa, Niger

Grema Moustapha

Université Abdou Moumouni de Niamey, Niger

Mahamane Ali

Université Abdou Moumouni de Niamey, Université de Diffa, Niger
Keywords:
Capsicum annuum L., prospection, collecte, Accessions, Diffa, Niger
Abstract
Au Niger, particulièrement dans la région de Diffa, le poivron est la spéculation la plus cultivée et la plus commercialisée, représentant ainsi le poumon économique de la région. Pour accroitre la production et prévenir toute érosion génétique, des connaissances sur la diversité génétique et les pratiques paysannes de la gestion du poivron sont nécessaires. C'est ainsi qu'une prospection suivie de collecte de graines a été effectuées dans toute la région de Diffa. La méthode d'obtention des données et de collecte des accessions à consister en des entretiens directs avec les paysans et les commerçants du poivron aléatoirement choisis dans les villages ou sites d'exploitations.  Le géo référencement de tous les sites/villages visités a été effectué et une carte est établie. Dix-neuf (19) sites (ou villages) ont été prospectés à travers la région et cinquante un (51) accessions collectées. L'étude révèle que la culture du poivron est plus pratiquée par la classe d'âge moins avancée (18-45 ans) avec une fréquence qui varie de 50% (Diffa) à 77% (Nguigmi). Cette culture est pratiquée majoritairement par les hommes dans toutes les zones prospectées. Les résultats montrent également que les « kanuri » sont majoritairement producteurs de cette spéculation avec une fréquence qui varie de 84% (Nguigmi) à 100% (Bosso et Diffa). La culture est en régression dans certaines localités (Département de Diffa, de Bosso et de Maine Soroa) compte tenu des certaines contraintes biotiques (ravageurs) et abiotiques (inondation, insécurité). A la fin, du matériel pour les programmes d'amélioration du poivron est disponible au Niger.
In Niger, particularly in the Diffa region, bell pepper is the most cultivated and marketed  crop, thus representing the economic lung of the region. To increase production and prevent genetic erosion, knowledge of genetic diversity and farmers' practices  is needed. Thus, a survey  followed by seed collection was  conducted throughout the Diffa region. The method of obtaining data and collecting accessions consisted of direct interviews with farmers and bell pepper traders randomly selected in the villages or farmers sites. Geo-referencing of all the sites/villages visited has been carried out and a map  was established. Nineteen (19) sites (or villages) were surveyed across the region and fifty-one (51) accessions collected. The study revealed that bell pepper cultivation is more common among  the younger age group (18-45 years) with a frequency that varies from 50% (Diffa) to 77% (Nguigmi). This crop is grown mainly by men in all the zones surveyed . The results also showed that the "kanuri" are the main producers of this crop with a frequency that varies from 84% (Nguigmi) to 100% (Bosso and Diffa). Production is declining in some localities (Departments of Diffa, Bosso and Maine Soroa) due to certain biotic (pests) and abiotic (flooding, insecurity) constraints.  Finally, materials for bell pepper improvement programs are available in Niger.
Downloads
Download data is not yet available.
References
1. Bautista, S.A.M., 2009. Caractérisation agro-morphologique et moléculaire d'une collection de landraces péruviennes de pigeonpea (Cajanus cajan L. Millsp.) pour l'analyse de sa diversité. En vue de l'obtention du grade de Docteur en Sciences. Facultés des Sciences, Département de Biologie, Unité de Recherche en Biologie cellulaire et moléculaire Végétale, Belgique, 244p.
2. Charles, K.K., Harold, R.M., Mame, C.G., Marie, C.O., Jean-François, R., Ndiaga, C., et Remi, S.P., 2007. Diversité génétique des variétés traditionnelles de niébé [Vigna unguiculata (L.) Walp.] au Sénégal : etude preliminaries. Plant Genetic Ressources Newsletter N° 152 : 33-44.
3. Cleide, M., Ferreira, P., Izabel, C., Dos Santos, Fernanda, F.A., et Tania, P.S., 2016. Pepper Importance and Growth (Capsicum spp.). Springer International Publishing Switzerland, New York Dordrecht London. ISBN 978-3-319-06532-8. 141p.
4. CRA/D (Chambre Régionale D'agriculture de Diffa), 2016. Le poivron rouge de Diffa, éléments techniques et économiques pour la culture. Fiche technique et économique. Niger. 3p.
5. CRA/M (Chambre Régionale D'agriculture de Maradi), (2017), Restitution des résultats 2017 du conseil de gestion aux producteurs de poivron de Gourgia-Laouni (commune de Gazaoua). Fiche technique et économique. Niger.10p.
6. Dixita, K., Patel, B.R., Patel, J.R., et Kuchhadiya, G.V., 2015. Genetic variability and character association studies for green fruit yield and quality component traits in chilli (capsicum annuum var. longum (dc.) sendt.). Electronic Journal of Plant Breeding, 6(2) : 472-478.
7. Eric, C.L., Lys, A.A., Carlos, A.H., Rachidi, A.F., Nicodème, V.F.H., et Eroch, G. A., 2020. Fiche technique synthétique pour la production du poivron (Capsicum annum L.), Laboratory of Genetics Horticulture and Seed Science (GBioS) ISBN 978-99919-76-73-0. 6p.
8. Fernando, L.F., Elizanilda, R.R., Mailson, M.R., 2016. Production and Breeding of Chilli Peppers (Capsicum spp.). Springer Cham Heidelberg New York Dordrecht London. ISBN 978-3-319-06532-8. 141p.
9. Finger, F.L., Rêgo, E.R., Segatto, F.B., Nascimento, N.F.F., 2012. Produção e potencial de mercado para pimenta ornamental. Informe Agropecuário. 33 : 14-20.
10. Ghalmi, N., 2011. Etude de la diversité génétique de quelques écotypes locaux de Vigna unguiculata (L.) Walp. Cultivés en Algérie. Thèse de doctorat, Ecole National supérieur Agronomique (ENSA) El Harrach-Algérie. 117p.
11. Hakmaoui, A., Zaki, N., Baye, Y., et Outmane, A., 2013. Technique de production du piment rouge (Niora) au périmètre irrigué de Talda. ISSN : 1114-0852. 6p.
12. Harouna, A.I., Bakasso, Y., Zoubeirou, A.M., Doumma, A., Maiboucar, I., 2014. Diagnostic participatif de la diversité de morphotypes et des connaissances locales en matière de culture du Voandzou (Vigna Subterranea L,) au Niger. International Journal of Innovation and Applied Studies. pp. 1915-1925.
13. Hasan, M. J., Kulsum, M.U., Ullah, M.Z., Manzur, M.H et Eleyash, M.M. (2014). Genetic diversity of some chili (capsicum annuum l.) genotypes. Int. J. Agril. Res. Innov. & Tech. 4 (1) : 32-35.
14. HEA (Household Economie Approach), 2014. Profil de référence de l'économie des ménages ruraux de la zone de Cultures de poivron de la Komadougou à Diffa/Niger. 21p.
15. Kouassi, C., 2012. Potentialités bioactives et activité antimicrobienne des variétés de piment (Capsicum) cultivées en Côte d'Ivoire. Thèse de Doctorat ; Université d'Abobo-Adjamé, Abidjan,Côte d'Ivoire, 161 p.
16. MAE (Ministère de l'agriculture et de l'élevage), 2018. Résultats définitifs de l'enquête sur les productions horticoles 2007-2017. 63p.
17. Marchay, Lagarde., 1987. A la recherche des variétés locales de plantes cultivées. Paris: France, Lavoisier. ISBN: 2-9501451-0-0. 211p
18. Materska, M., Konopacka, M., Rogolinsk, J., Slosarek, K., 2015. Antioxidant activity and protective effects against oxidative damage of human cells induced by X-radiation of phenolic glycosides isolated from pepper fruits Capsicum annuum L. Food Chem 168: 546–553.
19. Oumarou, K.H., 2005. Comportement du poivron sur sol salin aux bords de la Komadougou: Cas du site de Chétimari-Gréma-Artori». Mémoire ITA4, FA/UAM, Niger.55P.
20. RECA (Réseau National des Chambres d'Agriculture du Niger), 2005. Etude de l'impact de la production et de la commercialisation du poivron dans la région de Diffa au Niger. 44p.
21. Rêgo, E.R., Rêgo, M.M., Finger, F.L., 2015. Methodological basis and advances for ornamental pepper breeding program in Brazil. Acta Horticulturae. 1087 :309-314.
22. Rufi no, J.L.S., Penteado, D.C.S., 2006. Importância econômica, perspectivas e potencialidades do mercado para pimenta. Informe Agropecuário, Belo Horizonte 27 :7–15.
23. Segnou, J., Amougou, A., et Youmbi, A. (2012). Viabilité et développement végétatif des plantules de piment (Capsicum annuum L.) suivant différents matériels de conditionnement des semences. TROPICULTURA, 30 (1) : 15-23
24. Ulhoa, A.B., Pereira T.N., Silva, R.N., Ragassi, C.F., et al., 2014. Caracterização molecular de linhagens de pimenta do tipo Jalapeño amarelo. Horticultura Brasileira. 32 : 35-40.
25. Yaou, O.A., 2014. Etude économique de la culture du poivron dans les exploitations agricoles familiales de la région de Diffa, cas du village de Kayowa. Mémoire de fin de cycle, Université Abdou Moumouni, Faculté d'Agronomie, Niger. 83p.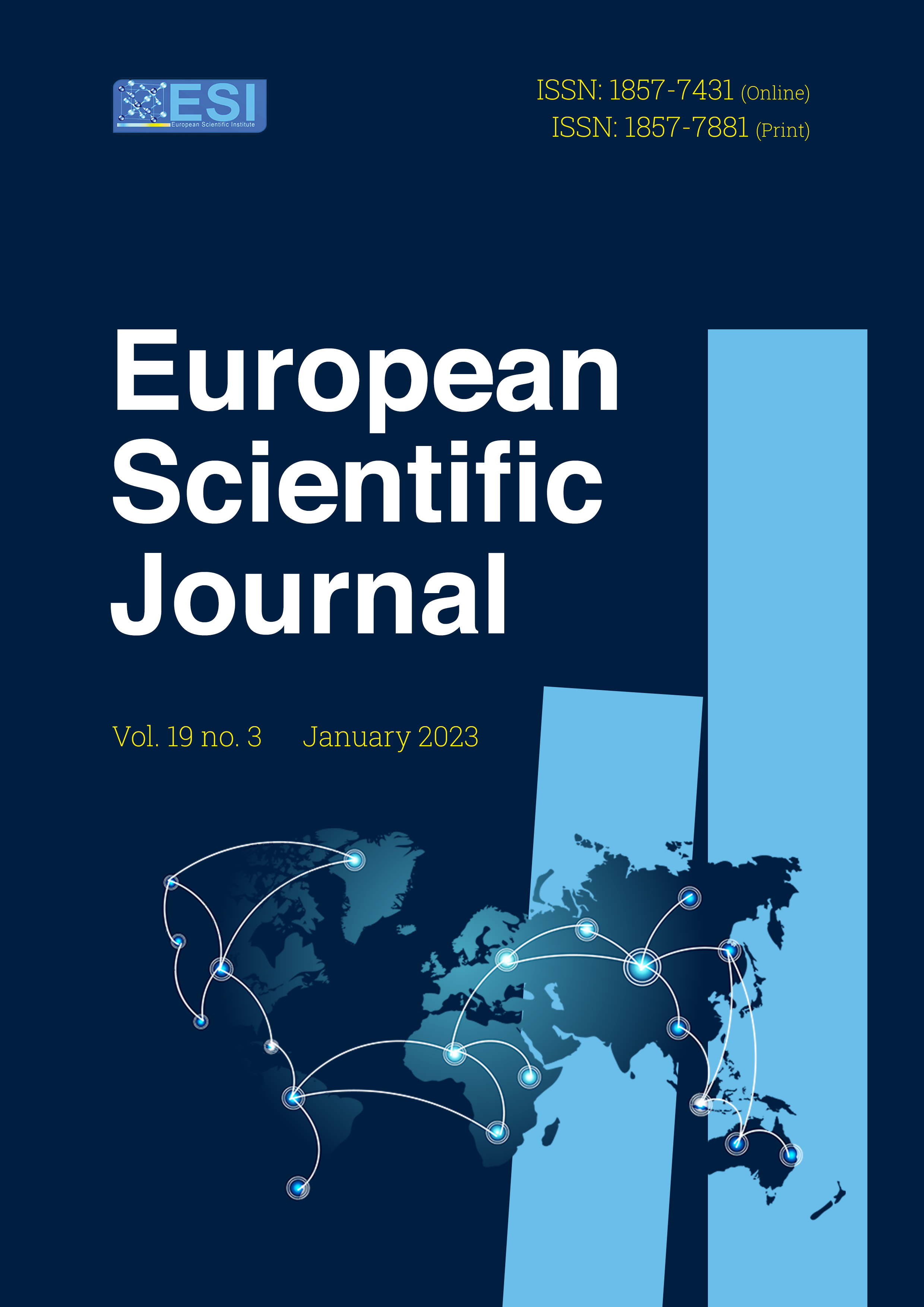 How to Cite
Saley, M. D., Amadou, H. I., Boukar Kéllou, K. K., Boubacar, M. M., Moustapha, G., & Ali, M. (2023). Prospection, Enquête et Collectes des Accessions de Poivron (Capsicum annuum L.) Cultivés dans la Région de Diffa, Niger. European Scientific Journal, ESJ, 19(3), 189. https://doi.org/10.19044/esj.2023.v19n3p189
Section
ESJ Natural/Life/Medical Sciences
Copyright (c) 2023 Moussa Diagara Saley, Harouna Issa Amadou, Kaka Kiari Boukar Kéllou, Moussa Mamoudou Boubacar, Grema Moustapha, Mahamane Ali
This work is licensed under a Creative Commons Attribution-NonCommercial-NoDerivatives 4.0 International License.