Evaluation de l'Attention Selective chez les Alcoolodependants Admis au Centre de la Croix Bleue (Cote d'Ivoire)
Diboh Emmanuel

Université Jean Lorougnon Guédé, Côte d'Ivoire

Ounnebo Gniondjibohoui Marc

Université Jean Lorougnon Guédé, Côte d'Ivoire

N'Guia Jean-Claude

Université Jean Lorougnon Guédé, Côte d'Ivoire

Kouadio Sébastien

Université Félix Houphouët Boigny, Côte d'Ivoire

Koffi Bienvenu

Université Félix Houphouët Boigny, Côte d'Ivoire

Dje Bi Samedi

Centre de la Croix Bleue, Côte d'Ivoire

Gbalou Kakou Luc

Université Félix Houphouët Boigny, Côte d'Ivoire

Irié Bi Antoine

Centre Hospitalier Urbain de Cocody, Côte d'Ivoire

Tako Némé Antoine

Université Félix Houphouët Boigny, Côte d'Ivoire
Keywords:
Alcool, alcoolo-dépendants, attention sélective, Côte d'Ivoire
Abstract
 Les effets toxiques de l'alcool sur le cerveau peuvent être mis en évidence par imagerie médicale. Ainsi, une diminution de la substance grise a été observée chez des personnes alcoolo-dépendantes. Plus la consommation d'alcool commence à un âge précoce, plus l'altération de la matière grise est importante. En Côte d'Ivoire, des travaux antérieures indiquent la présence de perturbations de l'attention sélective et de la mémoire de travail chez des adolescents et jeunes adultes non alcoolo-dépendants, mais consommateurs réguliers de koutoukou (eau-de-vie locale de fabrication artisanale, issue de la sève de palmier à huile  ̏ Elaeis guineensis Jacq.̋). Cette étude a pour objectif d'étudier les effets de l'alcool sur les facultés attentionnelles des patients alcoolo-dépendants. A cet effet, un test neuropsychologique (test de Stroop) a été utilisé afin de comparer les performances attentionnelles des patients avant et après traitement (sevrage). Il en ressort que l'alcool altère significativement l'attention sélective chez les alcoolo-dépendants. Cependant, il a été constaté après traitement (sevrage), une récupération progressive de cette fonction cognitive. Cependant les performances des sujets traités n'égalent pas celle des témoins. (préciser le type de l'approche / étude ; ressortir les principaux résultats pour le lecteur).
The toxic effects of alcohol on the brain can be demonstrated by medical imaging. Thus, a decrease in the gray matter has been observed in alcohol-dependent people. The earlier alcohol consumption begins, the greater the impairment of gray matter. In Côte d'Ivoire, previous work indicates the presence of disturbances in selective attention and working memory in non-alcohol-dependent adolescents and young adults, but regular consumers of koutoukou (local brandy made artisanal, made from oil palm sap ̏ Elaeis guineensis Jacq.̋). This study aims to study the effects of alcohol on the attentional faculties of alcohol-dependent patients. To this end, a neuropsychological test (Stroop test) was used to compare the attentional performance of patients before and after treatment (withdrawal). It appears that alcohol significantly alters selective attention in alcohol-dependent people. However, it was observed after treatment (withdrawal), a gradual recovery of these cognitive functions. However, the performance of the treated subjects did not equal that of the controls.
Downloads
Download data is not yet available.
References
1. Anantharaman, D., Marron, M. and Lagiou, P. (2011). Population attributable risk of tobacco and alcohol for upper aerodigestive. Tract cancer. 47 (8) : 725-731.
2. Anthenelli, R. M., McKenna, B. S.,Smith, T. L,. Schuckit, M. A. (2021). Relationship between level of response to alcohol and acute tolerance. Journal Alcoholism, clinical and experimental research, 45(7) : 1-27. DOI 10.1111/acer.14642.
3. April, N. (2010). Alcool et grossesse : épidémiologie, risque et recommandations aux femmes enceintes. Journées annuelles de santé publique, Québec 24 novembre 2010, 28p.
4. Batel, P & Nédélec S. (2007). Alcool : de l'esclavage à la liberté, édité chez Démos. 245p.
5. Belson, M., Morgan, B.w. (2004). Methanol toxicity in a newbom. J Toxicol clin Toxicity. 42 (5) : 673-687.
6. Cahalan, D., Cisin, I.H. (1968). American drinking practices: summary of findings from a national probability sample. I. Extent of drinking by population subgroups. Q J Stud Alcohol, 29: 130- 151.
7. Camara, P.A., Yao K.M & Adou K.F.J-B. (2004). Etude préliminaire des effets d'une prise unique de Koutoukou sur le niveau de vigilance et émotionnel de l'Homme. Rev des. Sciences. De la Vie et de la Terre, 4 (1): 99-113.
8. Chanraud, S., Martelli, C., Delain, F., Kostogianni, N., Douaud, G., Aubin, H.J.,Reynaud, M & Martinot, J.L. (2006). Brain morphometry and cognitive performance in detoxified alcohol-dependents with preserved psychosocial functioning. Neuropsychopharmacology, 32(2):429-438.Cohen, J.D., Dunbar, K. & McClelland, J.L. (1990). On the control of automatic processes: Aparallel distributed processing account of the Stroop effect. Psychological Review, 97: 332-361.
9. Diboh E. (2006). Analyse épidémiologique de la consommation d'alcool chez les lycéens et les collegiens : effets sur les niveaux de vigilance sous imprégnation au koutoukou. DEA Physiologie Animale, UFR BIOSCIENCES, Université de Cocody, Abidjan-Côte d'Ivoire, 58p.
10. Diboh E., Yao, K.M., Tako, N.A., Bakou, N.F., Assi, B. (2013). Alcoolisation chez les jeunes élèves en Côte d'Ivoire : préference et consommation effective. European Scientific Journal. Vol 9 :380-393.
11. Diboh E. (2014). Effets d'une alcoolisation aigue au koutoukou sur l'attention et la mémoire des jeunes scolarisés de la ville d'Abidjan. Thèse de doctorat d'Etat neurosciences, UFR Biosciences de l'Université Felix Houphouët Boigny, Abidjan, Cote d'Ivoire, 190p.
12. Diboh, E., Assi, B., Yao, K. M., Badjo, P., Gbalou, K.L., Tako A. (2015). Effets du koutoukou sur l'électroencéphalogramme (EEG) des jeunes scolarisés de la ville d'Abidjan (Côte d'Ivoire). Afrique Biomédicale, volume 20, Supplément : 62-75.
13. Druesne, P.N., Tehard, B., Mallet, Y., Gerber, M. and Norat, T. (2009). Alcohol and genetic polymorphisms : effet on risk of alcohol-related cancer. Lancet Oncol, 10 (2) : 173-180.
14. Guédé-Guina, F., Selly-Essis, A. M., Yao, B., Agneroh, L.E. (2000). Utilité d'un fixateur de la sève du palmier à huile dans la révélation d'une protéine virale par immunofluorescence : cas du virus Rabique Souches des Rues isolée à Abidjan. Médecine d'Afrique Noir. 47 (7) : 343-356.
15. Hamon, J.F., Camara, P.A. (2000). Toxicité des distillats de vin de palme approche bromatologique et clinique. Kabaro, 1(2) : 133-140.
16. Hamon, J. F., Camara, P. A., Adou, K. F.J-B., Yoa, K. M. (2002). Goût et habitude en matière de consommation d'alcool dans le sud et le centre-nord de la Côte d'Ivoire : enquête sur 3428 sujets. Afrique Biomédicale. 7 (3) :19-26.
17. Inserm (2006). Communiqué de presse : Une étude en neuro-imagerie confirme les conséquences de l'alcool sur le cerveau. 78 p.
18. Lamiable, D., Hoizey, G., Marty, H., Vistelle, R. (2003). Intoxication aiguë au méthanol. Elsevier Masson.16 :25-30.
19. Lee, C. M., Cadigan, J. M., Patrick, M. E.. (2017). Differences in reporting of perceived acute effects of alcohol use, marijuana use, and simultaneous alcohol and marijuana use. Drug and Alcohol Dependence. Volume 180, Pages 391-394.
20. Lemercier, C. (2002). L'effet d'interférence stroop place du contrôle attention dans la résolution de l'item double. Résumés de thèses In Cognito, 22 : 73-78.
21. NIAAA (National Institute of Alcohol Abuse and Alcoholism). (2004). NIAAA council approves definition of binge drinking. NIAAA Newsletter, N°3, p. 3.
22. OMS, (1993 a). Classification internationale des maladies de l'OMS, Liste de codes CIM-10 (F10), 51p.
23. OMS, (2011). Consommation d'alcool. Aide-mémoire N°349, 678p.
24. Pagnin, D., Grecco, M. L. & Furtado, E. (2019). Prenatal alcohol use as a risk for attention-deficit/hyperactivity disorder. European Archives of Psychiatry and Clinical. Neuroscience volume 269, p 681–687.
25. Roy-Charland, A., Plamondon, A., Homeniuk, A. S., Flesch, C. A., Klein, R. M., Stewart, S. H. ( 2017). Attentional bias toward alcohol-related stimuli in heavy drinkers: evidence from dynamic eye movement recording. American Journal of Drug and Alcohol Abuse. Volume 43, issue 3, Pages 332-340.
26. Scarpina, F. and Tagini, S. (2017). The Stroop color and word test. Frontiers in psychology. Volume 8 : 1-8.
27. Seitz, H.K. and Becker, P. (2007). Alcohol metabolism and cancer risk. Alcohol Res Health. 30 (1) : 36-41.
28. Singal A. K., Mathurin, P., (2021). Diagnosis and Treatment of Alcohol-Associated Liver Disease. JAMA. 326 (2):165-176. doi:10.1001/jama.2021.7683.
29. Stroop, J. R. (1935). Studies of interference in serial verbal reactions. Journal of Experimental Psychology, 18: 643-662.
30. Sullivan, E.V & Pfefferbaum, A. (2005). Neurocircuitry in alcoholism: a substrate of disruption and repair. Psychopharmacology, 180 (4): 583-594.
31. Yao, K.M. (2002). Evaluation du niveau de vigilance chez l'homme sobre sous imprégnation alcoolique mixte (méthyl-ethyl). Mémoire de Diplôme d'Etude Approfondie de Physiologie Animale, (option : Neurosciences), Université de Cocody-Abidjan, UFR Biosciences, 53p
32. Yao, M., Adou, J-B., Camara, P., Bakou, F., Tako, A. & Seri, B. (2011). Effets comparés de l'alcoolisation aigue au koutoukou de vin de palme (boisson alcoolique artisanale) et au pastis 45 (boisson alcoolique industrielle) sur la mémoire, chez l'homme. International Journal of Biological and Chemical Sciences, 5(3) : 1073-1081.
33. Yao, K.M., Camara, P.A., Adou, K.F.J-B. (2012). Types de boissons alcooliques consommées en Côte d'Ivoire. Préférence et consommation effective. Alcoologie et Addictologie, 34(3) :185-193.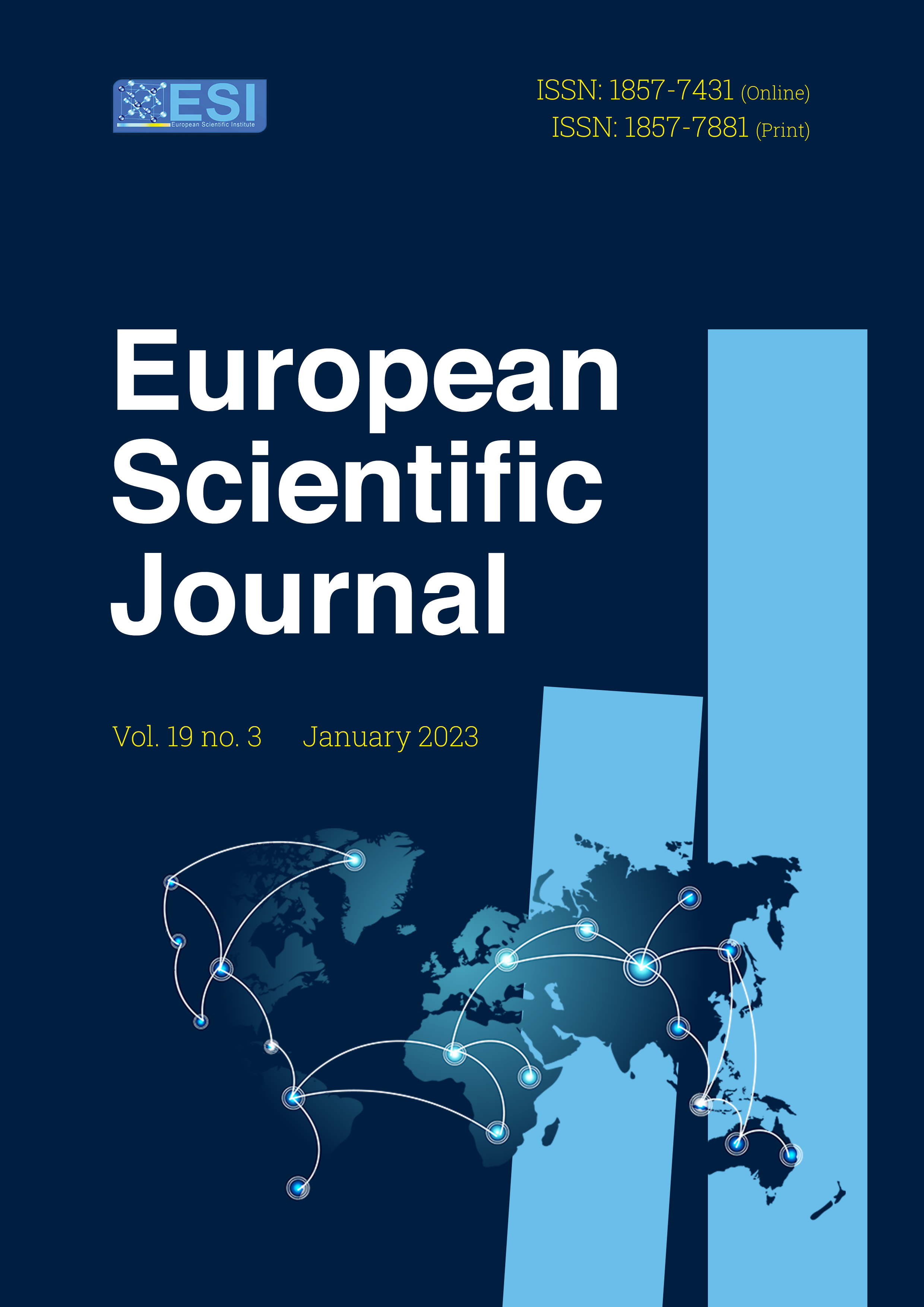 How to Cite
Emmanuel, D., Marc, O. G., Jean-Claude, N., Sébastien, K., Bienvenu, K., Samedi, D. B., Luc, G. K., Antoine, I. B., & Antoine, T. N. (2023). Evaluation de l'Attention Selective chez les Alcoolodependants Admis au Centre de la Croix Bleue (Cote d'Ivoire). European Scientific Journal, ESJ, 19(3), 163. https://doi.org/10.19044/esj.2023.v19n3p163
Section
ESJ Natural/Life/Medical Sciences
Copyright (c) 2023 Diboh Emmanuel, Ounnebo Gniondjibohoui Marc, N'Guia Jean-Claude, Kouadio Sébastien, Koffi Bienvenu, Dje Bi Samedi, Gbalou Kakou Luc, Irié Bi Antoine, Tako Némé Antoine
This work is licensed under a Creative Commons Attribution-NonCommercial-NoDerivatives 4.0 International License.