Aspects Paracliniques et Étiologiques des Ascites au CHUSC de Bangui
Oumarou Youssouf

Centre Hospitalier Universitaire Communautaire de Bangui Service de Médecine Interne, Centrafrique

Roland Evrard Felema Mozane

Centre Hospitalier Universitaire Communautaire de Bangui Service de Médecine Interne, Centrafrique

Armand Kobélémbi

Centre Hospitalier Universitaire Communautaire de Bangui Service de Médecine Interne, Centrafrique

Clémence Djabanga

Centre Hospitalier Universitaire Communautaire de Bangui Service de Médecine Interne, Centrafrique

Natalie Akélélo Boua

Centre hospitalo-universitaire Sino-Centrafricaine de Bangui

Béssanguem Bernard

Centre hospitalo-universitaire Sino-Centrafricaine de Bangui

Kobelembi Mafini Eveline Germaine

Centre hospitalo-universitaire Sino-Centrafricaine de Bangui

Ignleamoko Gambo Nuella Edwige

Centre hospitalo-universitaire Sino-Centrafricaine de Bangui

Serge Magloire Camengo Police

Centre hospitalo-universitaire Sino-Centrafricaine de Bangui

Service George

Centre hospitalo-universitaire Maman Élisabeth Domitien, Centrafrique

Barbara Épouse Siolo

Laboratoire national
Keywords:
Ascite, Bangui, étiologie, paraclinique
Abstract
Introduction :  l'Ascite est un signe clinique très fréquent en en hospitalisation dans le service d'hépatogastroentérologie et de la médecine interne.   Les étiologies sont nombreuses. Objectif : contribuer à une meilleure prise en charge de l'ascite à Bangui. Patients et méthodes :  nous avions réalisé une étude   transversale   descriptive   pendant   30   mois   dans le   service   d'hépatogastroentérologie du CHUASC (Centre Hospitalo-universitaire de l'Amitié Sino-Centrafricaine de Bangui). Elle portait sur les patients des deux sexes hospitalisés pour ascite chez lesquels le diagnostic étiologique était connu. L'âge moyen était de 39 ans avec des extrêmes de 18 et 78 ans avec sex-ratio de 1,42. Résultats :  Pendant la période d'étude, 1210 patients étaient hospitalisés dont 204 présentaient une ascite (16,85%), parmi ceux-ci, 170 (14,9%) répondant à nos critères d'inclusion étaient retenus. L'ascite était     jaune citrin dans 136 cas (80%) et pauvre en protéine (˂ 25 g/l) dans 136 cas (80%) et riche en protéine (˃ 25 g/l) dans 34 cas (20%). La moyenne des Globules Blancs dans le liquide d'ascite était de 76,94 éléments blancs/mm3 avec des extrêmes de 39 et 678/mm3. Le portage du VHB (virus de l'hépatite B) était plus fréquent dans 55 cas sur 114 (48.24%). Le foie remanié était fréquent dans 108 cas (63,5%).
Les étiologies de l'ascite les plus fréquentes étaient la cirrhose décompensée dans 138 cas (81,2), la carcinose péritonéale dans 15 cas (8.8%), tuberculose péritonéale dans 12 cas (7.1%) et cardiaque dans 5 cas (2.9%). Les sujets de sexe masculin étaient plus exposés à la cirrhose décompensée sur le mode ascitique. La carcinose péritonéale dans 15 cas (8,8%) et la tuberculose péritonéale dans 12 cas (7,1%).  La cause plus fréquente de la carcinose péritonéale était le Carcinome Hépatocellulaire dans 13 cas (7,65%). Les principaux facteurs de risque étaient le Virus de l'Hépatite B retrouvé dans 55 cas (32,5%) et la consommation d'alcool dans 130 cas (76,5%). Conclusion :  les ascites étaient d'étiologies cirrhotique et associées au virus de l'hépatite B. Les hommes étaient plus concernés, une politique de vaccination universelle contre le VHB est nécessaire et prometteuse.
Introduction: Ascites is a very common clinical sign in hospitalization in the hepatogastroenterology and internal medicine department. The etiologies are numerous. Objective: to contribute to better management of ascites in Bangui. Patients and methods: we carried out a descriptive cross-sectional study for 30 months in the hepatogastroenterology department of the CHUASC (Centre Hospitalo-universitaire de l'Amitié Sino-Centrafricaine de Bangui). It focused on patients of both sexes hospitalized for ascites in whom the etiological diagnosis was known. The average age was 39 years with extremes of 18 and 78 years with sex ratio of 1.42. Results: During the study period, 1210 patients were hospitalized, 204 of whom presented with ascites (16.85%), of these, 170 (14.9%) meeting our inclusion criteria were retained. The ascites was citrine yellow in 136 cases (80%) and poor in protein (˂ 25 g/l) in 136 cases (80%) and rich in protein (˃ 25 g/l) in 34 cases (20%). The average of White Blood Cells in ascites fluid was 76.94 white elements/mm3 with extremes of 39 and 678/mm3. The carriage of HBV (hepatitis B virus) was more frequent in 55 cases out of 114 (48.24%). The remodeled liver was frequent in 108 cases (63.5%).
The most common etiologies of ascites were decompensated cirrhosis in 138 cases (81.2%), peritoneal carcinomatosis in 15 cases (8.8%), peritoneal tuberculosis in 12 cases (7.1%) and cardiac in 5 cases (2.9%). ). Male subjects were more prone to decompensated cirrhosis in the ascites mode. Peritoneal carcinomatosis in 15 cases (8.8%) and peritoneal tuberculosis in 12 cases (7.1%). The most common cause of peritoneal carcinomatosis was Hepatocellular Carcinoma in 13 cases (7.65%). The main risk factors were the Hepatitis B virus found in 55 cases (32.5%) and alcohol consumption in 130 cases (76.5%). Conclusion: the ascites were of cirrhotic etiology and associated with the hepatitis B virus. Men were more concerned, a universal vaccination policy against HBV is necessary and promising.
Downloads
Download data is not yet available.
PlumX Statistics
References
1. AMIOT X. Comment traiter une première poussée d'ascite ; Gastroentérologie Clinique et Biologique ; 2000 ;28 :8118-8122.
2. Camengo Police SM, Koffi B, Boua-Akélélo N, MbekoSimaleko M, Mossoro-Kpindé CD, Longo JDD, Diemer H, KanzilaTangbanda M, Molowakobendo JR. Les complications de la cirhose à l'hôpital Universitaire de l'Amitié de Bangui. Médecine d'Afrique Noire 2014 ;61(11) :537-542.
3. DovonouAC, AlassaniAC, SakéK, AdèS, AttinsounonCA, AhouiS, Degla, J,Tognon F, Tchégnonsi, Zannou DM, AdèG, Epidemiological clinical and Etiological Aspects of ascites in the Medicine department at the departmental university hospital of Borgou.open journal of internal Medicine 2017 ;7(3).
4. Djagadou KA, Balaka A, Tchamdja T, Nemi KD, Kodjo W, Djalogue L, Djibril MA. Les ascites en milieu hospitalier à Lomé : aspects épidémiologiques, clinques et étiologiques. Journal de la Recherche Scientifique de l'Université de Lomé 2017 ;19(4) :
5. Dia D, Guèye MN, Youm M, Diouf G, Cisse CAB, Mbengue M. Clinical, Paraclinical and Etiological Aspects of Ascites in an Internal Medicine Department in Dakar, Senegal. Gut and Gastroenterology 2018 ; 1(2) :1-2.
6. Hsu SJ, Huang HC. Management of ascites in patients with liver cirrhosis: Recent evidence and controversies. Journal of the ChineseMedical Association 2013 ;76 :123-130.
7. Isanka U , Ratnasekera, Amy Johnson, Elizabeth E Powell, Andrew,Henderson , Katharine M, Irvine , Patricia C, Valery. Epidemiology of ascites fluid infections in patients with cirrhosis in Queensland, Australia from 2008 to 2017 : A population-based study. Medicine (Baltimore) 2022 ;101(20) :29217.
8. Moussa AM, Hassane M, Alio Adoum N, Madtoingue J, Mahamat Saleh T, Camengo Police SM. Séroprévalence de l'AgHbs chez les patients atteints de cirrhose du foie et de carcinome hépatocellulaire à Ndjamena, Tchad. Annales de l'Université de Bangui Série D 2017 ; 3(001) :24-27.
9. Noah Noah D, Eloumou Bagnaka SAF, Ankouane Andoulo F, Bilounga JN, Luma Namme H. Complications and prognosis of cirrhotic patients at the Douala General Hospital in Cameroon. Journal of AppliedMedical Sciences 2016 ;5(1) :43-52.
10. Nian-zhi Ning, Tao Li, Ju-ling Zhang, Fen Qu, Jie Huang, Xiong Liu, Zhan Li, Wei Geng, Jun-liang Fu, Wang Huan, Shu-yong Zhang, Chun-mei Bao,Hui Wang. Clinical and bacteriological features and prognosis of ascitic fluid infection in Chinese patients with cirrhosis. BMC Infectious Diseases 2018 ;18 :253.
11. Tékpa, Fikouma V, Marada Téngothi RM, Longo JDD, Amakadé Woyengba AP, Koffi B. Aspects épidémiologiques et cliniques de la tuberculose en milieu hospitalier à Bangui. Pan African Medical Journal 2019 ;33 :31. doi : 10.11604/pamj.2019.33.31.13442.
12. Sehonou, J ; Dodo, L. R. S ; Azon-Kouanou, A ; Agbodande, K. A Zannou,D m Houngbe,F profil étiologique des ascites dans le service de médecine interne du centre national hospitalier et universitaire de cotonou.journal de la société de biologie clinique bénin 2017 ;27 :28-31.
13. Sawadogo A, Ouédraogo SM, Kyelem C, Yaméogo TM, Ouédraogo AS, Nikièma Z, Bambara ML, Kamboule BE. Apport des examens complémentaires dans le diagnostic des ascites à Bobo-Dioulasso. RAFMI 2016 ; 3(1) :30-35.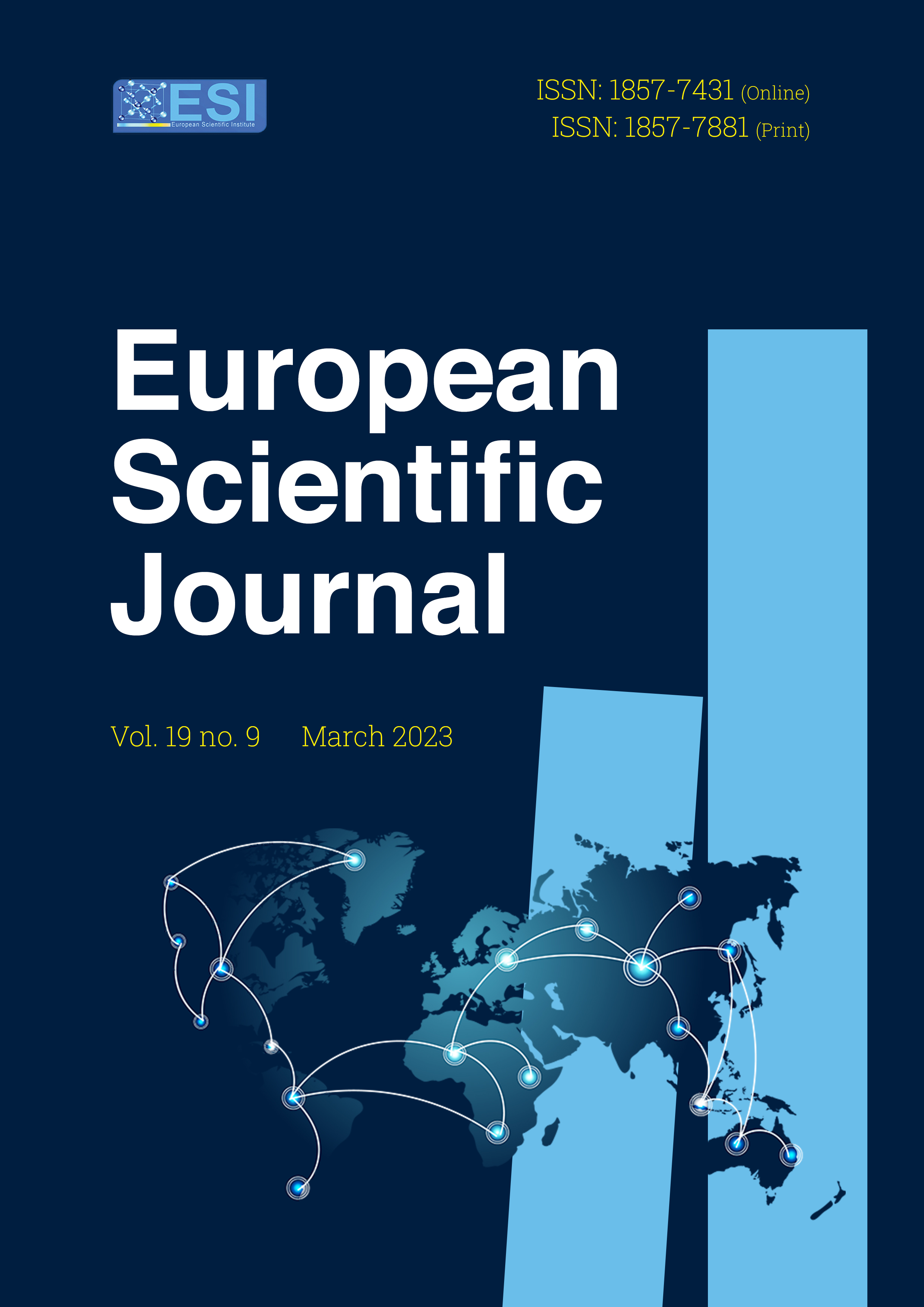 How to Cite
Youssouf, O., Mozane, R. E. F., Kobélémbi, A., Djabanga, C., Boua, N. A., Bernard, B., Eveline Germaine, K. M., Nuella Edwige, I. G., Camengo Police, S. M., George, S., & Siolo, B. Épouse. (2023). Aspects Paracliniques et Étiologiques des Ascites au CHUSC de Bangui. European Scientific Journal, ESJ, 19(9), 79. https://doi.org/10.19044/esj.2023.v19n9p79
Section
ESJ Natural/Life/Medical Sciences
Copyright (c) 2023 Oumarou Youssouf, Roland Evrard Felema Mozane, Armand Kobélémbi, Clémence Djabanga, Natalie Akélélo Boua, Béssanguem Bernard, Kobelembi Mafini Eveline Germaine, Ignleamoko Gambo Nuella Edwige, Serge Magloire Camengo Police, Service George, Barbara Épouse Siolo
This work is licensed under a Creative Commons Attribution-NonCommercial-NoDerivatives 4.0 International License.