Aspects Cliniques et Épidémiologiques des Pathologies Ano Rectale au Chu Communautaire de Bangui (République Centrafricaine) Durant la Période de 23/05/2022 au 23/03/2023
Oumarou Youssouf

Centre Hospitalier Universitaire Communautaire de Bangui Service de Médecine Interne, Centrafrique

Natalie Akélélo Boua

Centre hospitalo-universitaire Sino-Centrafricaine de Bangui, Centrafrique

Ngboko Mirotiga Pétula Anicette

Centre hospitalo-universitaire Sino-Centrafricaine de Bangui, Centrafrique

Camengo Police

Centre hospitalo-universitaire Sino-Centrafricaine de Bangui, Centrafrique

Service George

Centre hospitalo-universitaire Maman Élisabeth Domitien, Centrafrique

Tapande Yakossa Eva Elemence Épouse Maka

Laboratoire national

Ouimon Daniel

Centre hospitalo-universitaire Pédiatrique de Bangui
Keywords:
Pathologie Ano rectale, Bangui, République centrafricaine
Abstract
Introduction : bien que minimisées en Afrique subsaharienne, les pathologies Ano rectales sont fréquentes et variées. Objectif : étudier les aspects épidémiologiques, cliniques et endoscopiques de la pathologie Ano rectale à Bangui. Patients et méthodes : Étude rétrospective à partir des dossiers de comptes rendus d'endoscopie digestive basse réalisée au CHU Communautaire de Bangui du 23/05/2022 au 23 /03/2023.  L'âge, le sexe, les indications de l'examen ainsi que les lésions anales et rectales rencontrées ont été recueillis. La classification endoscopique de GOLIGHER a été utilisé pour classer les maladies hémorroïdaires. Résultats : Au total, il avait 38 Anorectoscopie réalisées dont 28(73,7%) étaient des homme  et 10 femmes (26,3%) soit un sex-ratio de 2,8. L'âge moyen était de 45,6 ans ±13,3 avec des extrêmes de 22 et 86 ans. Les fonctionnaires représentent (42,10%) suivi des commerçants (21,1%) et des femmes au foyer (13,1%). L'indication la plus fréquente est la rectorragie (35,6%) suivie par les constipations (21,1%), la douleur abdominale (7,9%), la proctalgie (7,9%). La maladie hémorroïdaire occupe la première position avec 18 cas soit 47,36%, suivie d'aspect inflammatoire 10 cas soit 26,3%. La tranche d'âge de 41 à 60 ans présente dans 62% la maladie hémorroïdaire grade I de Goligher et 60 % garde II. Les 20 à 40 ans présentent 37,5% grade I et 30% grade II. Les hommes présentent 17 cas de maladies hémorroïdaires soit 94,44%, les femmes 1 cas soit 5,56%. Les fonctionnaires représentent 44,45% suivi des commerçants 33,15%.
Conclusion : Les pathologies Ano rectales sont fréquentes au niveau du CHU communautaire de Bangui dominé par la maladie hémorroïdaire des compagnes de sensibilisation et de prévention au profit de la population à risque notamment les fonctionnaires et les hommes doivent être mis en œuvre afin de là motiver   à réaliser l'endoscopie digestive pour une meilleure prise en charge de ces pathologies.
Introduction: although minimized in sub-Saharan Africa, Anorectal pathologies are developed and varied. Objective: to study the epidemiological, clinical, and endoscopic aspects of Ano rectal pathology in Bangui. Patients and methods: Retrospective study based on files of lower digestive endoscopy reports carried out at the Bangui Community University Hospital from 05/23/2022 to 03/23/2023. The age, the sex, the indications of the examination as well as the anal and rectal lesions encountered were reported. GOLIGHER's endoscopic classification was used to classify hemorrhoidal diseases. Results: In total, he had 38 Anorectoscopies performed, of which 28 (73.7%) were men and 10 women (26.3%) i.e. a sex ratio of 2.8. The average age was 45.6 years ±13.3 with extremes of 22 and 86 years. Civil servants represent (42.10%) followed by traders (21.1%) and housewives (13.1%). The most common indication is rectal bleeding followed (35.6%) by constipation (21.1%), abdominal pain (7.9%), and proctalgia (7.9%). Hemorrhoidal disease occupies the first position with 18 cases 47.36%, followed by the inflammatory aspect 10 cases or 26.3%. The age group of 41 to 60 years present in 62% of the hemorrhoidal disease grade I of Goligher and 60% guard II. The 20 to 40-year-olds present 37.5% grade I and 30% grade II. Men present 17 cases of hemorrhoidal disease, i.e. 94.44%, women 1 case, i.e. 5.56%. Civil servants represent 44.45% followed by traders 33.15%.
Conclusion: Ano rectal pathologies are performed at the service level dominated by hemorrhoidal disease representing more than 90% of men affecting more male officials and traders.
Downloads
Download data is not yet available.
PlumX Statistics
References
1. H. Joubert et 2018 Centre des maladies de l'appareil digestif Mentions légales | Conception: Maladies ano-rectales
2. BAGNY A, BOUGLOUGA O, DJIBRIL MA, DUSABE A, MBA KB,KAAGA LY et al (2010) Aspects psychopathologiques au cours des hématémèses au Togo : représentation et vécu chez les patients. J. Afr. Hépatol. Gastroentérol ; 4:216-219
3. DIA D, DIOUF ML, MBENGUE M, BASSENE ML, FALL S, DIALLO S et al. (2010) Pathologies anorectales à Dakar, analyse de 2016 examens proctologiques. Med Afr Noire ; 57 :241-244
4. DARIE H, KLOTZ F (1996). La pathologie anale et péri-anale en zone tropicale. Acta endoscopica ; 26, 9- 16.
5. PFENNINGER JL, ZAINEA GC. (2001) Common anorectal conditions : Part II. Lésions. Am Fam Physician ; 64 (1) : 77-88.
6. TADE AO, SALAMI BA, MUSA AA, ADENIJI AO. (2004) Anal complaints in Nigerians attending Olabisi Onabanjo University Teaching Hospital (OOUTH), Sagamu. Niger Postgrad Med J ; 11 (3) : 218-20
7. OKON JB, NDRI N, TOTH'O A, ASSI C, DIAKITE M, SORO D et al. (2012) Diagnostic des rectorragies au centre hospitalier universitaire de Cocody à Abidjan (Côte d'ivoire). Médecine et sante tropicale ; 22 :398-400
8. Katilé D1, Dicko MY2 , Kondé A3 , Mallé O4 , Sangaré D5 , Sanogo SD2 , Soumaré G6 , Diallo B7 , Sogoba G 8 , Traoré LI8 , Sangaré S8 , Konaté A2 , Diarra MT2 , Maïga MY2 . La Pathologie Anorectale à Kayes au Mali 2019 ;20 :113-115.
9. YASSIBANDA S, IGNALEAMOKO A, MBELESSO P, BOBOSSI GS, BOUA N, CAMEOGO-POLICE SM et al. (2004) La pathologie ano-rectale à Bangui République de centre Afrique. Mali Med ; 19(2) :12-14
10. MAHASSADI KA, SORO KG, KOUAKOU B, ANZOUA KI, BANGOURA DA. (2012) Les affections colo-proctologiques et leurs déterminants au CHU de Yopougon (Côte d'Ivoire). Rev int sc méd; 14: 73-77.
11. NDJITOYAP NDAM E C, NJOYA O, MBALLA E, NSANGOU MF, NJAPOM C, MOUKOURI NYOLO E et al. (1991) Apport de l'endoscopie dans la pathologie digestive basse en milieu Camerounais, étude analytique de 720 examens. Med Afr Noire, 38 (12) :835-841
12. N'DRI N, KOUAKOU LOHOUES MJ, ATTIA KA, MOUSTAPHA OM, YASSIBANDA S, BOUGOUMA A, et al. (1994) La maladie hémorroïdaire en milieu africain : à propos de 552 cas colligés au CHU de Cocody. Med Chir Dig ; 23 : 233-4
13. MAIGA MY, TRAORE HA, DIALLO G, DEMBELE M, DEMBELE K, KALLE A, GUINDO A. (1995) Aspects cliniques et anatomopathologiques du cancer du canal anal au Mali : à propos de 9 cas. Méd Chir Dig;24 : 423-424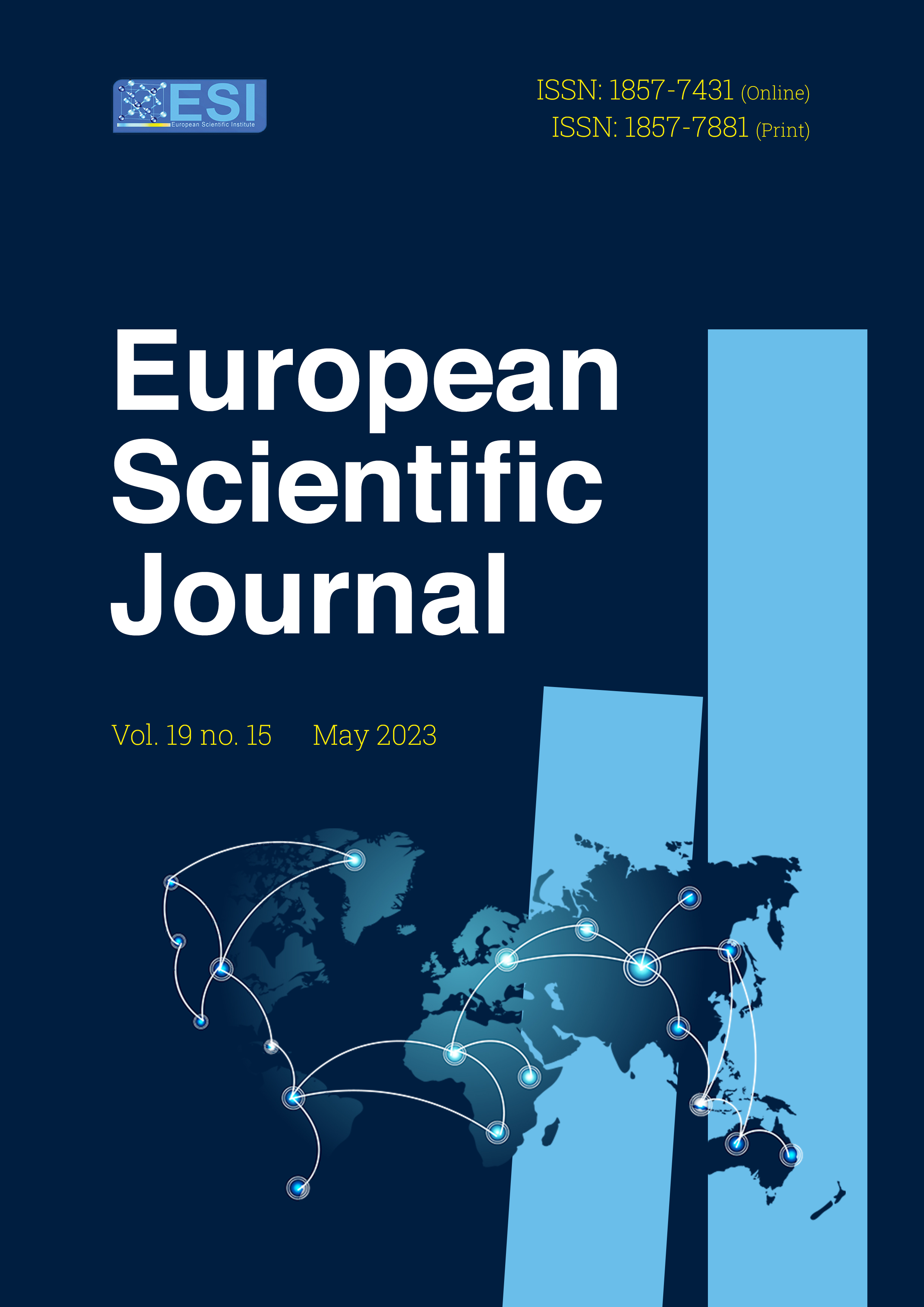 How to Cite
Youssouf, O., Boua, N. A., Pétula Anicette, N. M., Police, C., George, S., Épouse Maka, T. Y. E. E., & Daniel, O. (2023). Aspects Cliniques et Épidémiologiques des Pathologies Ano Rectale au Chu Communautaire de Bangui (République Centrafricaine) Durant la Période de 23/05/2022 au 23/03/2023. European Scientific Journal, ESJ, 19(15), 189. https://doi.org/10.19044/esj.2023.v19n15p189
Section
ESJ Natural/Life/Medical Sciences
Copyright (c) 2023 Oumarou Youssouf, Natalie Akélélo Boua, Ngboko Mirotiga Pétula Anicette, Camengo Police, Service George, Tapande Yakossa Eva Elemence Épouse Maka, Ouimon Daniel
This work is licensed under a Creative Commons Attribution-NonCommercial-NoDerivatives 4.0 International License.