Violence Obstetricale dans la Ville de Tanguieta au Benin en 2019
Atade Sèdjro Raoul

UER en gynécologie Obstétrique, Institut de Formation en Soins Infirmiers et Obstétricaux (IFSIO), Université de Parakou, Bénin

Obossou Achille Awadé Afoukou

UER en gynécologie Obstétrique, Faculté de Médecine, Université de Parakou, Bénin

Sidi Rachidi Imorou

UER en gynécologie Obstétrique, Faculté de Médecine, Université de Parakou, Bénin

Vodouhe Mahublo Vinadou

UER en gynécologie Obstétrique, Faculté de Médecine, Université de Parakou, Bénin

Soule Garia Fassia

UER en gynécologie Obstétrique, Institut de Formation en Soins Infirmiers et Obstétricaux (IFSIO), Université de Parakou, Bénin

Gbaguidi Houéfa Gloria

UER en gynécologie Obstétrique, Institut de Formation en Soins Infirmiers et Obstétricaux (IFSIO), Université de Parakou, Bénin

Hounkponou Ahouingnan Fanny Maryline Nouessèwa

UER en gynécologie Obstétrique, Faculté de Médecine, Université de Parakou, Bénin

Salifou Badariyatou

UER en gynécologie Obstétrique, Faculté de Médecine, Université de Parakou, Bénin

Salifou Kabibou

UER en gynécologie Obstétrique, Faculté de Médecine, Université de Parakou, Bénin
Keywords:
Violence obstétricale, violence verbale, violence corporelle, consentement, Tanguiéta
Abstract
Introduction: La violence obstétricale est une expérience dont la reconnaissance varie d'une personne à l'autre, d'un contexte à l'autre. Les femmes qui accouchent dans les maternités de Tanguiéta subissent-elles des violences ? Objectif : Etudier les violences obstétricales dans la ville de Tanguieta. Méthode d'étude : Il s'est agi d'une étude transversale à visée descriptive allant du 21 octobre au 21 décembre 2020. L'étude avait porté sur 374 femmes ayant accouché au moins une fois dans les maternités de la ville de Tanguiéta. Résultats : La moyenne d'âge des femmes enquêtées était de 24,63 ans. Elles étaient ménagères dans 43,35%, non scolarisées dans 65,32%, chrétiennes dans 63,01% et mariées dans 80,92%. Au terme de l'étude, 46,26% des femmes reconnaissaient avoir subies au moins une fois une violence obstétricale. Les violences verbales et corporelles ont été citées respectivement dans 94,80% et 88,84%. L'accouchement était le moment où les femmes ont subi le plus de violence obstétricale (71,10%). Les auteurs des violences étaient en majorité les sages-femmes dans 56,07%. La plupart des femmes violentées, ont décrié la violence obstétricale dans 77,46% mais n'en ont parlé à personne dans 60,12%. Elles étaient conscientes que les violences obstétricales peuvent faire l'objet de dénonciation (81,50%). Mais aucun auteur d'acte de violence n'a été dénoncé car pour elles le plus important était que leur bébé soit en parfaite santé (87,86%). Conclusion : Les maternités de la ville de Tanguiéta ne sont pas en marge des violences obstétricales.
Introduction: Obstetric violence is an experience whose recognition varies from person to person, from context to context. Do women who give birth in Tanguiéta maternity hospitals suffer from violence? Objective: To study obstetric violence in the city of Tanguieta. Study method: This was a descriptive cross-sectional study from October 21 to December 21, 2020. The study involved 374 women who gave birth at least once in maternity hospitals in the city of Tanguiéta. Results: The average age of the women surveyed was 24.63 years. They were housewives in 43.35%, out of school in 65.32%, Christian in 63.01% and married in 80.92%. At the end of the study, 46.26% of women admitted to having suffered obstetric violence at least once. Verbal and physical violence were cited in 94.80% and 88.84% respectively. Childbirth was the time when women experienced the most obstetric violence (71.10%). The perpetrators of violence were mostly midwives in 56.07%. Most of the abused women decried obstetric violence in 77.46% but did not tell anyone about it in 60.12%. They were aware that obstetric violence can be denounced (81.50%). but no perpetrator of acts of violence has been denounced because for them the most important thing was that their baby be perfectly healthy (87, 86%). Conclusion: Maternities in the city of Tanguiéta are not immune to obstetric violence.
Downloads
Download data is not yet available.
PlumX Statistics
References
1. O.M.S. (2014). La prévention et l'élimination du manque de respect et des mauvais traitements lors de l'accouchement dans des établissements de soins. Déclaration de l'OMS. Human reproduction Programme WHO/RHR/14.23 : 1-4 Disponible sur http://www.who.int/reproductivehealth/topics/maternal_perinatal/statement-childbirth/fr/,consulté le 14 août 2021.
2. Lévesque, S., Bergeron, M., Fontaine, L. et Rousseau, C. (2016). Détresse, souffrance ou violence obstétricale lors de l'accouchement : perspectives des intervenantes communautaires membres du Regroupement Naissance-Renaissance. Montréal : Département de sexologie et Service aux collectivités, Université du Québec à Montréal. DOI : 10.13140/RG.2.2.33053.51682. Repéré à https://www.researchgate.net/publication/311846908_Detresse_souffrance_ou_violence_obstetricale_lors_de_l%27accouchement_perspectives_des_intervenaRenaissance
3. Labrecque M. (2018). Expériences négatives d'accouchements décrits par des femmes ayant
4. accouché en milieux hospitalier : les liens avec le concept des violences obstétricales. (Mémoire de maitrise ,Université de Montréal) 2018. Repéré à
5. https://papyrus.bib.umontreal.ca/xmlui/handle/1866/21340?locale-attribute=fr
6. Swahnberg, K., Schei, B., Hilden, M., Halmesmäki, E., Sidenius, K., Steingrimsdottir, T., Wijma, B. (2007). Patients' experiences of abuse in health care : A Nordic study on prevalence and associa factors in gynecological patients. Acta Obstetricia et Gynecologica Scandinavica, 86(3), 349-356. Doi :org/10.1080/00016340601185368
7. Brüggemann, A.J., Wijma, B., Swahnberg, K. (2012). Patients' silence following healthcare staff's ethical transgressions. Nursing Ethics, 19(6),750-763. Doi :org/10.1177/0969733011423294
8. OMS. (2019). Des données récentes révèlent que les femmes sont victimes de mauvais traitements lors de l'accouchement. Communiqué de presse. Repéré à https://www.who.int/fr/news/item/09-10-2019-new-evidence-shows-significant-mistreatment-of-women-during-childbirth
9. Vadeboncoeur, H. (2003). Les gestes obstétricaux violents. Les Dossiers de l'Obstétrique,317,26‐29.
10. Baker, S. R., Choi, P.Y.L., Henshaw, C.A. (2005). " I Felt as Though I'd Been in Jail " : Women's Experiences of Maternity Care during Labour, Delivery and the Immediate Postpartum. Feminism &Psychology,15(3),315-342. Doi :org/10.1177/0959-353505054718
11. Santiago, R.V., Solórzano, E.H., Iñiguez, M.M., Monreal, L.M.A. (2013). Nueva evidencia a un viejo problema: el abuso de las mujeres en las salas de parto. Rev CONAMED,18(1),14-20.
12. Narchi, N.Z., Diniz C.S.G., Azenha, C. de AV., Scheneck, C.A. (2010).Women's satisfaction with childbirth' experience in different models of care: a descriptive study. Online Brazilian J Nurs,9(2),11-19. Doi:org/10.5935/1676-4285.20103102.
13. Jewkes, R., Abrahams, N. & Mvo, Z. (1998). Why do nurses abuse patients? Reflections from South African obstetric services. Social Science & Medicine, 47(11), 1781-1795. Doi :org/10.1016/S0277-9536(98)00240-8
14. D'Oliveira, A.F., Pires, L., Diniz, S.G. & Schraiber, L.B. (2002). Violence against women in health-care institutions : an emerging problem. Lancet, 359(9318), 1681-1685. DOI:org/10.1016/S0140-6736(02)08592-6
15. CIANE. (2017). Violence obstétricale Comprendre prévenir et réparer. Repérer à https://ciane.net/2017/10/violences-obstetricales-comprendre-prevenir-reparer/.
16. Srikumar, S. (2020). La carte des violences obstétricales et gynécologiques en France dévoilée. Au Féminin.Repéré à https://www.aufeminin.com/accouchement/la-carte-des-violences-obstetricales-en-france-devoilee-s4014102.html
17. Bohren, M.A., Vogel, J.P., Hunter, E.C., Lutsiv, O., Makh, S.K.,…Gülmezoglu, A. M. (2015). The Mistreatment of Women during Childbirth in Health Facilities Globally: A Mixed-Methods Systematic Review.PLoS Med, 12(6),1-32. DOI: 10.1371/journal.pmed.1001847
18. Lévesque, S., Bergeron, M., Fontaine, L. & Rousseau, C. (2018). La violence obstétricale dans les soins de santé : une analyse conceptuelle. Recherches féministes, 31(1), 219–238. Doi:org/10.7202/1050662ar
19. Swahnberg, I.M.K., Wijma, B. (2003). The NorVold Abuse Questionnaire (NorAQ): validation of new measures of emotional, physical, and sexual abuse, and abuse in the health care system among women .European Journal of Public Health,13(4),361-366.
20. Office de la langue québécoise. (2018). Violence obstétricale. Fiche terminologique. Repéré à http://gdt.oqlf.gouv.qc.ca/ficheOqlf.aspx?Id_Fiche=26544720
21. Sosa-Sánchez I.A. (2010). Les inégalités sociales et la santé sexuelle et reproductive au Mexique : entre la médicalisation et l'exclusion sociale. Recherches féministes, 23(2),143–63
22. Camacaro, M., Ramìrez, M., Lanza, L., Herrera, M. (2015). Conductas de rutina en la atención al parto constitutivas de violencia obstétrica. Utopia y Praxis Latino americana, 20(68),113-20.
23. Lerman, F. (2018). Violences gynécologiques et obstétricales. Un rapport du Haut Conseil à l'égalité des femmes et des hommes.MCSF. Repéré à https://www.macsf.fr/responsabilite-professionnelle/cadre-juridique/violences-gynecologiques-et-obstetricales-rapport
24. Blondin, M. (2019). Violences obstétricales et gynécologiques. Assemblée parlementaire, Commission sur l'égalité et la non-discrimination. (Publication N014965). Repéré à http://www.senat.fr/fileadmin/Fichiers/Images/commission/affaires_europeennes/APCE/ODJ_2019/Avis_rapports/2019_10_Rapport_Mme_Blondin_Violences_obstetricales_et_gynecologiques.pdf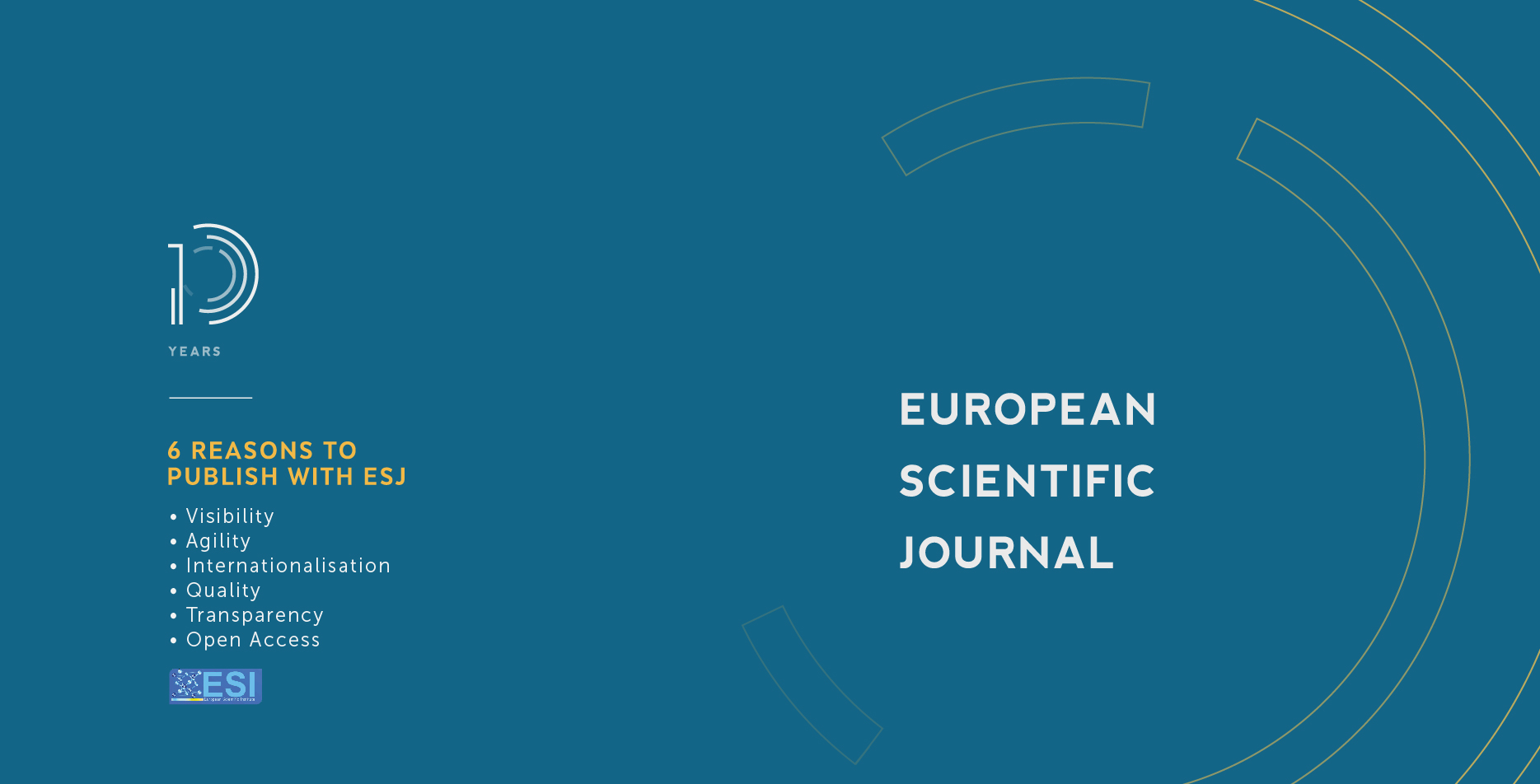 How to Cite
Raoul, A. S., Awadé Afoukou, O. A., Imorou, S. R., Vinadou, V. M., Fassia, S. G., Gloria, G. H., Fanny Maryline Nouessèwa, H. A., Badariyatou, S., & Kabibou, S. (2022). Violence Obstetricale dans la Ville de Tanguieta au Benin en 2019. European Scientific Journal, ESJ, 18(27), 387. https://doi.org/10.19044/esj.2022.v18n27p387
Section
ESJ Natural/Life/Medical Sciences
Copyright (c) 2022 Atade Sèdjro Raoul, Obossou Achille Awadé Afoukou, Sidi Rachidi Imorou, Vodouhe Mahublo Vinadou, Soule Garia Fassia, Gbaguidi Houéfa Gloria, Hounkponou Ahouingnan Fanny Maryline Nouessèwa, Salifou Badariyatou, Salifou Kabibou
This work is licensed under a Creative Commons Attribution-NonCommercial-NoDerivatives 4.0 International License.